Buying your first RC car can be an intimidating experience if you don't have an educated idea of what you want.
As a rule of thumb, all similar types of cars (ie, 1/10th Offroad) are basically the same … it's the individual manufacturer and their idea of what is a good design that sets the vehicles apart.
For instance, Team Associated makes a shaft drive onroad car while Yokomo and Team Losi both make a belt-drive cars. Each has it's pros and cons, it's the design of the belt versus shaft systems, the suspension geometries and the general chassis layout that differs.
The choice is yours, but my suggestion is to do a little research before purchasing your first RC vehicle. If you plan on racing, visit a local track and ask around; there's always someone there that can offer some useful information for when you do step foot in the hobby store with a purchase in mind.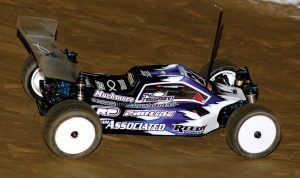 Any hobby shop in your area should carry a pretty good selection of Radio Controlled vehicles. You can also stop by a newsstand (or book store) and pick up a copy of any of the Radio Controlled Car magazines (visit our Resources page for a list of the magazines websites).
A RC Track might be a good place to find a consignment vehicle as well (check out our Online Track and Hobby Shop Directory for a track near you). You can sometimes get a good deal on a set up for a reasonable price. Keep in mind, however, that this will be USED equipment! This could mean having to do a little cleanup/repair work before actually driving your car.
Another avenue would be online. eBay is a great place to look for used equipment.
You can also check online stores like AMain Hobbies. They have an amazing selection of both racer and basher-type vehicles – there's something for everyone there! On top of that, you'll be getting a quality RC car from reputable manufacturers, unlike some of the stuff you'll find on sites like Amazon.
Remember, though, that if you plan on racing, it's a good idea to support your local track. The more business he gets, the longer he can keep his track open and the longer you will have a place to race!!!
Other Beginner's Guide to RC Articles
• RC Car Categories
• Build Types: Kit, RTR, ARTR
• Electric or Nitro
• RC Scale
• Buying Your First RC Car
• RC Car Anatomy Files
• Before Your First Drive
• The Basics of Driving
• RC Car Glossary