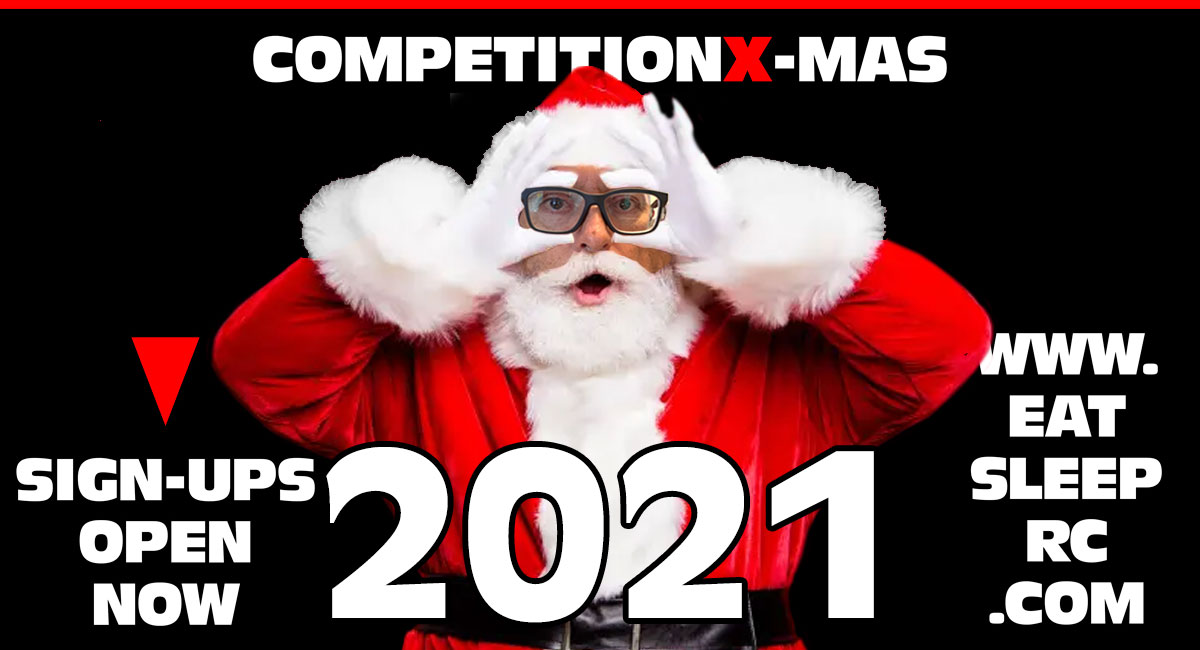 It's that time again folks – time to give away tons of RC gear to lucky winners in the 25 Days of CompetitionX-mas!
We will, once again, have lots of cool cars, trucks, parts, brushless motor systems, batteries, stickers and apparel to give away to 25 lucky winners!
The current list of manufacturers donating prizes is listed below with more coming on board every day, so keep an eye on this page to see what awesome RC stuff we'll be giving away!
How to Enter
It's easy – simply head over to www.EatSleepRC.com and fill out the form! Sign-ups will close on November 30th.
Good luck!
CompetitionX-mas 2021 Giveaway List
1up Racing – www.1upRacing.com
10204 1Up Racing HD Curved Steel Glue Tips
10301 1Up Racing Body Clips
10401 1Up Racing CF Protective Body Washers
30001 1Up Racing Universal Protective Chassis Skin (x2)
160102 1Up Racing Pro Pit Mat
80103 1Up Racing LowPro UltraLite Wing Washers
190602 1Up Racing Pro Wire Clamp
Castle Creations – www.CastleCreations.com
010-0145-03 Castle Creations Monster X ESC with 2200kV Sensored Motor
010-0166-10 Castle Creations Copperhead 10 ESC SCT Edition with 3800kV Motor
CCG-0008-00 Castle Creations Frisbee/Field Marker (x10)
CCG-0010-00 Castle Creations Wrist Strap (x5)
CompetitionX
$300 Gift Certificate for something RC!
EZ Clean – www.facebook.com/EZclean-RC-Tire-Washing-Station
Personalized EZ Clean Tire Washing Station
Hitec – www.HitecRCD.com
36645S Hitec D645MW 32-Bit, High Torque, Metal Gear Servo
37955S Hitec HS-7955TG High Torque, Titanium Gear Servo
44246 Hitec RDX1 Pro AC/DC Battery Charger/Discharger
44299 Hitec RDX2 Mini AC Balance Charger
44270 Hitec X2 AC Plus Black Edition Charger / Discharger Power Supply
59601 Hitec Embroidered Logo Hat (x12)
59612 Hitec Screwdriver (x25)
HobbyWing – www.HobbyWingDirect.com
30112102 Hobbywing XERUN AXE R2 ESC for Rock Crawlers
30112610 Hobbywing XR10 Pro G2 ESC "Elite" Edition
30401253 Hobbywing XERUN AXE R2 FOC Brushless Motor
30401106 Hobbywing XERUN V10 G3 Brushless Motor
HW1500KCBLK Hobbywing Cap – Beanie Knit (x5)
HWT1BK000L Hobbywing Official Factory Edition Slim Fit T-Shirt (L) (x2)
HWT1BK00XL Hobbywing Official Factory Edition Slim Fit T-Shirt (XL) (x2)
HWT1BK02XL Hobbywing Official Factory Edition Slim Fit T-Shirt (2XL) (x2)
HWDC0011 Hobbywing Decal Stickers (Blue) (x2)
HWDC0012 Hobbywing Decal Stickers (Pink) (x2)
JConcepts – www.JConcepts.net
2133 JConcepts 4′ Pit Mat
2284 JConcepts Drawstring Tote Bag (x2)
2285 JConcepts Small Zipper Storage Bag
2661M JConcepts RM2 Car Stand
2736 JConcepts Scale Truck Drawstring Tote Bag
8114 JConcepts Microfiber Towels (x9)
– JConcepts $25 Gift Certificate
– JConcepts Neck Strap (x12)
– JConcepts NCTS3 Series T-Shirt (XL)
– JConcepts INS10 Series T-Shirt (XL)
– JConcepts NCTS Series T-Shirt (M)
MaxAmps- www.MaxAmps.com
– MaxAmps Shorty Graphene 2S 4750mAh LiPo Battery (x2)
– MaxAmps Graphene 2S 5000mAh LiPo Battery
– MaxAmps.com Award Winning Batteries T-Shirt (M)
– MaxAmps.com Award Winning Batteries T-Shirt (L)
Pro-Line Racing – www.ProLineRacing.com
PRO982701 Pro-Line Streak Deep Navy T-Shirt – (L)
PRO984603 Pro-Line Racerback Tank Top (L)
PRO982701 Pro-Line Energy Trucker Snapback Hat
– Pro-Line Lanyard (x5)
ProTek RC – www.AMainHobbies.com
PTK-160TBL ProTek 160TBL "Black Label" Low Profile High Torque Servo
PTK-5114-20 ProTek 2S 120C Si-Graphene + HV Shorty 6100mAh LiPo Battery
R1 Wurks – R1Wurks.com
– R1 Wurks DC1 Prototype Drag Racing Conversion Kit
020117-2 R1 Wurks 13.5T Outlaw Motor Type 2
RaceCraft – www.RaceCraft-USA.com
– Racecraft The MingoScuffer (x25)
RC4WD – www.RC4WD.com
Z-RTR0057 RC4WD Trail Finder 2 RTR w/1987 Toyota Xtracab Hard Body
Rebel RC – www.Rebel-RC.com
– Rebel RC 14pc Tool Set with Case
Reefs RC – www.ReefsRC.com
REEFS65 Reefs RC 422HDv2 Servo (x2)
99MICRO Reefs RC 99Micro Servo Winch
– Reefs RC Winch Fairlead (x2)
– Reefs RC V2 HD Servo Horn (x2)
– Reefs RC Scale Banner (x7)
– Reefs RC Buckle Quick Release Lanyard (x6)
SonRC – www.SonRC.com
SRC 1001-18G SonRC Pro Lead Cable – 18″ JST 7 Pin Green Mesh
SRC 1001-28 SonRC Pro Lead Cable – 28″ JST 7 Pin Black Mesh
SRC 7805 SonRC TRX Compatible Male to 4mm Banana (x2)
SRC 7801 SonRC Alloy Steel Reamer (x2)
SRC 8890X SonRC Male XT60 to 4mm Banana
SRC 8891 SonRC Male EC3 to Male 4mm Banana
SRC 8892 SonRC Male EC5 to Male 4mm Banana
Tamiya – www.TamiyaUSA.com
42336 Tamiya TRF Setting Board
57407 Tamiya Dual Rider
58681 Tamiya Formula E GEN2 TC-01
58683 Tamiya Tankpool24 Mercedes Actros Euro Truck
58685 Tamiya Comical Hotshot
MM002 Tamiya TCS Hat
MM023 Tamiya Logo Sticker Set
Tekno RC – www.TeknoRC.com
TKR6502 Tekno RC EB410.2 Competition Buggy Kit
TKR5603 Tekno RC MT410 Monster Truck Kit
Vertigo Performance – www.VertigoPerformance.com
Vertigo $50 Gift Certificate (x2)
More prizes are incoming every day, so keep an eye out on this page!
CompetitionX-mas 2021 Prize Winners
December 14th:
(
Watch the FB Live Replay Video
)
•
Hobbywing
XERUN AXE R2 ESC
•
Hobbywing
XERUN AXE R2 FOC
•
MaxAmps
Graphene 5000mAh 2S LiPo Battery
•
Reefs RC
422HDv2 Servo
•
Reefs RC
V2 HD Servo Horn
•
Reefs RC
99 Micro Servo Winch
•
Reefs RC
Winch Fairlead
•
JConcepts
Microfiber Towels
•
Hobbywing
Beanie
•
Hitec
Embroidered Hat
•
JConcepts
Neck Strap
•
Castle Creations
Frisbee
•
Reefs RC
Scale Banner
•
Hitec
Screwdriver
•
RaceCraft USA
Mingo
Winner:
Scott Stone,
Longmont CO
December 15th:
(
Watch the FB Live Replay Video
)
•
Hitec
RDX1 Pro AC/DC Battery Charger/Discharger
•
MaxAmps
Shorty Graphene 2S 4750mAh LiPo Battery
•
SonRC
Pro Lead Cable – 18″ JST 7 Pin Green Mesh
•
JConcepts
Microfiber Towels
•
Reefs RC
Scale Banner
•
Hitec
Embroidered Hat
•
Castle Creations
Wrist Strap
•
JConcepts
Neck Strap
•
MaxAmps
Award Winning Batteries T-Shirt (M)
•
Castle Creations
Frisbee
•
Hitec
Screwdriver
•
RaceCraft USA
Mingo
Winner:
Sean M Gruett,
Fond du Iac WI
December 16th:
(
Watch the FB Live Replay Video
)
•
Tamiya
Dual Rider
•
JConcepts
Microfiber Towels
•
Reefs RC
Scale Banner
•
Hobbywing
Cap – Beanie Knit
•
Hitec
Embroidered Hat
•
Tamiya
TCS Hat
•
Castle Creations
Wrist Strap
•
JConcepts
Neck Strap
•
Castle Creations
Frisbee
•
Hitec
Screwdriver
•
RaceCraft USA
Mingo
Winner:
Matt Simpson,
Ashland, OH
December 17th:
(
Watch the FB Live Replay Video
)
•
R1 Wurks
DC1 Prototype Drag Racing Conversion Kit
•
R1 Wurks
13.5T Outlaw Motor Type 2
•
Sharkbait Designworks
Custom-Painted Drag Body
•
1Up Racing
Pro Pit Mat
•
JConcepts
Drawstring Tote Bag
•
Hobbywing
Cap – Beanie Knit
•
Hitec
Embroidered Hat
•
JConcepts
Neck Strap
•
Castle Creations
Frisbee
•
Hitec
Screwdriver
•
RaceCraft USA
Mingo
Winner:
Kurt Weishaar,
Hollister, CA
December 18th:
(
Watch the FB Live Replay Video
)
•
Tamiya
Comical Hotshot
•
Tamiya
TCS Hat
•
Hobbywing
Cap – Beanie Knit
•
Hitec
Embroidered Hat
•
SonRC
Male EC5 to Male 4mm Banana Plug Adapter
•
Reefs RC
Buckle Quick Release Lanyard
•
JConcepts
Microfiber Towels
•
JConcepts
Neck Strap
•
Castle Creations
Frisbee
•
Hitec
Screwdriver
•
RaceCraft USA
Mingo
Winner:
James Sharp,
Beloit, WI
December 19th:
(
Watch the FB Live Replay Video
)
•
Tekno RC
MT410 Monster Truck Kit
•
Castle Creations
Monster X ESC with 2200kV Sensored Motor
•
Hitec
HS-7955TG High Torque, Titanium Gear Servo
•
Vertigo Performance
$50 Gift Certificate
•
SonRC
Male EC3 to Male 4mm Banana
•
Hobbywing
Cap – Beanie Knit
•
Hitec
Embroidered Logo Hat
•
JConcepts
Neck Strap
•
Castle Creations
Frisbee
•
Hitec
Screwdriver
•
RaceCraft USA
Mingo
Winner:
Miriam Gutierrez,
West Jordan, UT
December 20th:
(
Watch the FB Live Replay Video
)
•
Tamiya
Tankpool24 Mercedes Actros Euro Truck
•
Hitec
X2 AC Plus Black Edition Charger / Discharger Power Supply
•
JConcepts
Small Zipper Storage Bag
•
JConcepts
Microfiber Towels
•
Castle Creations
Frisbee/Field Marker
•
Castle Creations
Wrist Strap
•
JConcepts
Neck Strap
•
Hitec
Embroidered Logo Hat
•
Reefs RC
Scale Banner
•
Reefs RC
Buckle Quick Release Lanyard
•
Hitec
Screwdriver
•
RaceCraft USA
Mingo
Winner:
Matt Crawford,
Kilgore, TX
December 21st:
(
Watch the FB Live Replay Video
)
•
EZ Clean Tire Washing Station
– Personalized
•
JConcepts
4′ Pit Mat
•
Rebel RC
14pc Tool Set with Case
•
Hitec
HS-7955TG High Torque, Titanium Gear Servo
•
JConcepts
Drawstring Tote Bag
•
1Up Racing
Universal Protective Chassis Skin
•
1Up Racing
CF Protective Body Washers
•
SonRC
Alloy Steel Reamer
•
JConcepts
Microfiber Towels
•
Hitec
Embroidered Logo Hat
•
JConcepts
Neck Strap
•
Castle Creations
Wrist Strap
•
Hitec
Screwdriver
•
RaceCraft USA
Mingo
Winner:
Brandi Reese,
Pioneer, CA
December 22nd:
(
Watch the FB Live Replay Video
)
•
Tamiya
Formula E GEN2 TC-01
•
Tamiya
TRF Setting Board
•
1Up Racing
Body Clips
•
Hitec
D645MW 32-Bit, High Torque, Metal Gear Servo
•
JConcepts
Microfiber Towels
•
Hitec
Embroidered Logo Hat
•
Hitec
Screwdriver
•
JConcepts
Neck Strap
•
Castle Creations
Frisbee/Field Marker
•
RaceCraft USA
Mingo
Winner:
Shane Duncan,
Pflugerville, TX
December 23rd:
(
Watch the FB Live Replay Video
)
Pull 1
•
Hitec
RDX2 Mini AC Balance Charger
•
MaxAmps
Shorty Graphene 2S 4750mAh LiPo Battery
•
Hitec
D645MW 32-Bit, High Torque, Metal Gear Servo
•
SonRC
Pro Lead Cable – 28″ JST 7 Pin Black Mesh
•
Fierce Solutions
$50 GC
•
SonRC
Alloy Steel Reamer
•
JConcepts
Microfiber Towels
•
Hitec
Embroidered Logo Hat
•
Reefs RC
Scale Banner
•
JConcepts
Neck Strap
•
Castle Creations
Frisbee/Field Marker
•
Hitec
Screwdriver
•
RaceCraft USA
Mingo
Winner:
Craig Davis,
South Windsor, CT
Pull 2
•
CompetitionX
$300 GC
•
JConcepts
Scale Truck Drawstring Tote Bag
•
JConcepts
Microfiber Towels
•
Reefs RC
Scale Banner
•
JConcepts
NCTS Series T-Shirt (M)
•
MaxAmps.com
Award Winning Batteries T-Shirt
•
Vertigo Performance
$50 Gift Certificate
•
Pro-Line
Streak Deep Navy T-Shirt (L)
•
Hobbywing
Official Factory Edition Slim Fit T-Shirt (L)
•
Pro-Line
Lanyard
•
Reefs RC
Buckle Quick Release Lanyard
•
Hitec
Screwdriver
•
RaceCraft USA
Mingo
Winner:
Robert Reynolds,
Monticello, IN
December 24th:
(
Watch the FB Live Replay Video
)
Pull 1
•
Hobbywing
XR10 Pro G2 ESC "Elite" Edition
•
Hobbywing
XERUN V10 G3 Brushless Motor
•
Reefs RC
422HDv2 Servo
•
Reefs RC
V2 HD Servo Horn
•
Reefs RC
Winch Fairlead
•
1Up Racing
Pro Pit Mat
•
1Up Racing
HD Curved Steel Glue Tips
•
Hitec
Embroidered Logo Hat
•
JConcepts
Neck Strap
•
Castle Creations
Frisbee/Field Marker
•
SonRC
TRX Compatible Male to 4mm Banana
•
JConcepts
$25 Gift Certificate
•
Hitec
Screwdriver
•
RaceCraft USA
Mingo
Winner:
Dawn Fortin,
Albrightsville, PA
Pull 2
•
Tekno RC
EB410.2 Competition Buggy Kit
•
ProTek
160TBL "Black Label" Low Profile Servo
•
ProTek
2S HV Shorty 6100mAh LiPo Battery
•
1Up Racing
Universal Protective Chassis Skin
•
1Up Racing
LowPro UltraLite Wing Washers
•
1Up Racing
Pro Wire Clamp
•
Hitec
Embroidered Logo Hat
•
JConcepts
Neck Strap
•
Castle Creations
Frisbee/Field Marker
•
Hitec
Screwdriver
•
RaceCraft USA
Mingo
Winner:
Bob Carlos,
Grants Pass, OR
December 25th:
(
Watch the FB Live Replay Video
)
•
RC4WD
Trail Finder 2 RTR w/1987 Toyota Xtracab Hard Body
•
RC4WD
Mug
•
RC4WD
Lanyard
•
RC4WD
Tire Lanyard
• Back to the Future 3-Disc BluRay Set
• Candy Pack – 80's style
• Marty McFly Bobble Head
Winner:
Kris Marshall,
Savannah, GA