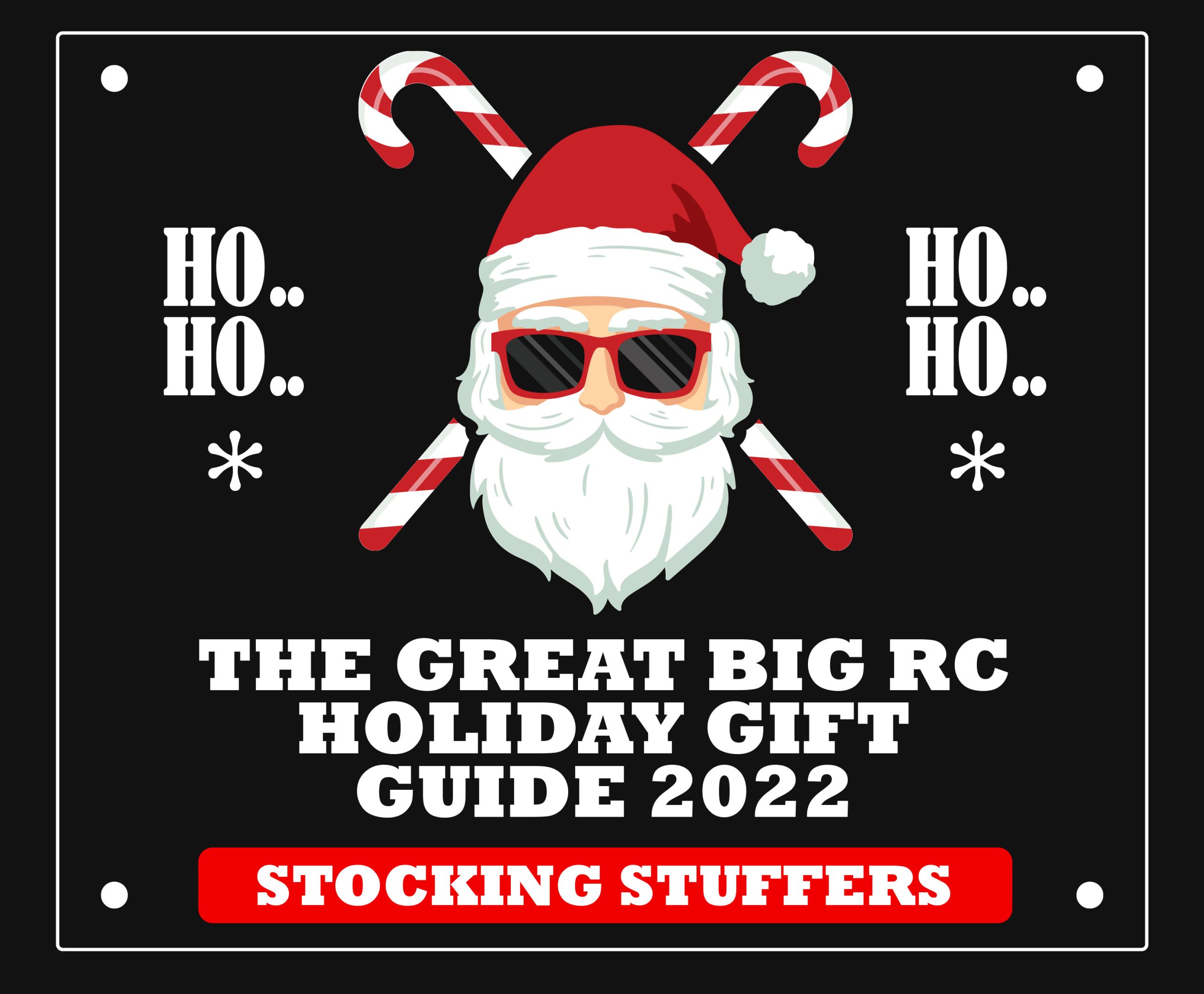 We're keeping things small for now in Part 2 of The Great Big RC Holiday Gift Guide 2022, offering up some slick suggestions for stocking stuffers for your favorite RC person. These parts range from accessories and electronics to tools and tape – all things a RC fan of any level could benefit from!
Your RC lover's stocking awaits!
Stocking Stuffers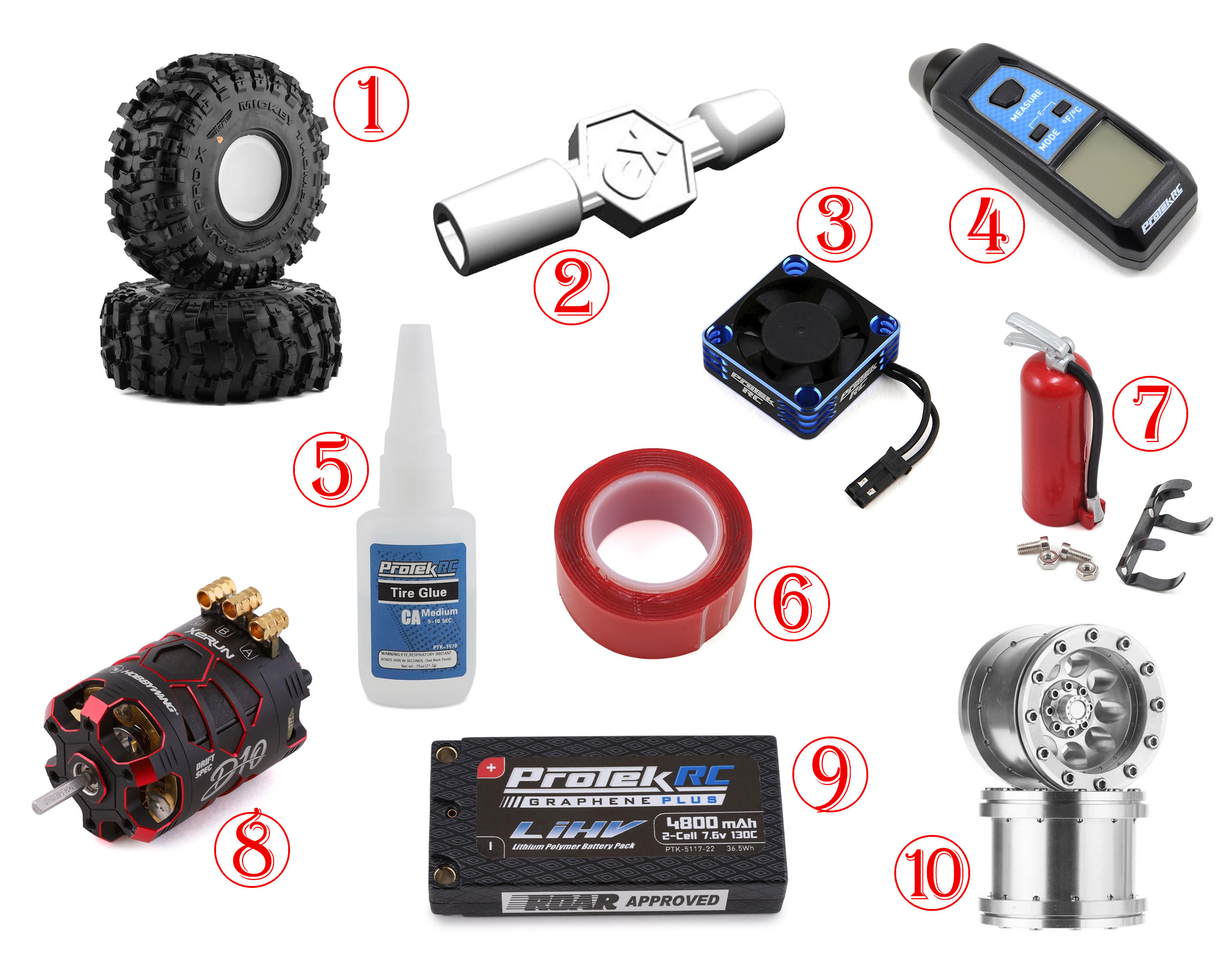 1. Onroad/Offroad Tires – Whether your RC nut drives an onroad car or an offroad rig, there's always a need for new tires. There are quite a few sizes and compounds so you should get an idea of what they need, but in the end, it's NEVER a bad idea for a new set of kicks.
2. CompetitionX Ball Cup Building Tool – Designed by CompetitionX to make building turnbuckles EASY, this tool is an invaluable item to have in your toolbox. It's 3D-printed design is easy to hold on to and it will work with almost every 1/10 scale ball cup on the market.
3. Cooling Fans – Heat is the biggest killer of RC electronics. Combat that by adding an accessory fan to both the ESC and motor. Cooling fans lower temps, allowing the power system to be a bit more efficient as well as reducing the chance of failure. They come in a multitude of sizes and most plug right into your receiver.
4. Temp Gun – Along with the cooling fans, a temp gun can also help you keep an eye on temps. Great for both nitro and electric, these hand-held, battery-operated sensors can let you know the temp of anything on your ride with just the push of a button!
5. Glue – Everyone needs glue. EVERYONE. This stuff is fantastic for gluing tires and, oddly enough, making some repairs on your car or truck. Some bottles come with tips to allow a very fine application to avoid spills.
6. Double-Sided Tape – Like the glue, EVERYONE can benefit from a roll of double-sided tape. This stuff is super strong and helps keep your ESC, receiver, transponder and even your cooling fans securely fastened. It's also good for securing wires in place as well!
7. Scale Crawler Accessories – With the HUGE uptick in scale crawlers, scale accessories have become more and more prominent in the hobby. You can get ANYTHING in a scale size – fire extinguishers, jerry cans, antenna, recovery boards, shovels, seats – the sky's the limit. More importantly, their universal and will work with any scale rig!
8. Brushless Motors – MORE POWER (in our best Tim the Toolman voice)! Almost every vehicle on the market has or can use a brushless motor, and changing one out with something a bit more powerful (or a LOT more powerful) can certainly change the vehicles attitude! Like most upgrades, they come in a variety of sizes and power levels, from mild to wild. This gift is sure to put a smile on the face of the receiver!
9. LiPo Battery – Like the motors, an updated battery can also boost performance levels of any ride. LiPo batteries are a great upgrade for RTR cars (that come with a NiMH pack) or a racer that just needs more power.
10. Wheels – Pair up that new set of tires with a shiny set of aftermarket wheels. Like the tires, there quite a few different designs and colors, but if there's one thing that makes an old ride look awesome – it's a new set of wheels!
Check out the other Holiday Gift suggestions listed below:
Part 1: Favorite Pit Items
Part 2: Stocking Stuffers
Part 3: Budget-Friendly Vehicles Under $175
Part 4: Mid-Level vehicles under $350
Part 5: Money-Is-No-Object Trucks over $700