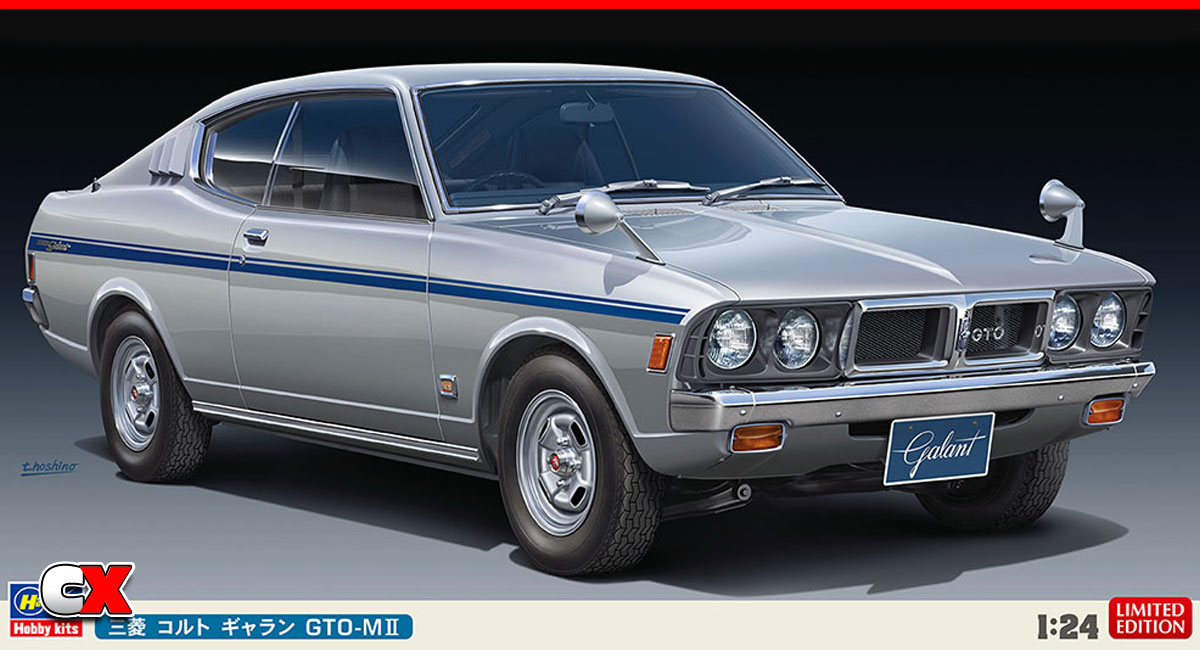 Hasegawa has announced 6 new model kits for the month of June, one of every major manufacturer for those that have a specific love: a Toyota, a Honda, a Mitsubishi, a Nissan, a Kawasaki and a Subaru! Let's take a quick look at each of the new releases.
This first kit is a 1/24 scale 1988 JTC version of the Toyota Corolla Levin AE92. It has an estimated parts count of 136 pieces and includes a full, right-hand drive interior with roll cage, rear wing, front and rear toe rings as well as some sharp looking wheels and disc brakes. The livery looks amazing as well!
20515 Hasegawa Toyota Minolta Corolla Levin AE92
Kit #2 is a Mitsubishi Colt Galant GTO-M II. This kit sits in daily-driver trim, is 1/24 scale and has an estimated 116 parts. Notable features include the front-hood mounted mirrors, stock-steelie wheels, C-Pillar vents and the cool GTO badging. Subtle blue pinstripping is also included.
20512 Hasegawa Mitsubishi Colt Galant GTO-M II
Next up is the cool-little Honda N360 in 'Race Configuration'. This kit is 1/24 scale in size and has an estimated 91 parts. No official pictures are available yet but we can assume that since it's a 'Race Configuration' ride, it'll have a racing seat, roll cage and some other additional race-type parts. With an estimated 91 parts, this might be a fun little ride to get!
20513 Hawegawa Honda N360 'Race Configuration'
The 4th new kit is this 1/24 scale Nissan GT-R Skyline. It comes wrapped in Axia race livery and, being a 1991 JTC Gr.A ride, it's going to have all the fun race-goodies included – RHD interior, roll cage, lowered stance, BBS-looking mesh wheels wrapped in race rubber and some mean looking side-exit exhaust. It has an estimated 134 parts.
20514 Hasegawa AXIA Nissan GT-R Skyline
The next new ride is the Kawasaki 500-SS/Mach III Motorcycle. It's a nice, vintage-looking ride that is molded in 1/12 scale and has an estimated 156 parts. There is a ton of detail; fully engine with exhaust and plumbing, lighting and spoked wheels. Should be a fun build for all motorcycle enthusiasts out there!
21735 Hasegawa Kawasaki 500-SS/Mach III Motorcycle
The final release is a 1/24 scale Subaru 360 Young-SS, a tiny little 2-door that includes a girl figure. This little ride has an estimated 77 parts (+4 for the girl) and has features like fender-mounted mirrors, bubble light covers, mud flaps and a RHD interior.
52291 Hasegawa Subaru 360 Young-SS

For more information, please visit: www.hasegawa-model.co.jp
Check out more cool products from Hasegawa on CompetitionX.
Make sure you visit and subscribe to our YouTube Channel (CompetitionX YouTube) for up to date videos on all the current products!
Notice: Some of our articles, videos and descriptions may contain affiliate links, which means that if you click on one of the product links, we may receive a small commission. This helps support the website and social media channels and allows us to continue to produce content. Thank you for the support!
#hasegawa #rccars #competitionx