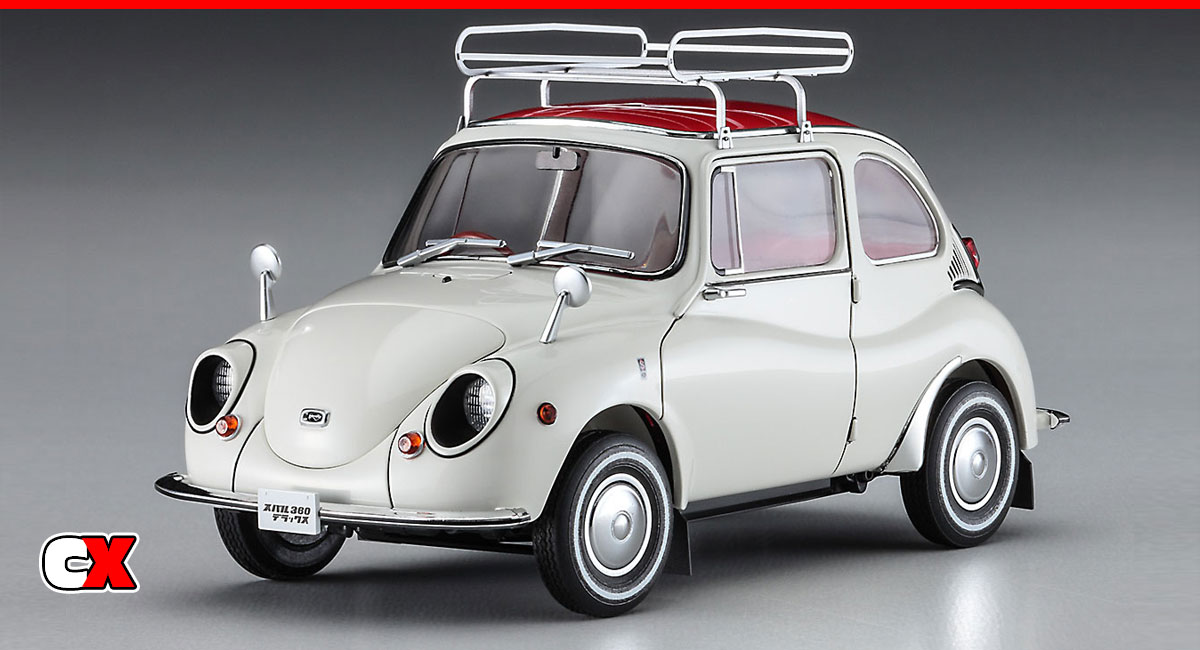 Hasegawa has 4 new model car kits for the month of March 2023. These kits include a Mitsubishi, a Toyota, a Subaru and a Honda motorcycle. Let's take a look at each one individually.
The first kit up is the Mitsubishi Lancer GSR Evo III. This is the 1995 Rally of Thailand kit and has the livery from the winning car (driven by Tommi Makinen) and the 2nd place car (driven by Kenneth Eriksson). It has an estimated 109 pieces and is molded in 1/24 scale.
20625 Hasegawa Mitsubishi Lancer GSR Evo III 1995 Rally of Thailand Winner
The second kit represents the 1991 JTC Toyota Corolla Levin AE92. This kit has the Tom's livery with both the #6 and #7 numbers. It is molded in 1/24 scale and has approximately 120 parts.
20624 Hasegawa Tom's Corolla Levin AE 92 1991 JTC
Next up is this super cool looking Subaru 360 Deluxe. This little guy is molded in 1/24 scale and has approximately 78 parts. It's got some neat features, most notably the chrome roof-mounted luggage carrier.
20622 Hasegawa Subaru 360 Deluxe
The final model kit this month is the Scot Racing Honda RS250RW motorcycle. It replicates the 2008 WGP250 entry ridden by Yuki Takahashi, the same bike that placed 5th overall during that season. It is molded in 1/12 scale and has approximately 145 parts.
21748 Hasegawa Scot Racing Honea RS250RW
Check out more cool products from Hasegawa on CompetitionX.
Make sure you visit and subscribe to our YouTube Channel (CompetitionX YouTube) for up to date videos on all the current products!
Notice: Some of our articles, videos and descriptions may contain affiliate links, which means that if you click on one of the product links, we may receive a small commission. This helps support the website and social media channels and allows us to continue to produce content. Thank you for the support!
#hasegawa #rccars #competitionx
Random Past Posts
Yeah Racing has just released a newly designed damper set for 1/10 scale cars. This damper set features a spring set with 5 stages of stiffness and state-of-the-art interchangeable pistons …

Welcome everyone to Part 4 of the Tamiya Super Avante online video build. In this video we're wrapping up the front end, installing the shocks, shock tray and the rest …

Short Course for the Road Course There are some definite advantages to living in Southern California; one of the biggies being the weather. Because it rarely ever changes from 70 …