Modeling is an extremely fun pastime, one that requires the right tools to make the most of your model kit. Recently, we came across the Tamiya Model Building Workstation and thought this would be an excellent platform for builders to use, however it's one you just might overlook. Let's get to the nitty gritty of this solid setup and see if it's the right product for you!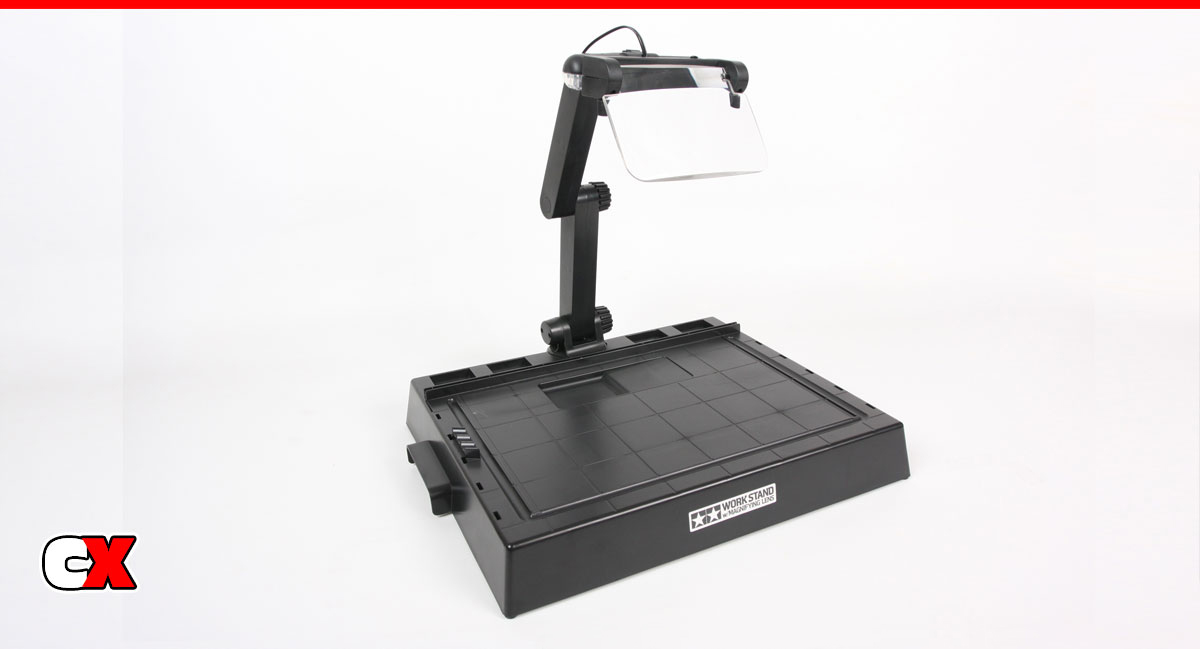 Specifics
Product:
Review: Tamiya Model Building Workstation
Website:
www.tamiyausa.com
Purchase:
https://bit.ly/3oBgQKp
Part #:
TAM74064
Scale:
n/a
Price:
$130.99
Build Type:
RTR
Recommended For:
Fresh model builders or those with limited space.
What's Included
This is a basic workstation, meaning it's just the platform and an articulating arm with the light and magnifying glass.
What's Needed
• 4 D Batteries
• 6VDC AC/DC Converter (optional)

Items Used
• Standard D Alkaline Battery
• Standard 6VDC AC/DC Converter (optional)

Main Features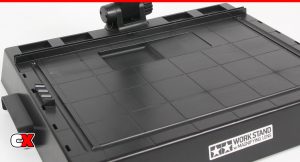 1. Designed to be used as an all-in-one setup, the Model Building Workstation has quite a few features integrated into it. Starting from the top, there are 4 multi-use pockets that have a internal pyramid shape, allowing the user to store a paint bottle, glue or even Tamiya's Panel Line paint. Dividing that section from the main part is an elevated channel, used to capture the included paint splatter/flying-parts shield. The main section has a large, flat surface that can accept a standard A4-sized cutting mat perfect for building. Leave the mat out and you have a grid for measuring and cutting as well as a pocket for working with water decals. Surrounding the center area is a channel for capturing small parts, slots for 10 clip holders (5 per side) and a brush mount for holding up to 3 brushes.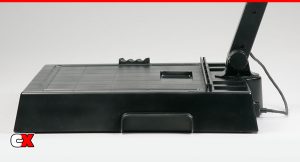 2. The side view shows the profile of the Workstation. It's not slim, maybe 4″ tall, about double the height of the actual carry handle. It does highlight a different view of the brush holder, paint/bottle holders, splash-card channel and articulating arm mount and power cable. You can also see the convenient carrying handle (there's one on the other side as well) that makes transportation of your Workstation easy, especially with all the parts on it.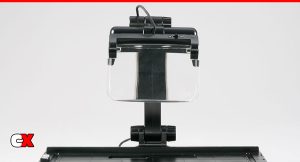 3. The articulating arm has multiple positions and can be 'locked' into place with twist wheels. The magnifying glass is acrylic and has a 2x magnification rating and a 6-bulb white LED-light bar extends the length of the head, controlled by a simple on-off switch on the top of the unit. Using the 4 D batteries, LED-light life is projected at around 150 hours, however we haven't had a chance to test that quite yet. The good part about this battery system is, well, portability. The 6VDC power source might be a better option, but then you have to have the Workstation near a outlet.
Performance
If you watched the video (and really, why wouldn't you?), you'll see that we did a big oops by installing the articulating arm backwards. That's just us being overly-excited about putting something together and not following directions. Odd, however, that it actually DID go together that way. Just be observant during the assembly process.
After we fixed our mistake, we found the Model Building Workstation to be quite helpful, especially the articulating arm. The light was decent, although we really thought it was going to be brighter. But, in all reality, a brighter light might cause a heavy reflection, making it difficult to detail any parts. The magnifying glass we easy to use as well but, again, 2x magnification seems a bit low. Granted, we are working with small parts up close so a magnification higher than 2x might be a bit overkill. But then again, a higher magnification will certainly benefit those with ailing eyes.
We liked all the base features; the upper 4 paint pockets ended up holding our glue, Panel Line and Mark Fit Decal Solution. We fit the A4-sized cut mat into place but, as we found out soon after, we lost the use of the decal slide. Paint brush holders worked well and we were able to use the surround channels to slide our small parts into, making them easier to pick up.
The 'splash' shield – ya, not something we will ever use. A bit wonky to install and it made it clumsy to grab our glue bottle on the other side of it. Plus it just kept falling out of the channel. We're just going to ixnay the use of that.
The only other concern is the height of the Workstation. While we found it ok in some circumstances (mainly when needing the light or magnifying glass), about 50% of our modeling was done OFF of it – it just seemed more comfortable.
The Breakdown
Design - 8.5
Visual Appeal - 8
Feature List - 9
Upgradability - 6.5
Functionality - 9.5
Gallery

Final Thoughts
Tamiya's Model Building Workstation is a great tool for someone just getting into the hobby. It provides a basic platform for building with space for tools and a decent light and magnifying glass. We also think this might be a great solution for those with limited space or with kids or pets around – pull out the Workstation, build for a couple hours and then transport it back to a safe spot.
We have a large workspace for building so probably won't be using it here, but once we start doing some extended traveling in our Airstream, this might actually be the perfect setup!!!