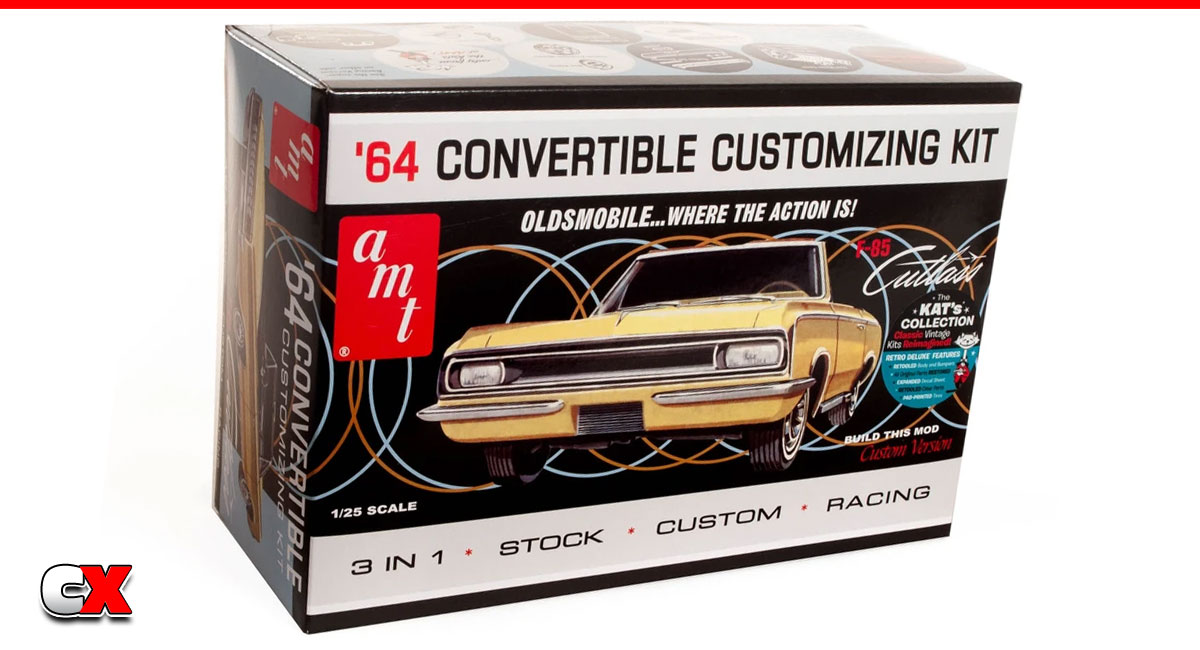 Last available in 1964, this re-release of the 1/25 scale AMT Old Cutlass F-85 Convertible is pretty exciting. It includes parts for 3 different builds – factory, custom and period road racer – and has new features like dual-sided, pad-printed tires, engine parts to build a dual-supercharged option and racing seats. It even includes an expanded original decal sheet with lots of graphics to customize your model!
What We Like:
We love old kits like this – there's just something nostalgic about them. It's a detailed kit as well – having over 110 parts – with trees molded in white, clear, clear red and chrome. It's also a Skill Level 2, making it a great option for any age builder.
What We're Not Sure About:
As with all re-release kits, we're hoping the molds have been cleaned up to reduce the amount of flashing that sometimes happens with super old kits.
AMT1200 AMT 1964 Olds Cutlass F-85 Convertible 3-n-1 Model Kit

For more information, please visit: round2corp.com
Check out more cool products from AMT on CompetitionX.
Make sure you visit and subscribe to our YouTube Channel (CompetitionX YouTube) for up to date videos on all the current products!
Notice: Some of our articles, videos and descriptions may contain affiliate links, which means that if you click on one of the product links, we may receive a small commission. This helps support the website and social media channels and allows us to continue to produce content. Thank you for the support!
#amt #rccars #competitionx