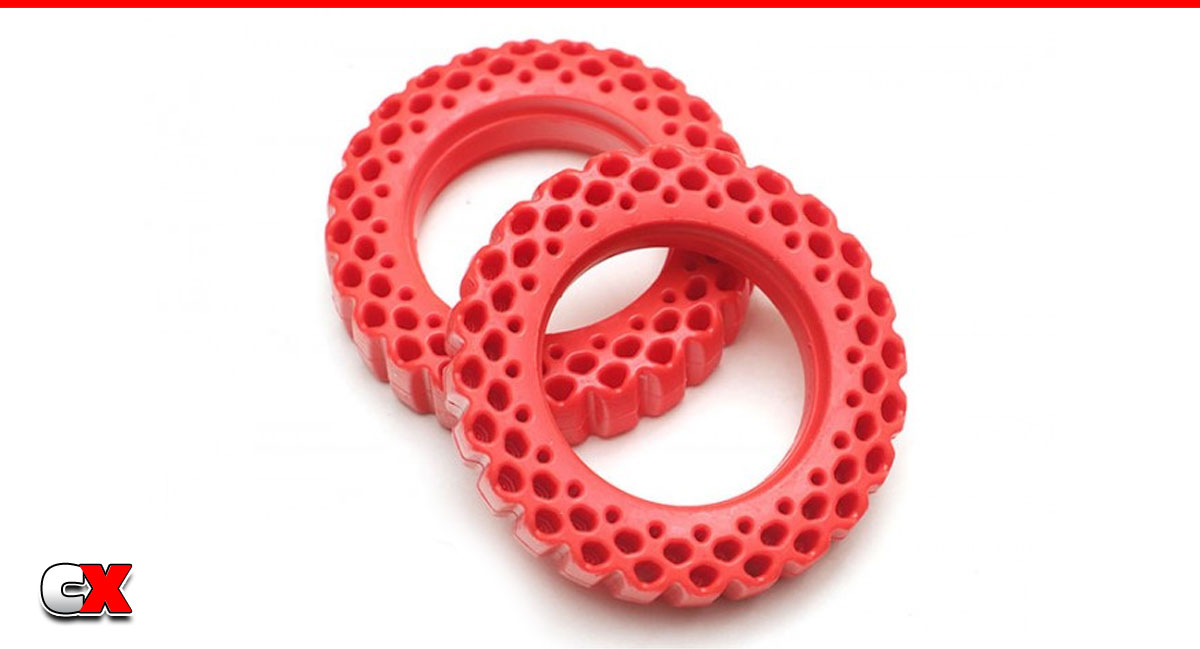 Boom Racing has announced a set of tire inserts that just might change the way you set up your rigs. These inserts are made from silicone, making them extremely durable in all sorts of situations. They have pockets molded into them to allow them to compress while driving, acting like foam inserts, however, the sidewall will keep it's shape and support your rig.
What We Like:
This is a very interesting ideal. As silicone won't deteriorate, you can add 'air out' your tires with additional holes (or in the wheels) and not worry about contaminants (water, sand, etc) ruining your foam inserts. We also like the fact that these could well be 'forever' inserts, using them for the life of your tires without ever needed to replace.
What We're Not Sure About:
To use, silicone seems like a hard substance in the tires. The design shows potential (all the pockets collapsing to conform to a surface) but we'll have to see how they work out. The only other note would be the width; they're stated to work best with heavy rigs using narrow tires – if we're using a standard tire would they still work? Would a thicker profile insert still allow enough compression to add grip? So many questions…
BRRM19006 Boom Racing Rock Monster Red Silicone Tire Inserts

For more information, please visit: www.boomracingrc.com
Check out more cool products from Boom Racing on CompetitionX.
Make sure you visit and subscribe to our YouTube Channel (CompetitionX YouTube) for up to date videos on all the current products!
Notice: Some of our articles, videos and descriptions may contain affiliate links, which means that if you click on one of the product links, we may receive a small commission. This helps support the website and social media channels and allows us to continue to produce content. Thank you for the support!
#boomracing #rccars #competitionx