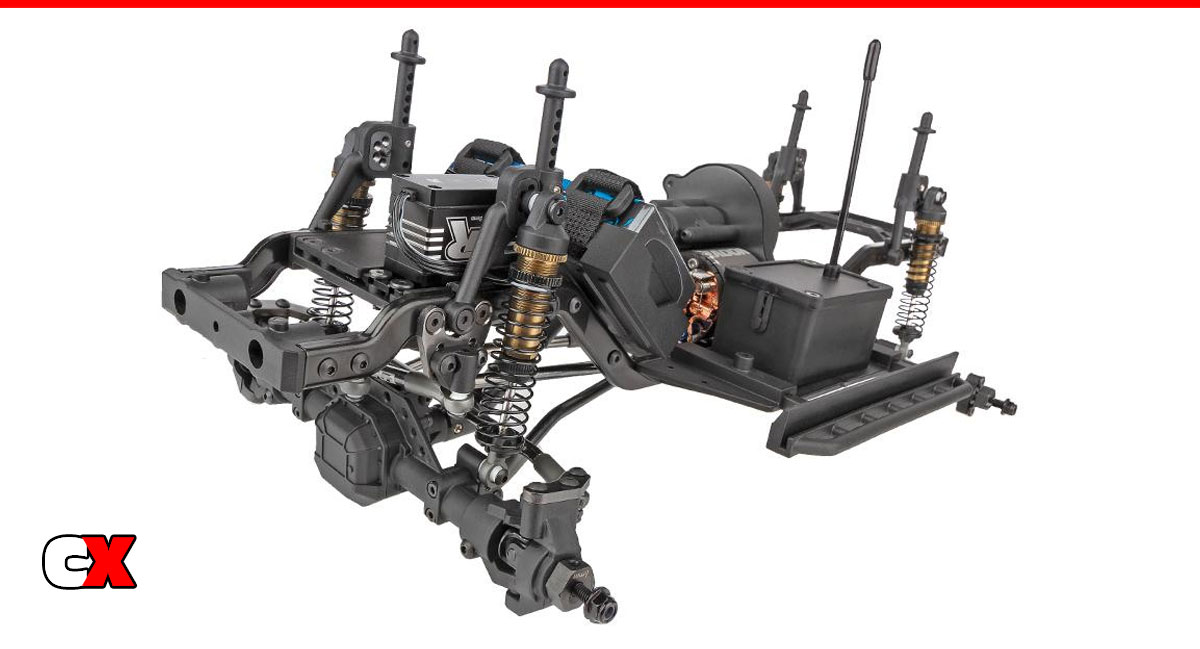 Element RC has announced a Version 2 to their spectacular Enduro Trail Truck Builder's Kit. This kit has all the features of the first edition with some new items added to the box! Those new parts include an aluminum track bar mount from the GKSTM, shock mount inserts for tuning, bronze-anodized shocks from their Factory Team line, high-clearance links for the 12.3″ wheelbase, steel wheel hexes from their Factory Team line and delrin pivot balls for smooth performance. In addition, the new Kit 2 comes with Element's Stealth(R) X gearbox and adjustable overdrive gears, perfect for fine-tuning the climbing performance of your rig!
What We Like:
The Enduro Trail Truck Builder's Kit is already a fabulous ride – that's the one Enduro we actually have! We loved the build and the ability to incorporate your own electronics. Adding a Kit 2 designation with all the hop-ups makes it more of a 'Factory Team' version and one that will definitely attract more people – we certainly want one! And, it's only $10 more than the Kit 1 version!!!!
What We're Not Sure About:
With all the included hop ups and a price tag only $10 more than the first version, Element may have a hard time keeping these in stock…
40114 Element RC Enduro Trail Truck Builder's Kit 2

For more information, please visit: www.associatedelectrics.com/element/
When buying Pro-Line product directly on their site, don't forget to use the code COMPETITIONX to save 10% on your order!
Check out Element RC products at AMain Hobbies.
Check out more cool products from Element RC on CompetitionX.
Make sure you visit and subscribe to our YouTube Channel (CompetitionX YouTube) for up to date videos on all the current products!
Notice: Some of our articles, videos and descriptions may contain affiliate links, which means that if you click on one of the product links, we may receive a small commission. This helps support the website and social media channels and allows us to continue to produce content. Thank you for the support!
#elementrc #rccars #competitionx