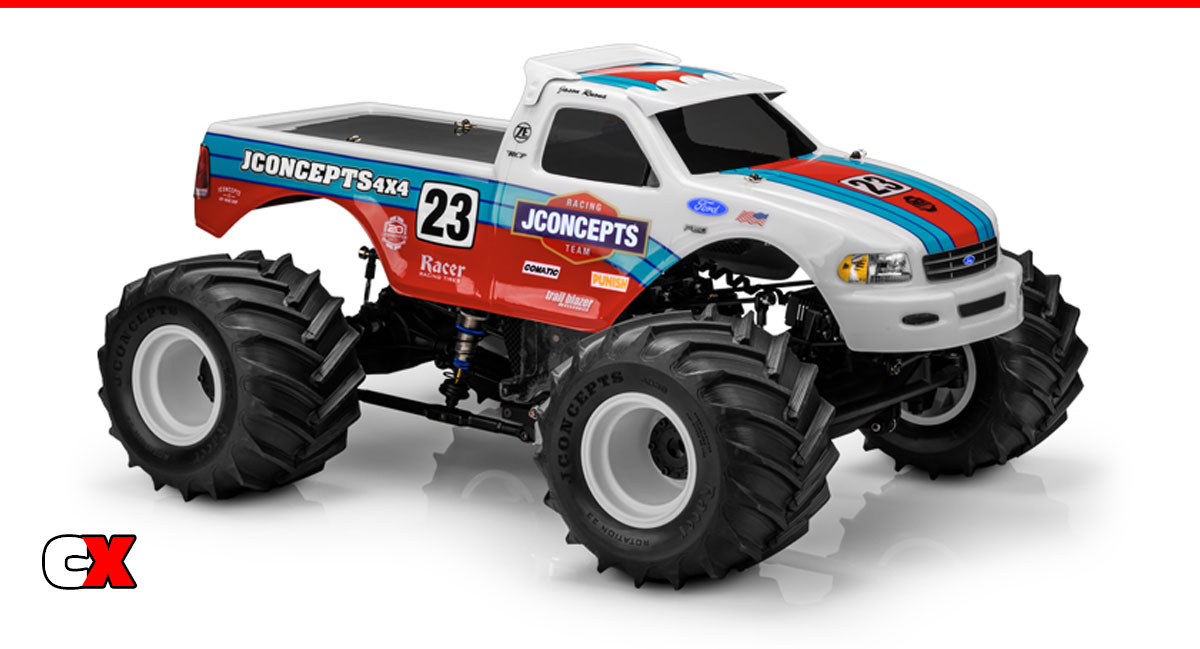 JConcepts has announced the 1997 Ford F-150 Monster Truck body set. This body is molded in 1/10 scale and officially licensed by Ford. It is designed to work with any 13″ wheelbase truck and comes clear with window masks, overspray film and window masks.
The Ford F-150 features the standard JC Ford shape with nice, race-inspired lines, grille and bed. It has a 'bolt on' windshield visor and rooftop wing to a little bit of added downforce. The detailed sticker sheet has quite a few different variations of markings, allowing you to mimic the sample model or come up with something on your own.
Quick Stats
Product: JConcepts 1997 Ford F-150 Monster Truck Body
Part #: 0304
Scale: 1/10 Scale
Price: $38.25
Build Type: n/a
BUY NOW: https://alnk.to/28P6Yat
Features
• Officially licensed by Ford to JConcepts
• Body measures 7.50" in width 13" wheelbase
• Fits a variety of platforms including solid axle race trucks
• Scale inspired body, cab, and window design
• 1:1 headlight and grille treatment
• Clear heavy-duty polycarbonate with protective film
• Includes cab spoiler and visor for authentic appearance
• Window masks and detailed 1997 Ford F-150 decal sheet
What We Like:
Just another beautiful body set from JC for all you Monster Truck fans!
What We're Not Sure About:
Nada. Great truck body.
For more information, please visit: jconcepts.net
Gallery

Video

Check out more cool products from JConcepts on CompetitionX.
Make sure you visit and subscribe to our YouTube Channel (CompetitionX YouTube) for up to date videos on all the current products!
Notice: Some of our articles, videos and descriptions may contain affiliate links, which means that if you click on one of the product links, we may receive a small commission. This helps support the website and social media channels and allows us to continue to produce content. Thank you for the support!
#jconcepts #rccars #competitionx
Random Past Posts
Beginner's Guide to RC – How Much Do You Really Have to Spend to Go Fast? It's no big secret that the touring car segment of RC isn't doing so …

Hot on the heels of their EVOlution wheel release, AKA has announced the first in a series of EVO 1/10th scale buggy tires. These tires are molded to fit AKA's …

Oreolai has just released a sick looking 4WD drifter called the SFR-01. This drifter sports some pretty cool features including twin vertical chassis plates, front-motor design, cantelever front shock setup …