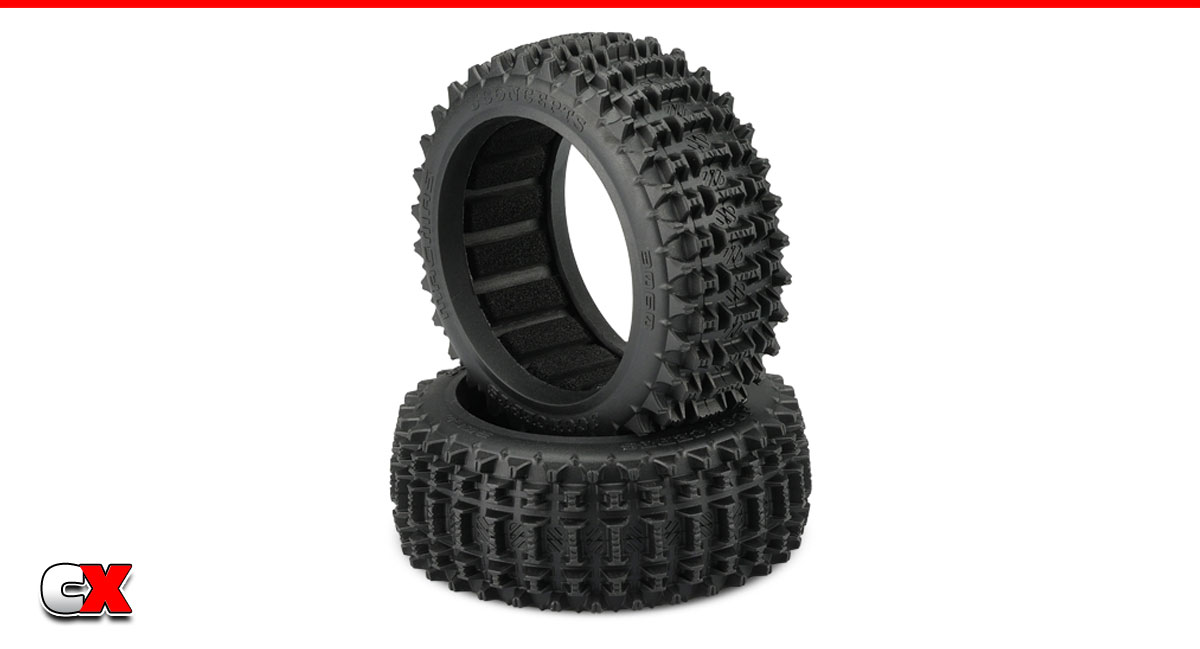 JConcepts has introduced the Magma 1/8 scale tire – a nice roller with a wicked-looking tread pattern. The design features a large, horizontal tread that gives massive forward bite with a low profile for limited wobble. Internally, the Magma has large radial ribs to help control tire growth at high speeds.
The Magma is available in 3 versions – tires by themselves, tires pre-mounted on white Cheetah wheels (with inserts) and tires pre-mounted on black Cheetah wheels.
What We Like:
Honestly, this is one of the craziest tread patterns I've seen for 1/8 scale use. These things look like they'd claw there way up a tree! We also love that they come pre-mounted (as an option) on JC's Cheetah wheels, allowing you to modify the look to suit your needs. These look like a great set of all-terrain tires for the basher market.
What We're Not Sure About:
Not really anything. The Magmas will appeal to those looking for some seriously aggressive tires that have long tread life.
3060-00 JConcepts Magma 1/8 Buggy Tires – Yellow Compound, Unmounted
3060-1097 JConcepts Magma 1/8 Buggy Tires – Yellow Compound, Pre-Mounted on White Wheels
3060-3097 JConcepts Magma 1/8 Buggy Tires – Yellow Compound, Pre-Mounted on Black Wheels

For more information, please visit: www.jconcepts.net
Check out JConcepts products at AMain Hobbies.
Check out more cool products from JConcepts on CompetitionX.
Make sure you visit and subscribe to our YouTube Channel (CompetitionX YouTube) for up to date videos on all the current products!
Notice: Some of our articles, videos and descriptions may contain affiliate links, which means that if you click on one of the product links, we may receive a small commission. This helps support the website and social media channels and allows us to continue to produce content. Thank you for the support!
#jconcepts#rccars #competitionx