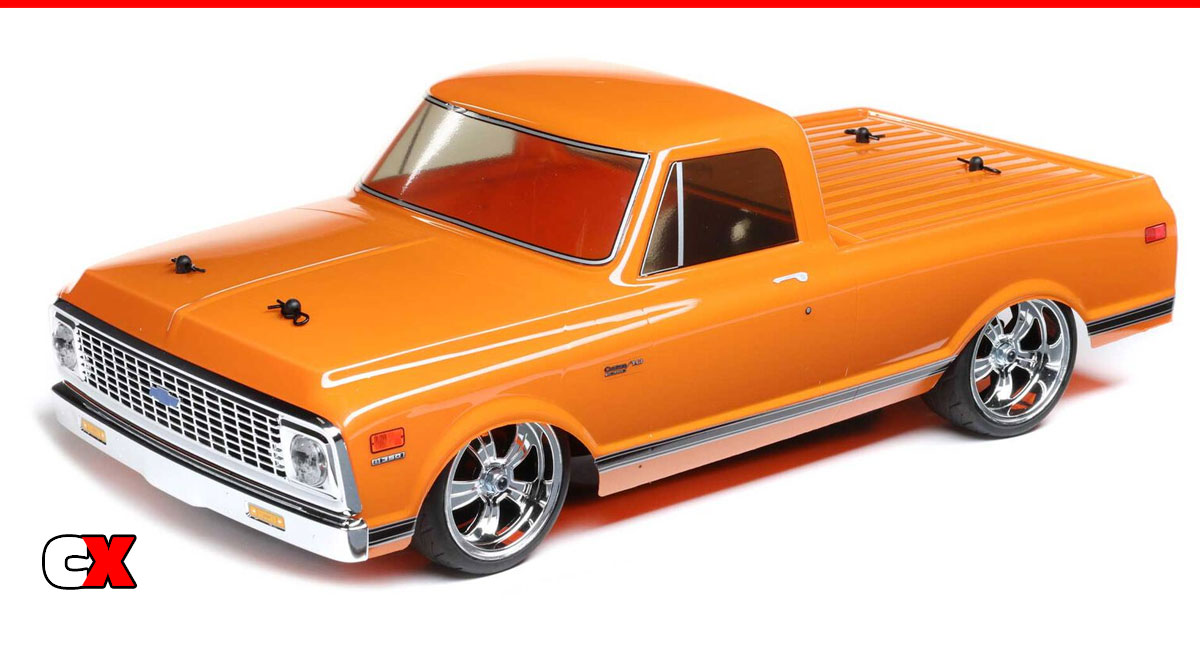 Losi has announced the 1972 Chevrolet C10 Pickup, a new 1/10 scale onroad ride based on their V100 platform. This truck is 4WD and comes loaded with a 2.4GHz radio system that features a waterproof 2-in-1 ESC/Receiver unit, a Dynamite 15T brushed motor and LED lights. The licensed Chevy body is gorgeous and looks fantastic matched up to the 5-spoke chrome wheels and low-profile street tires.
What We Like:
We do love our old-school rides and this C10 sure looks good! The V100 chassis is a great platform for beginners and we're happy to see a full set of waterproof electronics. There does appear to be a few tuning options available to tweak on to increase performance and I'm sure the treaded tires do a great job of providing maximum grip. Great job on the body set as well – love the two available colors!
What We're Not Sure About:
While we understand that the brushed motor system helps keep the price down, we're not sure we like the fact that it is in fact a BRUSHED system. In this day and age, brushless is a big selling point for many reasons. Unfortunately we think that could be a deal breaker.
LOS03034T1 Losi V100 1972 Chevrolet C10 Pickup – Orange
LOS03034T2 Losi V100 1972 Chevrolet C10 Pickup – Black

For more information, please visit: www.horizonhobby.com
Check out Losi products at AMain Hobbies.
Check out more cool products from Losi on CompetitionX.
Make sure you visit and subscribe to our YouTube Channel (CompetitionX YouTube) for up to date videos on all the current products!
Notice: Some of our articles, videos and descriptions may contain affiliate links, which means that if you click on one of the product links, we may receive a small commission. This helps support the website and social media channels and allows us to continue to produce content. Thank you for the support!
#losi #rccars #competitionx