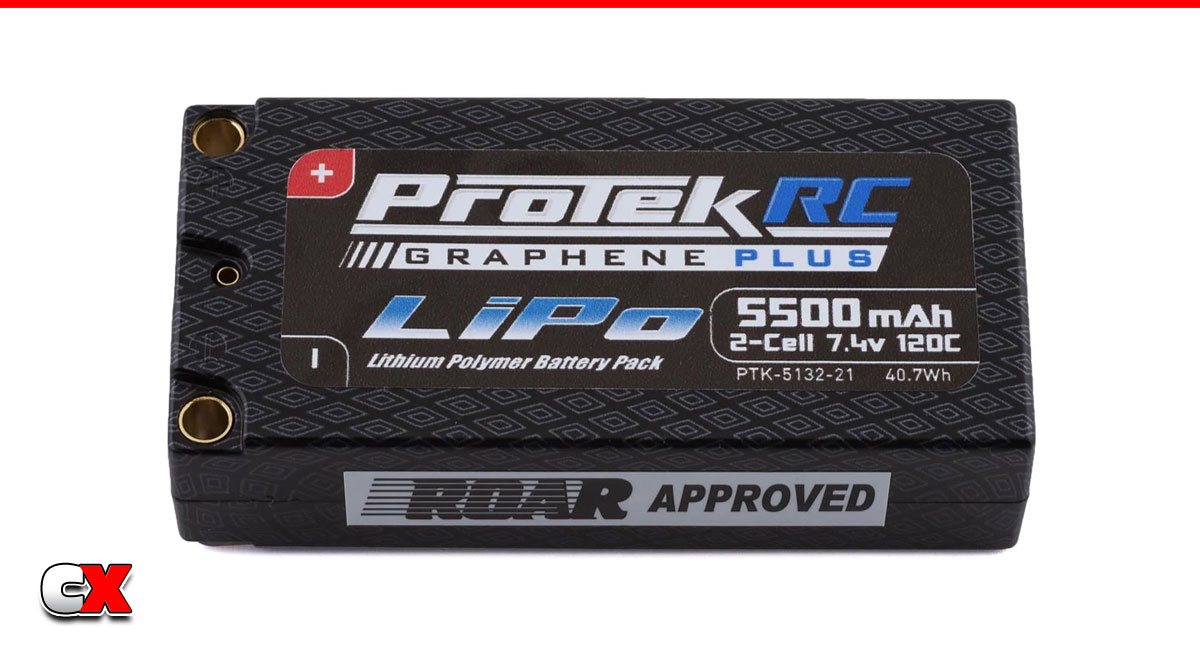 Looking for your next LiPo battery pack? It seems ProTek has you covered with the release of 3 new Graphene Plus versions: 5700mAh Slim 2S 120C HV LiPo Battery, 6000mAh 4S 120C HV Shorty LiPo and a 5500mAh 2S 120C Shorty "Drag Pack" LiPo Battery. All 3 of these packs come in hard cases and equipped with 5mm bullet connectors.
What We Like:
I've been a big fan of ProTek packs, using them in everything from my M-Chassis to 17.5T TC to offroad stuff. There are quite a few things we love about these packs; minimalistic size, sturdy hard case and the power – ooomph! These 3 new packs are going to be perfect for any racing requiring a standard pack (5700mAh pack), Drag stuff (5500mAh pack – excited about this one) and Trail Trucks or shorty-LiPo projects that need 4S!
What We're Not Sure About:
While we see a huge market for the standard and Drag packs, I'm not quite sure what the shorty 4S is for – it's just an odd size. I'm sure ProTek has an idea for it, just think it's strange to create a pack with these dimensions.

For more information, please visit: www.amainhobbies.com
Purchase
ProTek RC 2S Slim 120C 5700mAh HV LiPo Battery


Purchase
ProTek RC 4S 120C 6000mAh HV LiPo Battery


Purchase
ProTek RC 2S Drag Pack 120C 5500mAh HV LiPo Battery


Check out ProTek products at AMain Hobbies.
Check out more cool products from ProTek on CompetitionX.
Make sure you visit and subscribe to our YouTube Channel (CompetitionX YouTube) for up to date videos on all the current products!
Notice: Some of our articles, videos and descriptions may contain affiliate links, which means that if you click on one of the product links, we may receive a small commission. This helps support the website and social media channels and allows us to continue to produce content. Thank you for the support!
#protek #rccars #competitionx