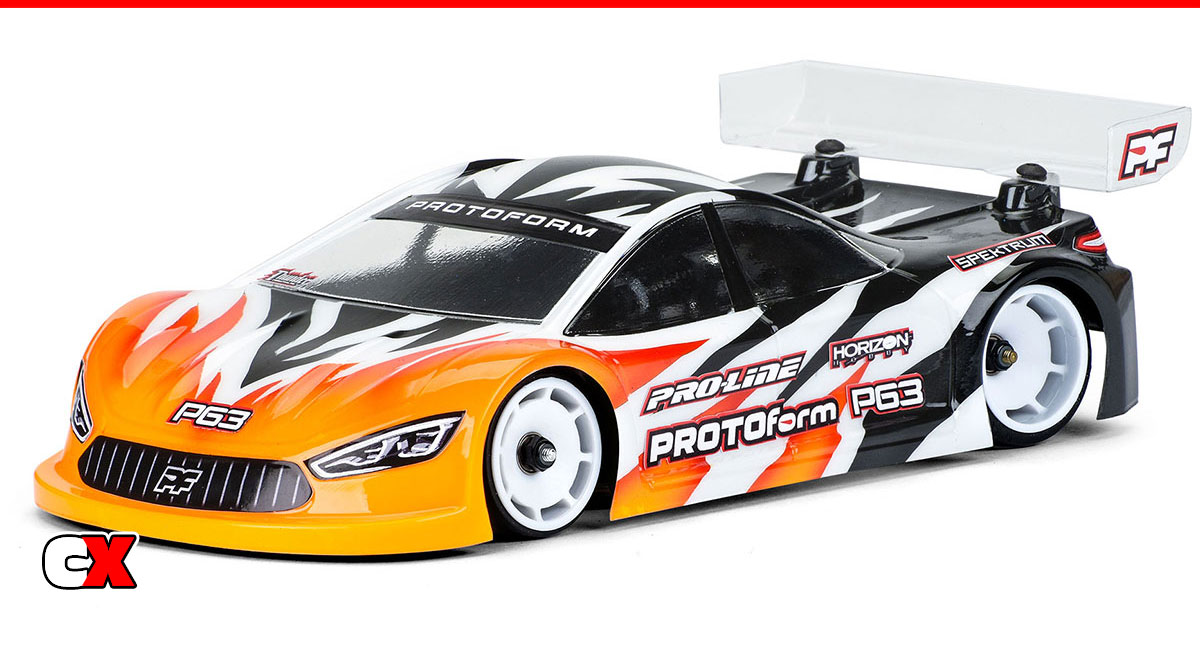 PROTOform has announced a new product for 1/28 scale onroaders – the P63 Lightweight Body Set.
This body is modeled after the 1/10 scale P63 but is sized-down to fit the Kyosho Mini-Z or other 1/28 scale 98mm wheelbase onroad cars. If features the sloped hood and cab-forward layout, hood-stiffening ribs and recessed truck and includes a large, separate rear wing.
Quick Stats
Product: P63 Body Set – Mini-Z
Part #: 1590-15
Scale: 1/28 Scale
Price: $23.99
Build Type: n/a
BUY NOW: https://bit.ly/3x9YqSN
Features
• Radical high-downforce design with a sloped hood and cab-forward layout
• Stiffening hood ribs for low deflection in ultra-lightweight
• Recessed trunk section for low CG and extra stiffness
• Sculpted side door panels for increased side-bite
• High flow rear bumper area for reduced aero drag
What We Like:
Even in 1/28 scale, this body looks quite amazing. Add the cool-looking dinky tire sets and we're pretty certain this body is going to take over the Mini-Z world. This may start a new trend in 1/28 scale racing!
What We're Not Sure About:
Unfortunately these bodies are designed more for performance than looks, which is something the Mini-Z crowd was known for (awesome LOOKING scale bodies). These will most likely require a new class be made to take full advantage of them.
For more information, please visit: www.racepf.com
Gallery

Check out more cool products from PROTOform on CompetitionX.
Make sure you visit and subscribe to our YouTube Channel (CompetitionX YouTube) for up to date videos on all the current products!
Notice: Some of our articles, videos and descriptions may contain affiliate links, which means that if you click on one of the product links, we may receive a small commission. This helps support the website and social media channels and allows us to continue to produce content. Thank you for the support!
#protoform #rccars #competitionx