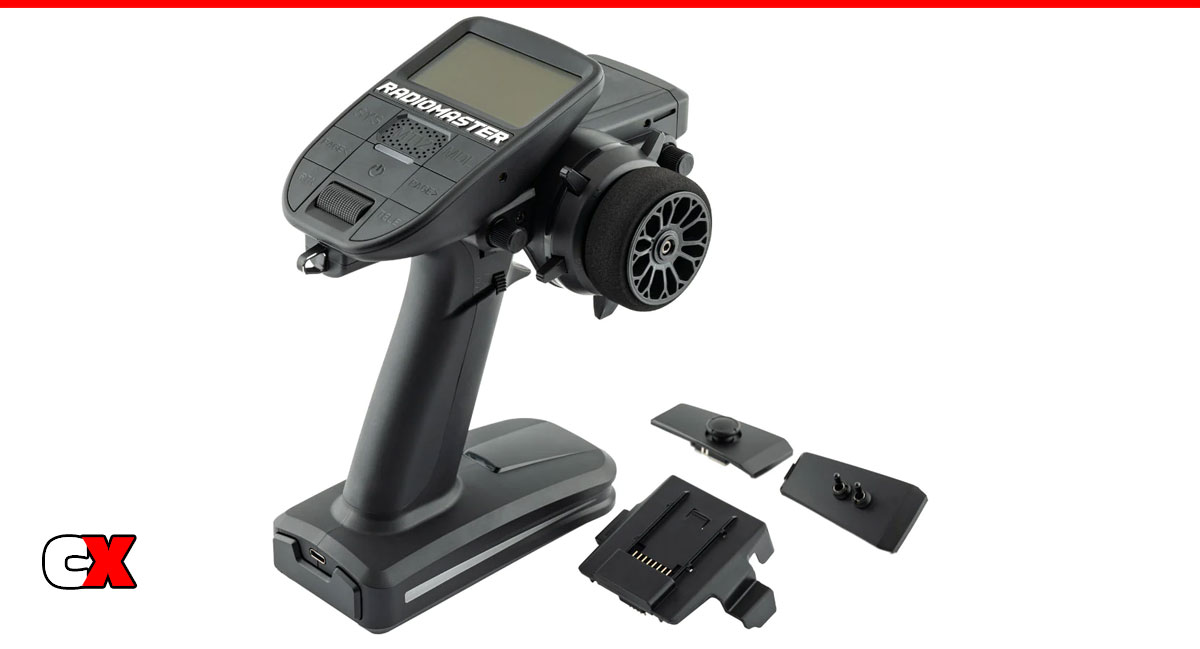 So, it appears there's an upcoming radio system that is sparking alot of interest – the Radiomaster MT12!
This new setup brings some interesting features to the radio game: 16 channels (upgradeable to 32), 4 built-in RF chips, over 70 supported protocols, telemetry – all wrapped in a super-fast, long range signal.
The craziest feature is the protocols – apparently, with over 70 available, the MT12 will work with a TON of different receivers, making it easy to control your fleet of RTRs (on the one radio) without having to buy a bunch of new receivers.
The model memory is also kind of crazy – it's unlimited based on an SD storage card.
There's a bunch more going on and, yes, we're trying to get our hands on one to see if it's legit!
Quick Stats
Product: Radiomaster MT12 Radio System
Part #: MT12
Scale: n/a
Price: $129.99
Build Type: n/a
BUY NOW: www.radiomasterrc.com
Features
• Available with built-in ExpressLRS or 4in1 MPM RF modules
• Featuring a powerful STM32F407VGT6 with 1MB Flash
• Preinstalled EdgeTX firmware
• QC3.0 fast charging supporting 2.0A MAX
• Compact design with excellent ergonomics
• Oversized battery compartment – 2 x 18650 cells or a 2s 7.4v 5000mah battery pack (Batteries not included)
• Standard Nano module compartment
• RadioMaster standardized button layout
• Rotatable antenna
• Customizable base switches or 4 way joystick included
What We Like:
If you could control your 3 race cars, 10 RTRs, your crawler and boat on one radio (all with different receivers), would you? Kind of a no-brainer, if it works as intended… And, it's only $130!!!!!
What We're Not Sure About:
It needs to work as intended. We're a bit skeptical since it's new tech (for surface), so we'll have to wait and see how it pans out.
For more information, please visit: www.radiomasterrc.com
Gallery

Video

Check out more cool products from Radiomaster on CompetitionX.
Make sure you visit and subscribe to our YouTube Channel (CompetitionX YouTube) for up to date videos on all the current products!
Notice: Some of our articles, videos and descriptions may contain affiliate links, which means that if you click on one of the product links, we may receive a small commission. This helps support the website and social media channels and allows us to continue to produce content. Thank you for the support!
#radiomaster #rccars #competitionx
Random Past Posts
Tekno RC is happy to release its new HD Servo Saver Spring (TKR5101X). This spring is a direct upgrade for the EB48 and the SCT410. The Servo Saver Spring is …

There are two different types of people that solder; those that do it with precision for maximum heat transfer and those that use the 'smashed hands' approach (when the solder …

The RC Driver Voice Your Choice award is among the most respected awards you can possibly get in the RC industry because it is solely determined by readers who log …