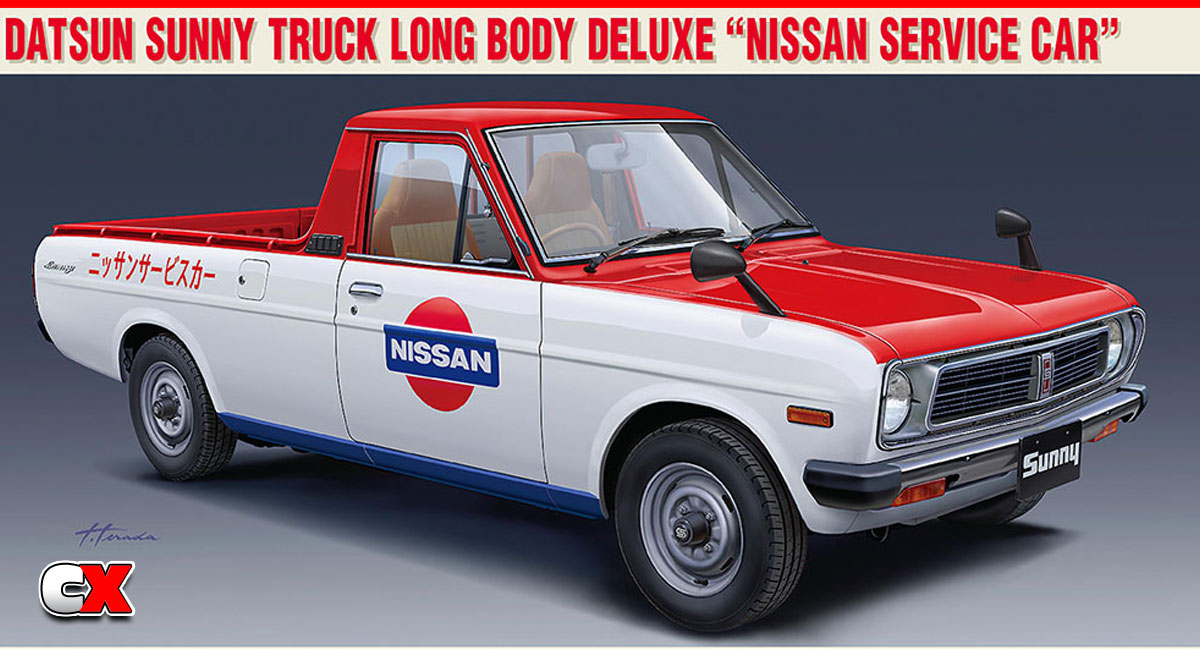 Hasegawa has announced 6 new model kits for February 2021 – 3 Toyotas, 2 Datsuns and a Subie! All of these are killer, but I've got my eye on the Supra and the Datsun duo!
First up on our list is the 1988 Minolta-sponsored Toyota Supra Turbo A70. It's a 1/24 scale kit with approximately 118 parts. We're totally digging the detail on this kit – the under-bumper intakes, complete rollcage, side exhaust and amazing livery. Should be a great kit to build.
21142 Hasegawa Minolta Supra Turbo A70 "1988 Inter Tec"
So. Bad. Ass. What a great kit this is! The Datsun Sunny Service Truck is molded in 1/24 scale with approximately 114 parts. It comes with period-correct wheels, fender mirrors, a full interior and a decal sheet with all the Nissan logos. This is going to be a fun build for sure!
20482 Hasegawa Datsun Sunny Truck Long Bed Deluxe "Nissan Service Car"
The third release is the Toyota Corolla Levin AE92 GT-Z. It is 1/24 scale with approximately 116 parts. This saloon is the supercharged version and features the integrated hood scoop, body kit and rear wing. It can be built as the RHD version as well.
20486 Hasegawa Toyota Corolla Levin AE92 GT-Z Late Version
Straight from the 1997 Portugal Rally, this Subaru Impreza is in 1/24 scale with 133 parts. It features the Portugal Rally livery and all the Rally addons – antenna, roof scoops, roll cage and Rally wheels.
20483 Hasegawa Subaru Impreza "1997 Portugal Rally"
We had one of these as a kit – the 1972 version – and will be getting this for nostalgic reasons! However, we do think this is one of the coolest cars ever made! But we're not biased… This version is in 1/24 scale, has 102 parts and features a chin spoiler, flared fenders and those not-so-attractive wheels. Easy fix! 🙂
20487 Hasegawa Datsun 240Z
The final release for Feb 2021 is a 1/24 scale replica of the 1993 Swedish Rally Winner's Toyota Celica Turbo. This kit contains 117 parts and has features like a scooped hood, mud flaps, OZ Rally wheels and a caged interior.
20484 Hasegawa Toyota Celica Turbo 4WD "1993 Swedish Rally Winner"

For more information, please visit: www.hasegawa-model.co.jp/gsite
Check out more cool products from Hasegawa on CompetitionX.
Make sure you visit and subscribe to our YouTube Channel (CompetitionX YouTube) for up to date videos on all the current products!
Notice: Some of our articles, videos and descriptions may contain affiliate links, which means that if you click on one of the product links, we may receive a small commission. This helps support the website and social media channels and allows us to continue to produce content. Thank you for the support!
#hasegawa #rccars #competitionx