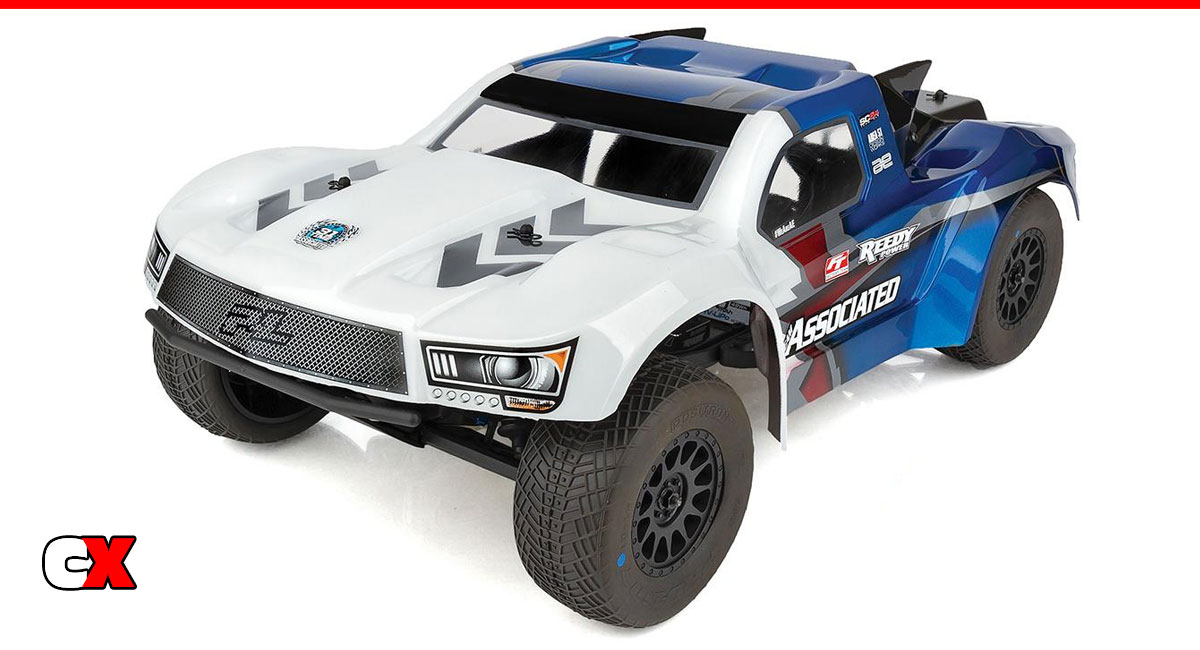 Team Associated has announced their latest update to their Short Course lineup, the RC10SC6.4 Team Kit.
This kit has quite a few updates – from the new chassis design to new suspension and steering parts – making it one of the hottest SC trucks on the market. Other features include an 11g aluminum ESC tray that has been shifted forward for better weight distribution, new side rails with integrated fan mount and new, longer 92.5mm CVA drives for better grip.
This truck also shares most of the parts with the T6.4, B6.4 and B74.2, helping to keep the parts count down if you're racing more than 1 car.
Quick Stats
Product: Team Associated RC10SC6.4 Team Kit
Part #: 70009
Scale: 1/10 Scale
Price: $399.99
Build Type: Kit
BUY NOW: https://bit.ly/41vpisr
Features
• New 13mm big bore threaded aluminum shocks and springs with machined shock pistons for improved bump and jump handling
• 13mm machined shock pistons, 2×1.6mm front and 2×1.8mm rear
• New front ballstud mount and top plate with angled steering system for improved steering consistency
• New 3.5mm heavy-duty ball cups and turnbuckles for maximum durability
• Updated rear suspension with wider C and D mounts from the RC10B6.4 series
• New longer 92.5mm CVA driveshafts for more rear grip
• 7.0mm blue aluminum rear clamping hexes with laser etching
• New chassis side rails with the RC10B6.4 fan mount system
• New short course truck length aluminum chassis with 22.5 deg. kick-up to complement updated front-end geometry and with new shape to reduce chassis scrub with the track surface
• 20 deg., 22.5 deg., and 25 deg. molded bulkheads included for a complete range of caster and kickup options
• B6.4 adjustable height steering bellcrank and rack system for optimized bumpsteer at all ride heights and caster angles
• B6.4 -1mm kingpin offset steering and caster block set for smoother and more predictable steering through the entire wheel throw
• Aluminum RC10B6.4 ESC mounting tray shifted forward in the chassis and with a wider footprint to fit electronics, resulting in a weight bias moved further forward
• Factory Team RC10B6.4 11g aluminum ESC tray
What We Like:
We've always enjoyed AE rides, both on and offroad, and taken them to many wins over the years (mostly club level for us now). We've never been huge fans of the SC class, but knowing the A-Team, they've put some good work into this ride to make it the best it can be.
What We're Not Sure About:
Nothing, really. We're sure it's an excellent truck for a class that, unfortunately, seems to be fading out.
For more information, please visit: https://www.associatedelectrics.com/
Gallery

Check out more cool products from Team Associated on CompetitionX.
Make sure you visit and subscribe to our YouTube Channel (CompetitionX YouTube) for up to date videos on all the current products!
Notice: Some of our articles, videos and descriptions may contain affiliate links, which means that if you click on one of the product links, we may receive a small commission. This helps support the website and social media channels and allows us to continue to produce content. Thank you for the support!
#teamassociated #rccars #competitionx
Random Past Posts
Pro-Line has released six new products in June 2016; new tires, new bodies and a front wing kit. First up is their new Destroyer tires in 2.2″ size. These replicate …

New from DE Racing – full line of Phenom 2.2″ front and rear buggy tires! These tires have feature a slick design with lightly molded cuts in them and work …

Looking to update your Vaterra Ascender? How about dropping this sharp-looking 1979 Ford F-150 body on it – now available from Pro-Line! This body is licensed with Ford and converts …