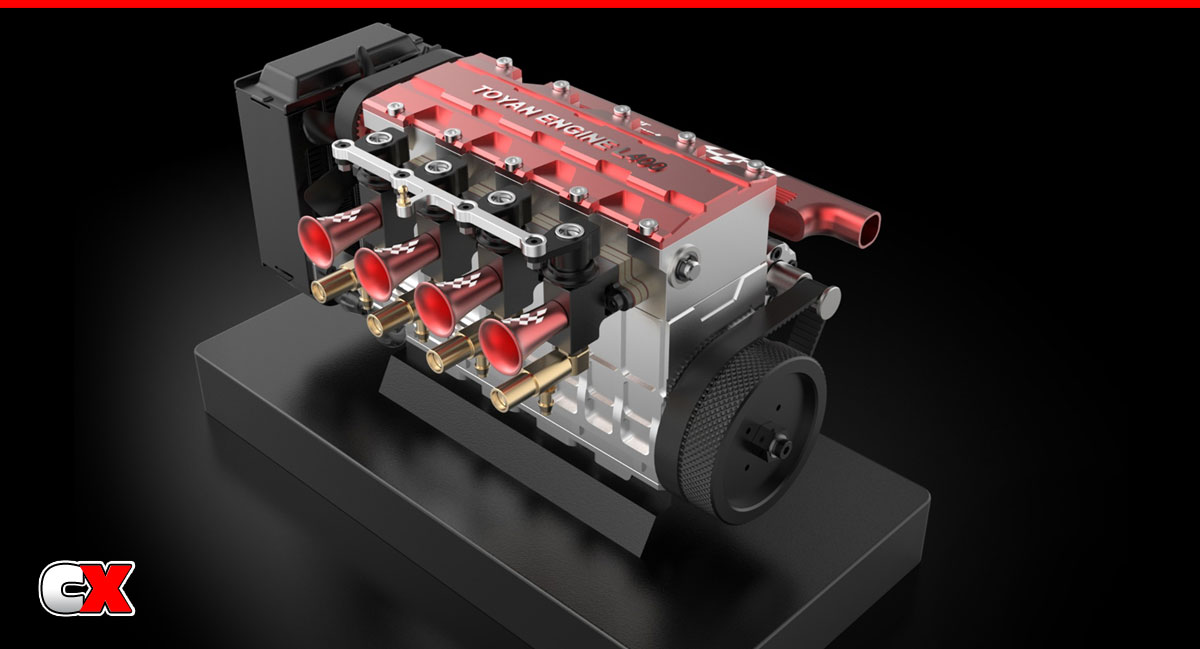 How here's something you don't see everyday – or EVER, actually! Check out this four-cylinder, four-stroke, water-cooled nitro engine from Toyan! The FS-L400 is a fully functional, nitro-drinking engine that uses and electric starter to fire it up. It has a displacement of 14cc (3.5cc x4) and revs at an astonishing 3200-13,500RPM!
What We Like:
Other than the amazingly obvious, this little engine is totally trick, featuring an all-metal construction that includes quad carbs with anodized red funnels, head, pulleys and fuel delivery. It also includes a 7-blade fan and trick radiator setup – even an oil dipstick! Can you imagine the scale builds this thing could drop into? It really is an amazing piece of work!
What We're Not Sure About:
Uh, well, ummm – nothing, other than maybe the cost or engineering involved in dropping this INTO a project. But that's part of the fun of custom building!
FS-L400 Toyan Four-Cylinder Four-Stroke Water-Cooled Nitro Engine

For more information, please visit: www.toyanengine.com
Check out more cool products from Toyan on CompetitionX.
Make sure you visit and subscribe to our YouTube Channel (CompetitionX YouTube) for up to date videos on all the current products!
Notice: Some of our articles, videos and descriptions may contain affiliate links, which means that if you click on one of the product links, we may receive a small commission. This helps support the website and social media channels and allows us to continue to produce content. Thank you for the support!
#toyan #rccars #competitionx