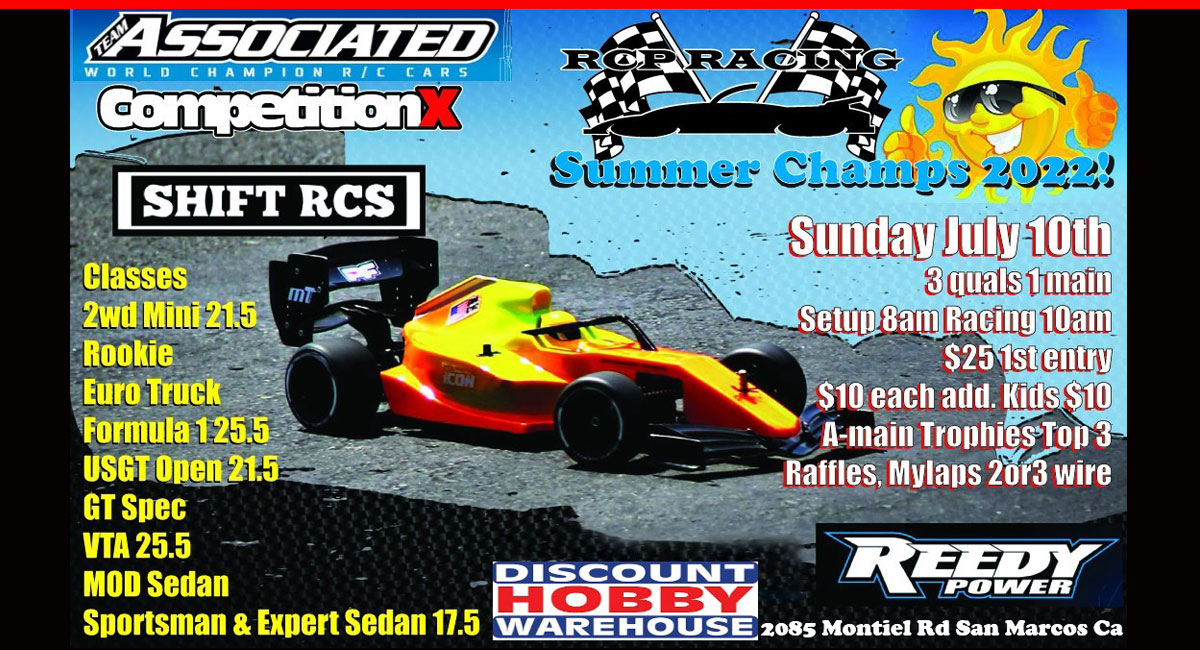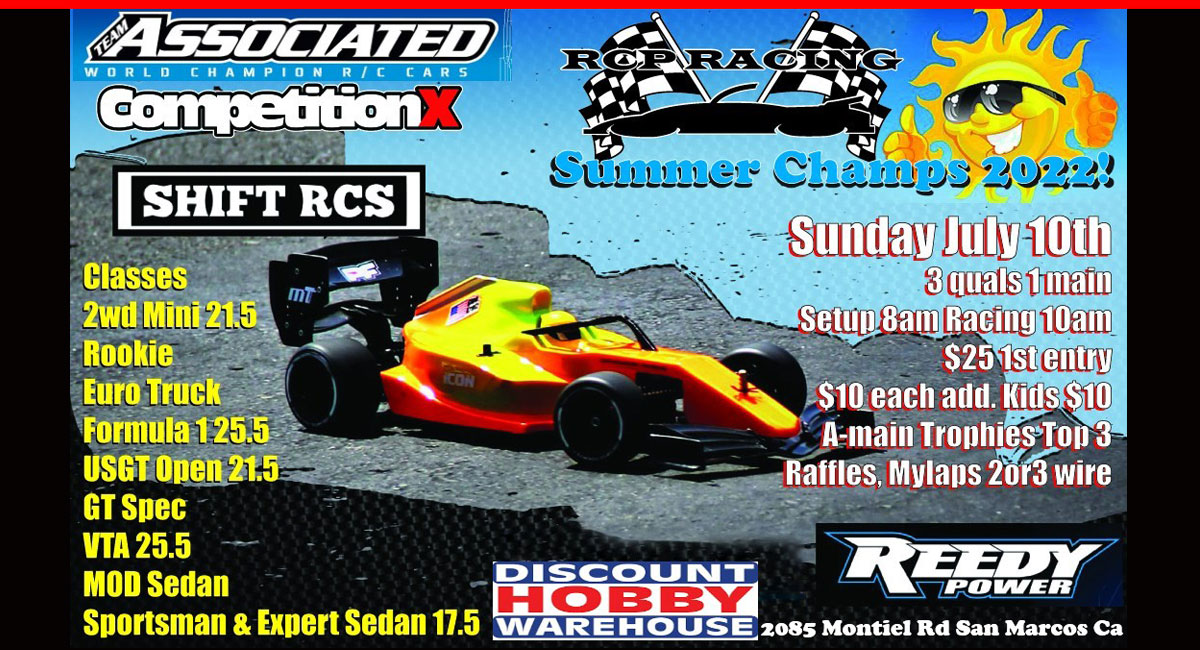 A local racing group, RCP Racing, has announced their 2022 Summer Champs Race happening on July 10th in San Marcos CA.
There will be 10 classes to choose from: 2WD Mini (21.5T), Rookie, Euro Truck, Formula 1 (25.5T), USGT Open (21.5T), GT Spec, VTA (25.5), Mod Sedan, Sportman 17.5T and Expert 17.5T.
The day will consist of 3 qualifiers and 1 main event. Setup starts a 8am, racing starts at 10am.
If you're interested in going, the parking lot location will be held at Discount Hobby Warehouse in San Marcos, CA.
Address:
2085 Montiel Rd.
San Marcos, CA
Here's a list of the general rules:
Rookie/ Novice: Any on-road chassis up to 1/10, highly recommend 21.5 or slower motor
Euro Truck: TCS Spec (Tamiya box stock, ball bearings ok)
Mini 2WD: M-Chassis 21.5 limit 1300gr min. weight (no Sedan/TC body)
Stock 17.5 Sedan: Any 1/10 on-road chassis, sedan body, 17.5 motor limit
USGT: Any 1/10 on-road chassis, 21.5 motor limit, GT body, Gravity treaded tires
VTA 25.5: Any 1/10 chassis, 25.5 motor limit, Vintage Trans Am body, VTA HPI or PROTOform tires, 1425g min. weight
GT Spec:
– Tamiya TT01/TT02/R, RR, Kyosho Fazer MK2, or Traxxas 4-Tec.
– Any GT body, Reedy 21.5 FT #297 motor, kit tires or Gravity treaded tires.
– 5.11 highest FDR, Tamiya high-speed gear set & adjustable motor mount allowed for Tamiyas.
– You may upgrade your Tamiya up to TT02RR specs. Tuning springs & adjustment links ok.
– Kyosho MK2 & Traxxas 4-Tec tuning springs & adjustable suspension links ok.
Formula 1: 25.5 motor limit, rubber tire
Mod Sedan: Any 1/10 on-road chassis, sedan body
*All classes are 2S LiPo & blinky ESC (non timing/boost/turbo) except for Mod Sedan
Make sure you visit and subscribe to our YouTube Channel (CompetitionX YouTube) for up to date videos on all the current products!
Notice: Some of our articles, videos and descriptions may contain affiliate links, which means that if you click on one of the product links, we may receive a small commission. This helps support the website and social media channels and allows us to continue to produce content. Thank you for the support!
#rcracing #rccars #competitionx