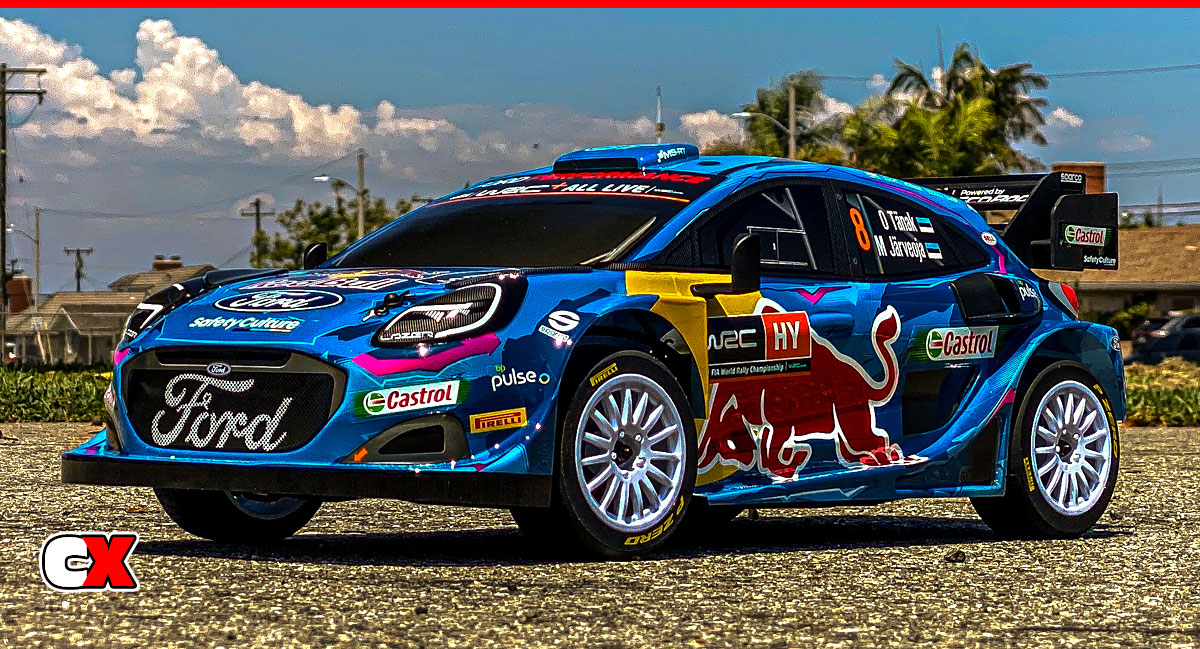 CEN Racing has decided to go Rally racing and entered the market in the best possible way – a fast, capable brushless chassis topped with, by far, one of the best looking Rally bodies done to date. This thing is a visual masterpiece and, quite honestly, freaked us out a little that we may be tearing it up all for the sake of some good video.
But before we get into what we liked and didn't like, let's wipe the drool up and get to the nitty gritty of what this hunk of gorgeous-ness has to offer!
Specifics
Product:
Review: CEN M-Sport Ford Puma Rally RTR
Website:
www.cenracingusa.com
Purchase:
https://bit.ly/3P2h8oo
Part #:
CEG8999
Scale:
1/8 Scale
Price:
$459.99
Build Type:
RTR
Recommended For:
Anyone who's into Rally, or anyone that loves to go fast on asphalt AND dirt!
What's Included
This is a full-on RTR kit and comes with almost everything you need to get up and running.
What's Needed
• 2S or 3S LiPo Battery
• LiPo Charger
• 4 AA Batteries

Main Features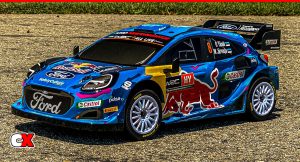 1. Of course, the first thing we need to chat about is the stellar Ford Puma Rally body. This piece of polycarbonate is an absolute work of art – beautiful lines, amazing graphics package and a good bit of exterior parts – rear-view mirrors, side scoops (non-functional) and that hefty rear wing. Completing the overall look is a set of white, multi-spoke wheels wrapped in Pirelli P-Zero treaded street tires. The rubber compound on these works great on the asphalt (as long as you're not cooking them), but does require a soft throttle finger in the dirt. You could, of course, reduce the battery from a 3S to a 2S, resulting in less power but a smoother drive – unless you're like us and just like to throw dirt everywhere and make a big mess!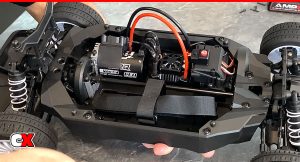 2. The 1:1 Puma is a beast in the power department, so CEN decided to match that blistering performance with a stout power system of their own. Steering is handled by a 12Kg, metal-geared Savox servo. It comes with a industry-standard 25T servo horn and is stuck nicely on the chassis under the receiver box. Right behind that is a Hobbywing 100A 3S-capable ESC with a T-Plug connector. It has an external fan, automatic throttle range calibration and offers 5-levels of punch. The ESC wires reach back to a CEN-branded 3000kV brushless motor. This is a sensorless system and, unfortunately, we did experience some laggy acceleration. However, once it got up and going, this thing was a missile! Controlling the entire project was an AMP-30 3-channel radio system. It's not fancy, but it does have everything you need to keep this Puma in a straight line – dual rate, trims and EPA. Oh, and a failsafe system which, thankfully, we didn't have a chance to check out.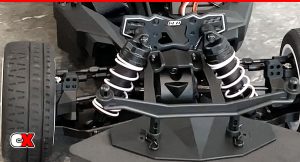 3. CEN has given the Ford Puma a pretty hefty suspension setup. Both ends of the car feature aluminum shock towers with lots of adjustment holes, both above and below, to help change the ride height should you be Rallying on tarmac or dirt. Big bore shocks are on all four corners and have threaded bodies to easily alter ride height. Beefy steering blocks are up front and hubs in the rear, all with multiple camber link locations to fine tune the performance. And finally, the Rally car has some trick suspension arms that are not only thick, they have channels in them to help divert air in an attempt to maximize downforce. Now, we're pretty sure those channels don't do much but the idea is really clever.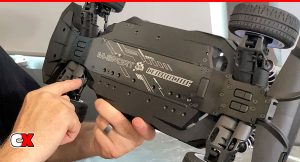 4. As a base for the entire platform, CEN includes a black-anodized aluminum plate running down the center of the car. It's narrow but has bulky plates attached to each side to help strengthen it up. These side plates also help keep debris out of the chassis however, should any rocks or dirt get in, channels in the rear allow it to easily flow out. Cool idea! The aluminum plate also has a little bit of kickup in the front, lots of screw holes for adjustments and the M-Sport CEN Racing logo printed on it. Finally, a massive front and rear bumper are attached at either end to keep everything in between safe during impacts.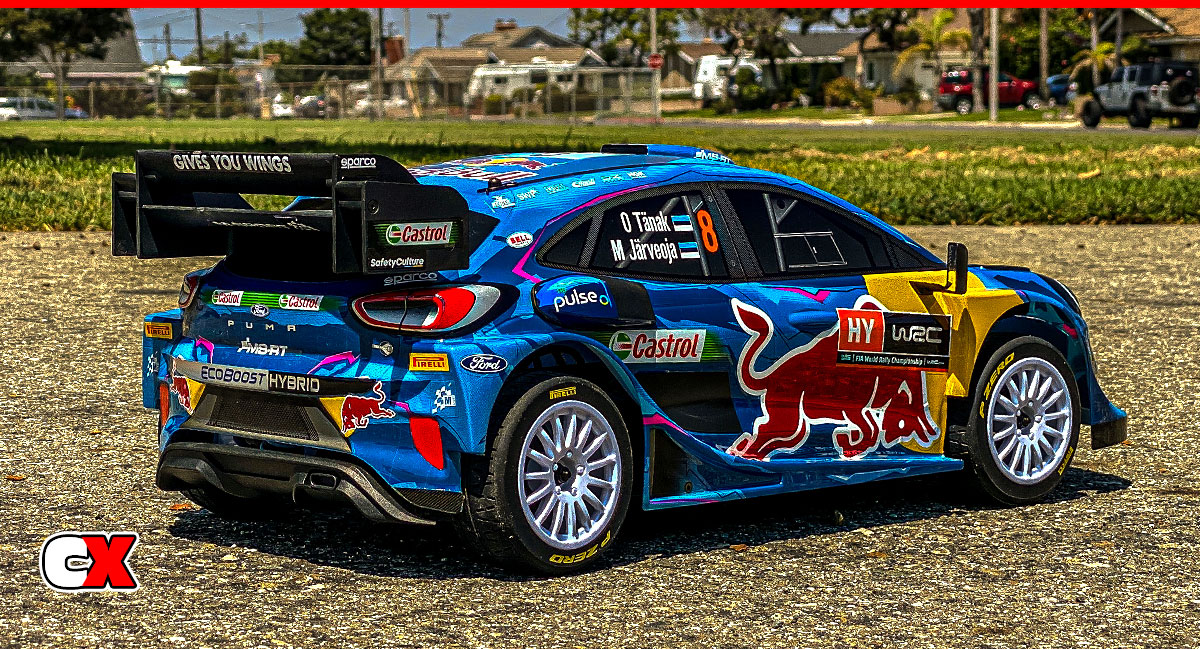 Performance
So, we were all set to give this car a full blown tarmac and dirt thrashing, however we have to be honest here – during our initial test run, we tried to be a little aggressive with it on a small concrete path and ended up applying a bit too much power, sending it off course, off the path and into a very large concrete light post. At speed. The end result was basically a Pile of Puma.
We did, however, get to drive it for a little over 1/2 a battery pack so we're going to base the below review info on that. We do plan on getting it repaired and doing a good Rally video soon – just waiting on the parts.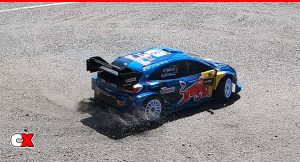 Speed
We actually tried the Puma on 2S for about, oh, 30 seconds. It's fun, but we knew that since the electronics were 3S capable, we really needed a more powerful LiPo in this thing! Dropping a bigger battery in was the ticket as now the Puma became a immediate monster to drive. Calming down a bit on the throttle, we managed to start pulling off some nice power slides and drifts. A quick run with the SkyRC GNSS showed a top speed of about 47mph, impressive for a car designed more for squirty Rally courses than all-out speed runs.
Handling
The M-Sport handles about as good as you'd expect from an overpowered, oversized car that is made for power-sliding. Again, under normal circumstances (meaning, not full throttle 100% of the time), the handling is there. The tires and suspension work in unison to keep the car controlled and manageable, however the moment you 'just want more', the handling kind of goes out the window. Our suggestion – if you want good handling, use a 2S LiPo. If you want out-of-control and a wildly rad ride – 3S.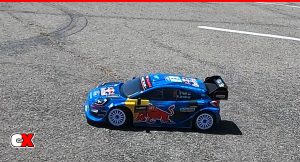 Suspension
Again, depending on your battery output, the suspension can either do its job or it can't. For the most part, the shocks are great at calming down the car when driving in a controlled fashion. Small jumps, uneven pavement and even tarmac-to-dirt transitions are all soaked up wonderfully by the Puma's suspension. It's when you start getting out of control that it struggles, but we're not sure there's really a fix for that as the car just overpowers the adhesion level of the tires.
Durability
Ok, so as we mentioned earlier, we broke the car. It was a pretty damn good hit on the left front quarter panel, bypassing the front bumper and forcing the brunt of the hit on the left front tire (that was unfortunately turned into the crash). The hit broke the arm at the hinge pin, snapped a steering arm and pulled the cap off the shock – a pretty devastating hit considering the amount of fun we were having.
Now, we always ask ourselves during a time like this if the car should be broken or are the parts just weak and, well, we can honestly say yes it probably should have broken. A wider front bumper or more meat on the inner hinge pin boss might have prevented as much damage, but it's hard to say.
One last thing we want to touch on is the mounting of the body. As beautiful as it is, it does sit just a weeee bit forward, making the tires a weeee bit far back in the wheel arches and, under heavy acceleration (or landings), can cause the body to tuck up under the rear tires. Since we can't really shift the body back, we had to trim it just slightly to help prevent the tuck. It's not a big deal but something that should be addressed by CEN prior to the official release of the car.
The Breakdown
Design - 9.5
Visual Appeal - 10
Feature List - 8.5
Performance - 8.5
Parts Support - 7
Upgradability - 7
Fun Factor - 9.5
Gallery

Final Thoughts
The CEN M-Sport Ford Puma Rally surprised us from the moment we saw the amazing box art. The body is beyond stunning, the wheel and tire package matches perfectly, the chassis design has some cool features to it and the Hobbywing power – just wow. This car has everything going for it, aside from the minor (but annoying) body issue, and should be on the top of your list if you're looking for a 1/8 scale Rally ride. Well done, CEN!