Our first experience with any sort of Traxxas crawler was the original TRX-4 Land Rover previous to launch day. It was a beautiful truck with tons of features, massive power (for a crawler) and a stunning Land Rover Defender body set. Unfortunately, the body was loaded down with a bunch of scale gear, making it a bit overweight and quite top heavy. It was also WAY to fast for a crawler (or so we thought at the time).
Jump forward a couple of years to our next TRX-4 experience, this time topped with a 1972 Chevrolet K5 Blazer body. It's also a High Trail Edition, adding some meat to the pie to make it one of the more bad ass trail truck rigs on the market.
While we did give the Blazer some all-terrain testing, we'll be focusing on the crawling part since that's what most people are going to be doing with it.
Let's go!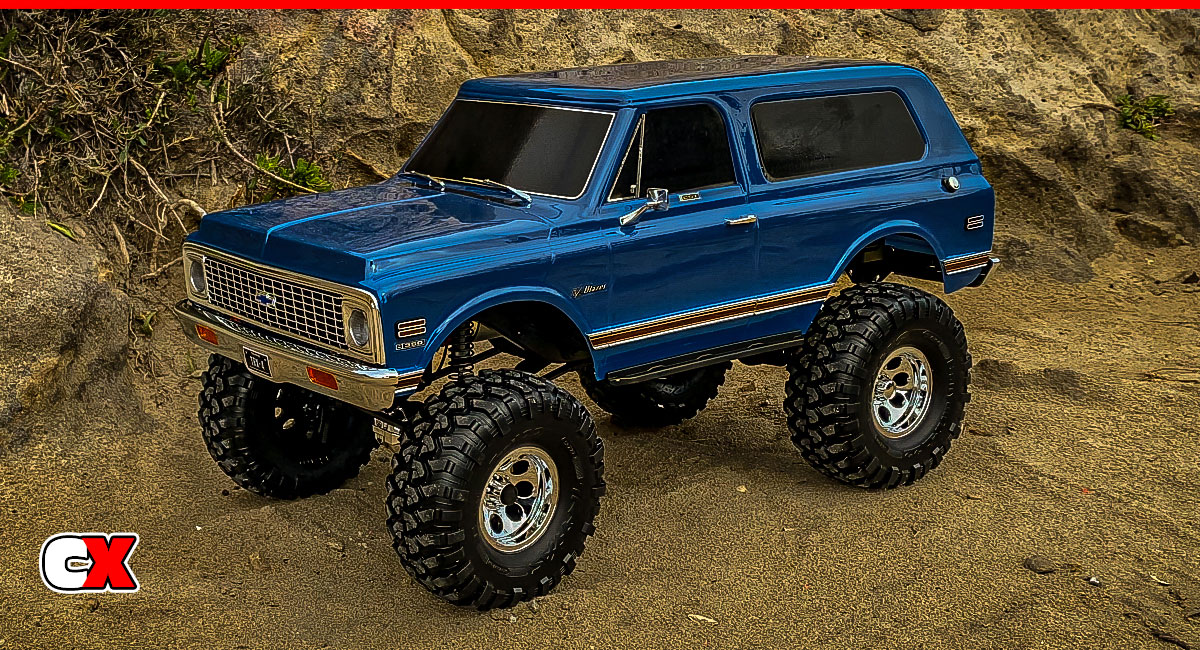 Specifics
Product:
Traxxas TRX4 High Trail 1972 Chevrolet K5 Blazer
Website:
www.traxxas.com
Purchase:
https://bit.ly/3MF5Vb8
Part #:
92086-4
Scale:
1/10 Scale
Price:
$549.95
Build Type:
RTR
What's Included
Being an RTR, all the normal items are included in the box – car, radio gear (installed) and all the typical paperwork. The only things you'll need are a battery, charger and AA's for the transmitter.
What's Needed
• LiPo Battery
• LiPo Charger
• 4 AA Batteries

Main Features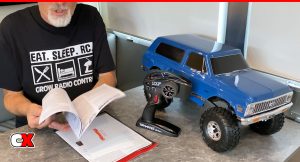 1. The first thing to talk about is, of course, the stellar 1972 Ford Bronco body set. While it is made from polycarbonate (AKA Lexan), it does come with a ton of detail – molded front grille and bumper, windshield wipers, side mirrors and door handles, fuel filler, rear hatch handle and chrome/wood grain trim all along the lower section of the body. It even comes equipped with front and rear lights and side-markers, all ready for LEDs. That's the upside – the downside is, unfortunately, no clear windows. Maybe next time…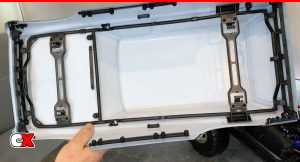 2. Traxxas has become the masters of hiding the body mounting system. The Blazer comes with their 4-point setup with a mounting slot in each inner wheel arch of the truck. Attached to the body is a full-on inner support cage, all tied in to the molded parts that attach to the body! This removes any extra holes needed for the clipless system, strengthens up the body as a whole and allows you to easily remove and re-install the body – flawlessly. It really is a genius setup.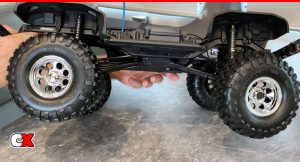 3. To compliment the beautiful Blazer body, Traxxas has added a set of 2.2″ Canyon Trail Tires in the 'Trail-Tuned S1' compound. The tires come with a dual-density foam insert inside and are wrapped around a gorgeous set of 2.2″ chrome mag wheels. They wheels use a standardized 12mm hex in case you want to swap them out (not sure why you would – these look amazing). The tire package also has a slight offset from the body, giving them that aggressive look you would certainly see on a full-size truck like this!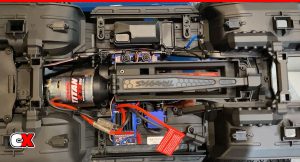 4. Moving to the chassis, everything is just as you'd expect from a high end Traxxas rig – centralized transmission with the weighty motor forward, inline battery box that has provisions for both a standard and micro battery pack, waterproof ESC, a two-speed shifting servo on the left with the sealed receiver box and diff-locking servos on the right. There's also a ton of extra plastic in the form of wheel arches and a floorpan, all designed to add strength and protection to the chassis. A keen eye will also notice two ports on each wheel arch (an open port and a closed port) – the open one is for the clipless body system, the closed one for rock lights (if you choose to add them later).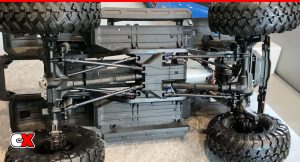 5. Underneath the Blazer is all business. The front suspension hosts a 3-link, panhard bar setup (with steel links) while out back is your standard 4-link design. Portal axles are standard equipment on the High Trail Edition to not only raise the ground clearance, but also to reduce driveshaft angles. A factory-installed long-arm lift kit is another feature of the HTE with with both axle pumpkins capturing the dual T-Lock Remote Locking Diffs. Full bearings, metal rod-end balls and chrome diff covers are also standard on this truck.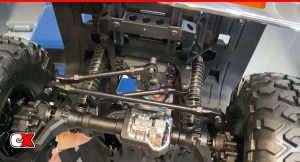 6. As mentioned above, the HTE features a 3-link panhard bar front suspension. Steering link are steel and actuated by a 2075X waterproof, metal-geared chassis-mounted servo. This picture also gives you a good look at the extended-length 110mm GTS shocks, Traxxas' high-end crawler units. These shocks are about 20mm longer than the normal GTS shocks, making them a better fit for the long-suspension travel of the HTE. You might also see the metal servo horn – it's standard equipment as well.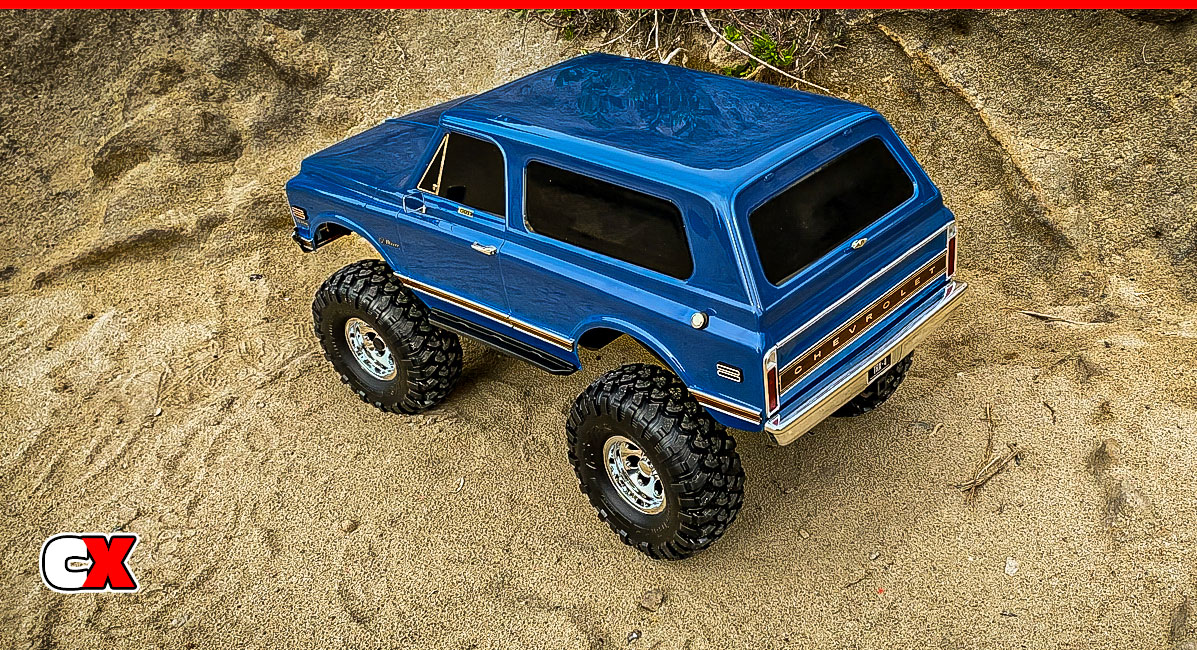 Performance
We love taking our new crawlers down to CDM (Corona Del Mar) for test drives – 1) since it's at the beach, it's always nice and cool, 2) there's plenty of different terrain all in one spot and 3) since we've driven alot of rigs here, we know how it stacks up against the competition!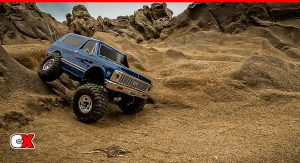 Speed
The HTE TRX-4 comes with a two-speed transmission. Operated remotely, you can switch from high-speed to single-speed in an instant. Traveling from the car to the location, it was all about high-speed. Once we got there, we kicked it into low speed and, in all honesty, that's where it stayed the whole time. It's a bit above a walking pace which makes it easy to follow – in high speed mode, it just powers away and out of sight in seconds. That's great for big, open areas but, for trail trucking, low speed is the ticket.
Handling
All of the good things you've heard about the Traxxas suspension are indeed true – excellent climbing, excellent downhilling and excellent rough terrain navigation. It powers through almost all 'scale' topography with ease, even taking on some more KOH-style climbs. However, don't expect it to be rock racing anytime soon. The taller tires, taller stance (thanks to the portals) and heavy-ish body all take their toll when trying semi-steep sidehills, climbs and descents. Taller isn't always better in this case, so we'd recommend trails and mild rock climbing. If you do feel the need to explore some ambitious areas, a good set of soft tires and some brass weights are suggested to help keep the Blazer tire-side down.
Suspension
Having never driven a portal-axled truck before (say what?), we were mildly surprised that there wasn't much that would stop the Blazer. For a box-stock trail truck, it tackled everything CDM had to offer as long as you stayed away from the comp-rig sections. The long-arm setup and 110mm GTS shocks worked in unison to make the expedition a total joy. It was great watching the suspension do its thing, especially through huge angles to see it twist and tuck. Our only complaint, if we had to give one, was the adhesion level of the tires. They're not bad by any means, but under duress they seemed to give up traction before conforming and climbing. A softer set of rubber would be the only change we'd suggest (don't change those wheels though!!!).
Durability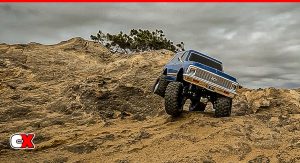 We can't really give an honest reply about the durability of this truck. Because of how stunning it is, we opted to drive it a bit more conservative, like you'd drive your 1:1 version of a Blazer. Because of that, we didn't get to test its jumping ability, landing prowess or its tumbling competence. We're happy to announce only one slow rollover – no scratches on this baby. Front bumpers still look nice and the mirrors and wipers are still attached. We're sure that 'one' devastating fall is coming, but not today.
The Breakdown
Design - 9
Visual Appeal - 10
Feature List - 10
Performance - 9
Parts Support - 9.5
Upgradability - 7.5
Fun Factor - 10
Gallery

Final Thoughts
The Traxxas TRX4 High Trail Edition is really is one of the best all-around trail trucks out there – killer looks, great performance, feature-full and a true attention-getter. It's certainly on the top of our list of rigs we love to drive and should definitely be on the top of yours to, at the very least, check out prior to your next purchase. As mentioned above, we are going to take a look at a softer set of tires to really explore the capabilities of this rig, but in a mild way – don't want to jack up that beautiful Blazer body!