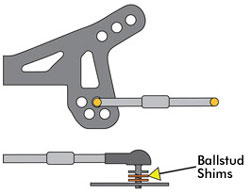 What are Camber Link Locations?
The Camber Link is the adjustable rod or fixed-length rod that connects the chassis to the caster block or hub carrier. Camber Link adjustments have been a mystery to many for a long time. While I will give you the general rule to use them, you may find slightly different results depending on the rest of your setup. Basically, the Camber Link will affect how much the Camber changes during suspension travel.
Tuning with the Camber Link
Making the Camber Link longer or higher will result in less Camber change during suspension travel, which will increase traction but decrease stability. A shorter Camber Link will result in more Camber change, or a decrease in traction but more stability.
As the pictures shows, some vehicles use vertial links and other use horizontal links. The tune is the same, its merely the adjustment that differs.
Back to the RC Suspension Tuning Guide.