It's been awhile since we've seen HPI product steadily rolling through the doors of US hobby shops, but thankfully that's starting to change. One of their early comeback vehicles is the Audi e-tron Vision GT Supercar, a ridiculously fast-looking 1/10 scale Touring Car mounted on their Sport 3 chassis. Sitting on the bench, on the floor, in the driveway or in the back of your Honda, this thing looks like it's ready to do 100mph. Easily.
We got our hands on one of these new releases to explore and put it through the paces. As we've been major fans of HPI over the years, there was some excitement to get one of their vehicles back out and hitting the pavement!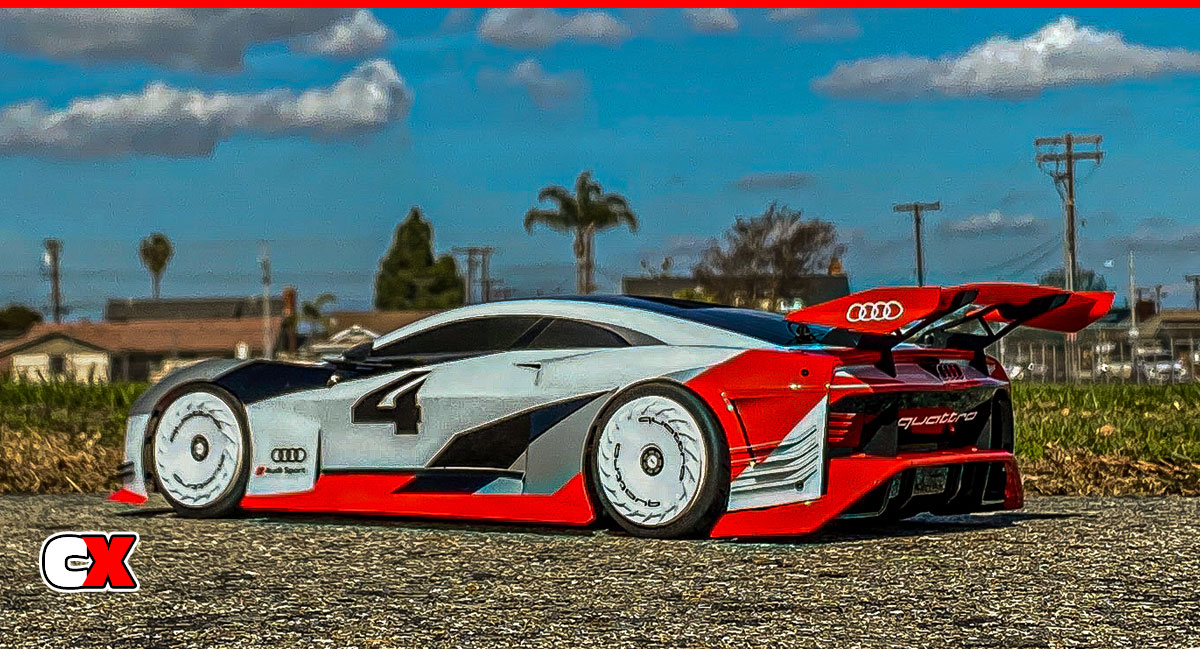 Specifics
Product:
HPI Sport 3 Flux Audi e-tron Vision GT Supercar
Website:
www.hpiracing.com
Purchase:
https://bit.ly/3KEbMMM
Part #:
HPI160202
Scale:
1/10 Scale
Price:
$374.99
Build Type:
RTR
Recommended For:
Speedy Audi lovers and those that like to attract attention.
What's Included
Being an RTR, all the normal items are included in the box – car, radio gear (installed), super-fast Flux system (also installed) and some additional paperwork and stickers.
What's Needed
• 2-3S LiPo Battery
• LiPo Charger
• 4 AA Batteries

Main Features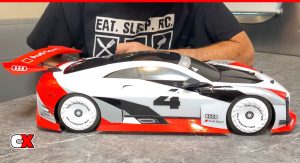 1. This first identifier of this beautiful ride is, of course, the stunning Audi e-tron Vision GT body set. It is a multi-piece body that has a main part and a separate rear insert. The insert allows HPI to create a great-looking replica with all kinds of louvers and indents. Its sleek look is accentuated by lower bodywork – front valance, side skirts and rear valance – as well as a large swept wing off the rear deck. Molded front and rear inserts, side mirrors and a mild red/white/black color scheme (very CompetitionX) wrap up the look, one that is very snazzy yet subtle. We think HPI hit the nail on the head with this thing – it's pretty bad ass!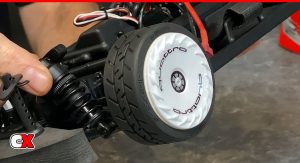 2. Keeping the Audi stuck to the ground are a set of officially licensed Audi Sport replica wheels wrapped in grippy, semi-slick rubber tires. While the wheels definitely have a unique look to them, they are actually a set of fifteen52 wheels with the Audi Sport 'cap' slipped into them. A nice touch and a great way to both give the wheels a new look AND hide the center wheel nut! The tires, although un-branded, look really good as well and have a shallow pattern, adding as much rubber to the ground as possible. Their low-profile look also helps minimize tire squirm while making high-speed passes, something the Audi likes to do.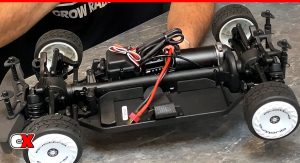 3. The chassis is based on HPI's Sport 3 setup, a plastic tub with a completely sealed drivetrain to help keep any debris out. the layout is standard – electronics on the right, battery on the left. A single strap keeps the battery in place with the tray being adjustable for different battery sizes. A multi-piece center spine runs the length of the car, covering the front and rear diff input outdrives as well as the spur and pinion gear. HPI has also taken the extra step to make gear changes easier – instead of removing all of the upper pieces, you can access the gearing through a lower panel located on the bottom of the chassis – 6 screws and boom, you're in.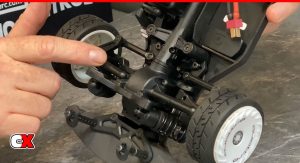 4. The suspension utilizes a double-wishbone system with fixed links for front and rear camber and toe. The lower arms are nice and thick with both droop and shock angle adjustments. Ball stud adjustments are also available, however adjustable turnbuckles would be a suggested upgrade to take full advantage of these tuning options. The shocks are oil-filled units with threaded bodies, a nice performance part right out of the box. A dual-bellcrank steering system and full ball bearings round out the standard parts list.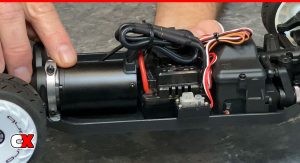 5. The 1:1 Audi e-tron is a triple-motor, 600kW (815hp) super lightweight race car that is capable of a 0-60 time of roughly 2.5 seconds. HPI, wanting to replicate more than just the look, stuffed their powerful Flux brushless system into their scaled down Audi e-tron. The Flux system is quite stout, allowing power from either a 2S or 3S LiPo pack to be delivered to the 4000kV brushless motor. This, with optional gearing, can push this Vision GT to over 70mph – right out of the box! We think this is easily achievable seeing as we hit 65mph in stock form! We will, of course, be seeing just how fast we can get the Sport 3 to go. Of course.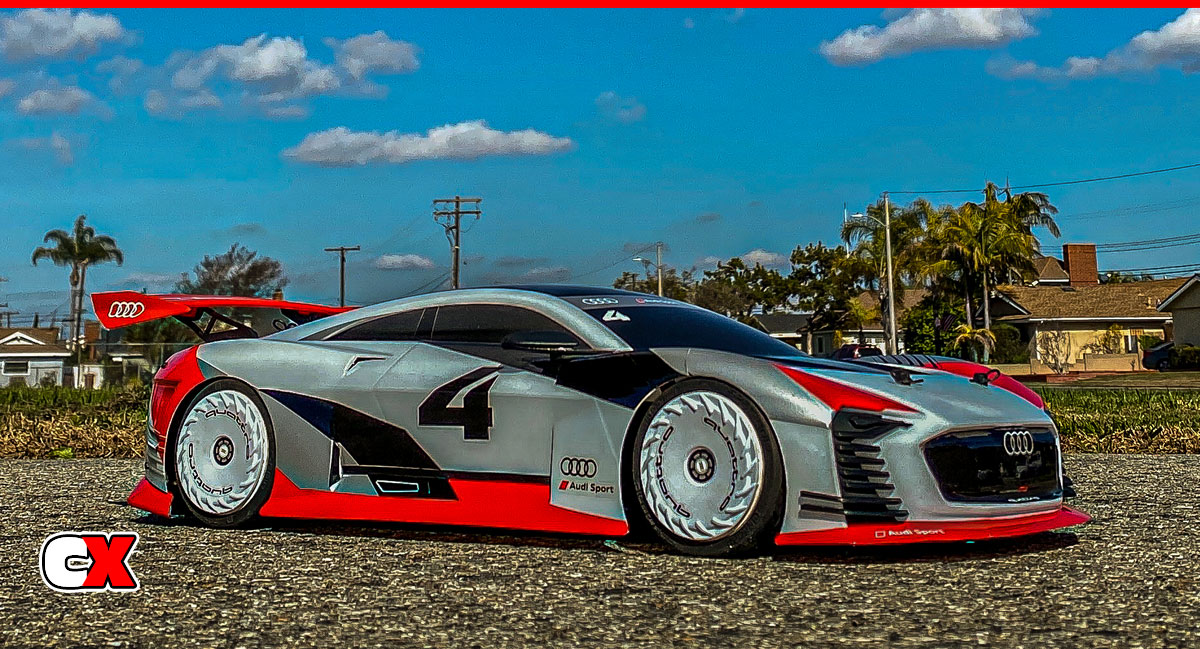 Performance
The park across the street from the CompetitionX compound was the site of the initial testing. However, before we get to the good stuff, let's get to a quick down-and-dirty overview.
During the first shakedown run, we noticed a few things that we felt were going to cause issues once we started doing some full-speed passes. Those would be:
1) The rear diffuser (connected to the body) would hang up on the back of the chassis causing it to rub and scrap on the ground.
2) The chassis kept bottoming out and we couldn't raise the ride height. We needed to check the shocks to see what was preventing this.
3) The steering was wandering alot, so we needed to address the servo saver to remove this.
All of these, other than removing the limiters in the shocks, were easy fixes. To see what we did to remedy each one, watch the video above and scroll to the 6:36 timestamp.
Now that we got that out of the way, let's chat about how the Audi e-tron Vision GT supercar ran after our mods!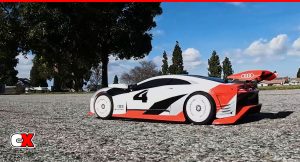 Speed
The first initial runs with a 2S pack were fun but, as we all know, more power means more speed means 'more funner'. Adding the 3S pack really brought the Audi alive and, after the modifications to maximize performance, the Sport 3 easily handled the almost-70mph speeds. Now, if almost-70mph isn't your thing, you can upgrade to the High Speed Gear Set, for about $20, which gives you a 53T spur and 44T pinion. That's going to be our next upgrade for sure!
Handling
Prior to our mods, we'd have to say the handling was a bit on the sketchy side. On any kind of uneven surface, both the body and chassis would bottom out quite easily. Once modded, you could still hear it touch down on rougher surfaces but it didn't upset the car nearly as bad. Once on a smoother surface, though, the Audi was a joy to drive – very stable with a good balance of steering and grip – as long as you drove it within its limits. If we pushed the car (on 3S), it would exhibit some oversteer or understeer but, for the most part, it was a stable car to drive.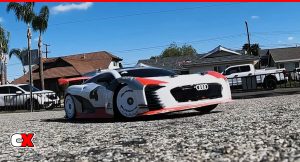 Suspension
Again, once we made our mods to the Audi, it was a fun car to drive. The suspension works well on both smooth and rough surfaces (once you pick that chassis up off the ground), with the oil-filled shocks doing a great job of soaking up any irregularities. Now, one downside is the lack of adjustments due to fixed links but, with an upgrade to turnbuckles, this car could be tuned for better performance. This is something we'll be doing in the future as well.
Durability
We don't really like to test the durability of cars. We figure if you simply drive your car normally (and not try to jump a house), it should last you a long time. Well, due to the horrible handling before our mods (and our first speed run AFTER our mods), we had plenty of chances to test out the strength of the HPI parts. We are happy to say, though, that the main chassis stood up to some serious abuse. Our only real issue was the ESC releasing from the chassis (an easy re-tape fix). The body, however, didn't fair as well. Lots of scratches, a torn rear diffuser and a pair of missing headlight 'grilles', the body is already ready for replacement. While we love the look of the Audi, we've also got our eye on the new Ford Mach-E 1400 body set… Decisions, decisions.
Gallery

Final Thoughts
First off, we're extremely happy to see HPI back in the RC game. They've been sorely missed in both the bash and racer communities.
That being said, we're also glad to see them still dropping body-oddities on the Sport 3 Flux chassis like the Audi e-tron Vision GT (for one). This car, with a couple easy mods, will certainly bring a smile to your face as you blast by at over 60mph in RTR form. Add a bigger battery, a gear change and that smile gets expotentially bigger as the speeds get faster.
We don't think this car is perfect (thus the unfortunate low score in the Performance department above), but it definitely has potential. And it looks super cool. And it is quite fast. Just be prepared to tweak it a bit for maximum performance!