Element RC's Enduro Sendero SE is the latest addition to the companies trail truck lineup. The SE stands for Sport Edition, which makes one think it's more of a basic rig in terms of features. While you might be right, it certainly doesn't hurt this truck in terms of performance!
We pulled this truck from the box, did a quick inspect of all it has to offer and then straight to the thrash test in a multitude of environments. To tell you the truth, we were pleasantly surprised by it's overall performance!
With that said, let's dive into the review!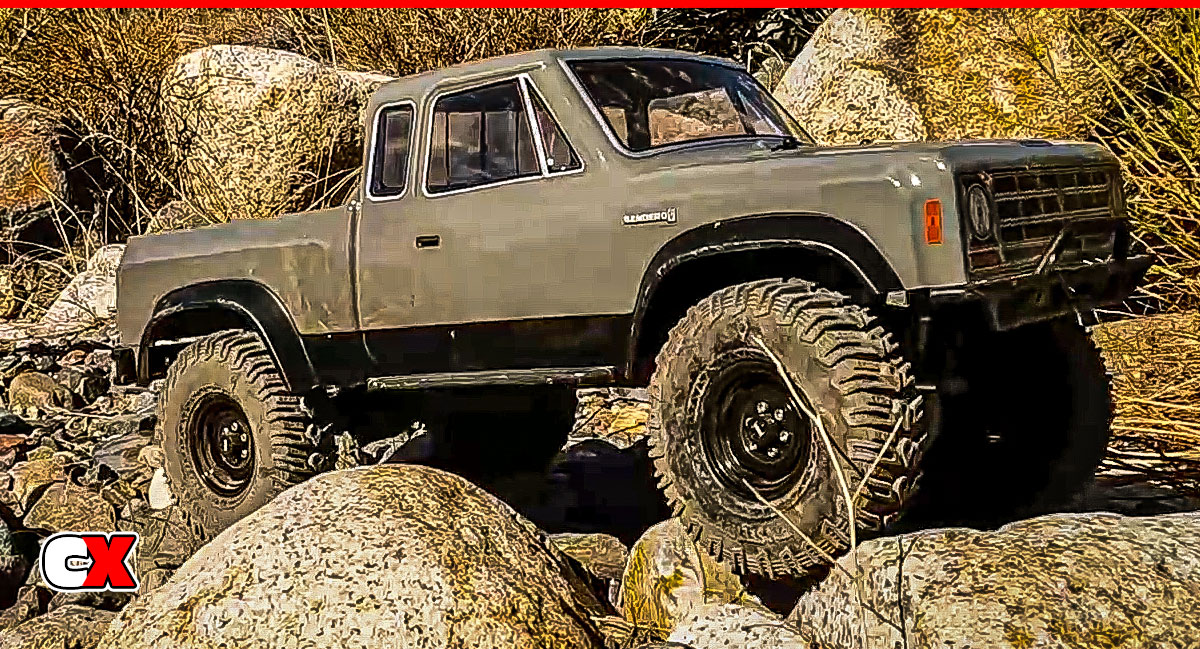 Specifics
Product:
Element RC Enduro Sendero Sport Edition Trail Truck RTR
Website:
www.associatedelectrics.com/element
Purchase:
https://bit.ly/3E41nHc
Part #:
40107
Scale:
1/10 Scale
Price:
$299.99
Build Type:
RTR
Recommended For:
First timers to trail trucks or those that want a very capable 2nd rig
Unboxing/Action Video

What's Included
Being an RTR, the Sport Edition comes with ALMOST everything you need right in the box for a quick unbox-and-play situation. A couple extra parts were included in the box – taller rear shock tower and long battery tray – as well as the manual and a couple other tid bits. Also included is a full-color sticker sheet with additional truck stickers and a bunch of scale signs for the garage diorama (by un-assembling and re-assembling the box the truck comes in).
What's Needed
• 2S (or 3S) LiPo Battery
• LiPo Compatible Charger
• 4 AA Batteries

Main Features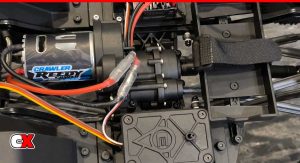 • New StealthXF transmission. This new box is based on the original StealthX and includes a built-in slipper, forward-mounted motor positioning and has a case that splits horizontally to allow easy access to the gears inside for maintenance. It also allows the use of the same overdrive options and will fit all the previous Enduro trucks.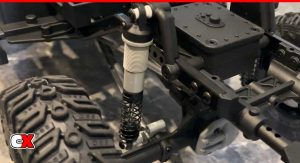 • The shocks are new as well, using a pen-spring style setup for a more realistic look. They feature a threaded body, bleeder caps and adapters that allow you to turn them into 'standard' coil overs to use larger springs. The size and length are the same as Element's hop up shocks, giving you the option to upgrade without any mounting issues.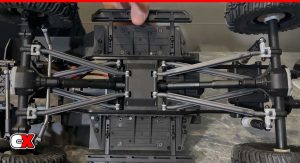 • The SE comes with a nicely molded set of plastic links, setting the Enduro to a 12.8″ wheelbase. They include extra ribbing which helps strengthen them and prevent bending, which actually worked out well. Extra holes in the frame rails were added to allow you to shorten to 11.4″ if you choose to do so.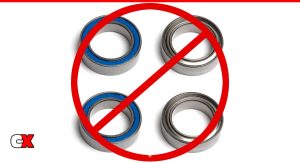 • One questionable feature (although we think it's a great one) is the elimination of bearings, instead replaced by a full set of Oilite bushings. Most may think that this is a serious downgrade but, once you think about it, it's actually a smart idea. Bearings are great for race or high-speed purposes, but when you're talking about a vehicle that never hits more than 4mph, plunges through snow, mud and water and, in all honestly, probably doesn't get maintained as well as it should, the zero-maintenance Oilite bearings are a great choice. We fall into this bucket (with our trail trucks) and have had bearings fail – not anymore. We whole-heartedly support this decision!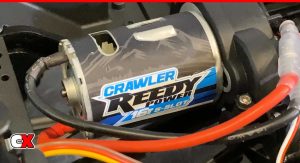 • The electronics package is nice – a Reedy servo, SC480X brushed ESC, 16T 5-slot motor and a Flysky 4-channel radio system. This combination worked great in the conditions we tested it in, however the throttle (and brakes) are a bit touchy and took a bit to get used to. However, the system did handle our 3S LiPo like a champ and provided plenty of power during the review session.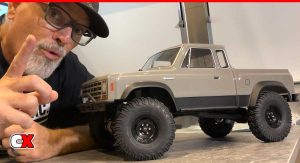 • To help keep the cost down, Element has removed the licensing from all of the products. The Pinseeker tires and snazzy 3-piece beadlock wheels are now an Element exclusive and did a great job providing grip on the various terrain we tackled. The body, while not originally licensed, is now a 1-piece design with a sharp-looking 2-tone paint job, clear windows and dropped bed. Another great feature – all of the current molded Enduro body parts (mirrors, grille, door handles, etc) will bolt right up to the SE!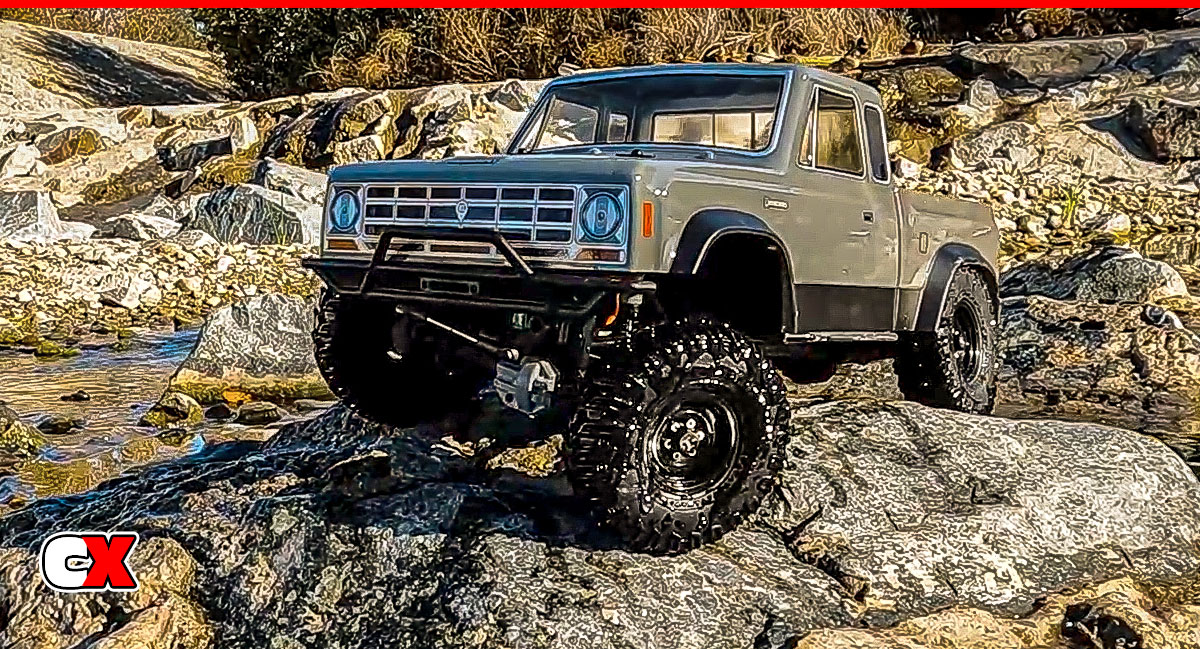 Performance
Acceleration
The Element Enduro Sendero Sport Edition has excellent acceleration, if you choose to get some wheel speed up for a particularly tough climb. On 3S, the SE dug right in and did work. The throttle IS a bit touchy with reverse kicking in hard and quick, so it took us awhile to get used to both directional movements. I would say a bit more gap from brake to reverse is needed, but overall it worked fine.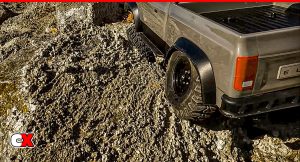 Handling
We were pleasantly surprised by this truck's climbing ability! On a flat, rocky surface, there's not much that will stop this truck bar a stuck tire. Up and down hills, it did it's best billy goat impression on both grippy and not-so-grippy surfaces. The tires, for not being a tried-and-true offroad design, did a great job as well, making our way up and down almost every path we chose. There is a limit, of course, but you'll be surprised at what this truck can attain. We also need to mention the steering on this rig – it's about as good as it gets and easily rivals trucks twice the price. Hard turns and 'stuck' tires didn't slow down the SE's ability to move in a forward direction.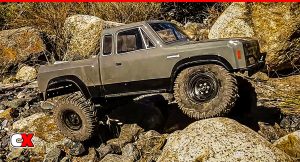 Suspension
We're not going to lie, we were a little skeptical about the pen-style shocks. However, that all went out the window on our first attempt at a very rocky uphill climb. The suspension works amazing with WAY more articulation than we expected. Element also did their homework with the body design, allowing the flexy rear suspension to tuck up into the flared fenders without interference and gave it a WAY cool look. We were thoroughly impressed with the suspension setup on this truck.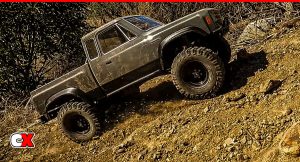 Durability
Once we got in the groove, we started to really push the SE to see what it could do. That being said, everything internally on the truck is tough as nails – no failures and no odd noises. We did, however, break off the rear bumper on a LONG downhill tumble – surprised, but not surprised. Something HAD to fall of the truck during that ride, we were just happy it was something cosmetic.
Another failure we encountered was the beadlock function of the tires. By the end of testing, large sections of all 4 tires had pulled loose from the beadlock wheels. Now, we're not sure if the blame should be at the wheels or tires, but it did stop our day short as we didn't bring any tools with us. Just something to keep an eye on.
Additional Notes
• The body got abused and beaten, but it still looks great with no major scratches on the black 2-tone coloring.
• Out of the box, the throttle had a tiny bit of forward creep set into the radio. A quick pop of the control door and a couple throttle adjustment clicks towards reverse and the SE was good to go.
• We love the addition of the wheel nut covers. It's not that big a deal but it's the small things like that that get people hyped about a product.
Gallery

Final Thoughts
Right from the get-go we fell in love with the performance of this truck.
Sure, it doesn't have licensed products.
Sure, it doesn't have bearings.
BUT, what it loses to those minor things (in the grand scheme) it makes up for with it's $299 price tag. We think the Sendero Sport Edition is a great entry-level (and budget friendly) ride that is a win-win for both us and Element RC!
I'd like to give a huge thanks to my bud Ken Gerberding for doing a great job wheeling the Sport Edition for the video shoot. He loved the truck as well – it was a struggle to get it back from him!