We love Rally – how can you not? Fast cars on asphalt, dirt or snow, sliding constantly around corners – all on 'tracks' sometimes barely wider than the car. It really is exciting to watch.
Thankfully, Rally is also a thing in RC and Killerbody is embracing it with the release of the Subaru Impreza WRC 2007 Rally body. This pre-painted, pre-stickered and pre-cut body is ready to pull from the box and mount on your ride with almost zero prep – unless you want to install the two roof antenna. Other than that, it's RTR (Ready to Rally).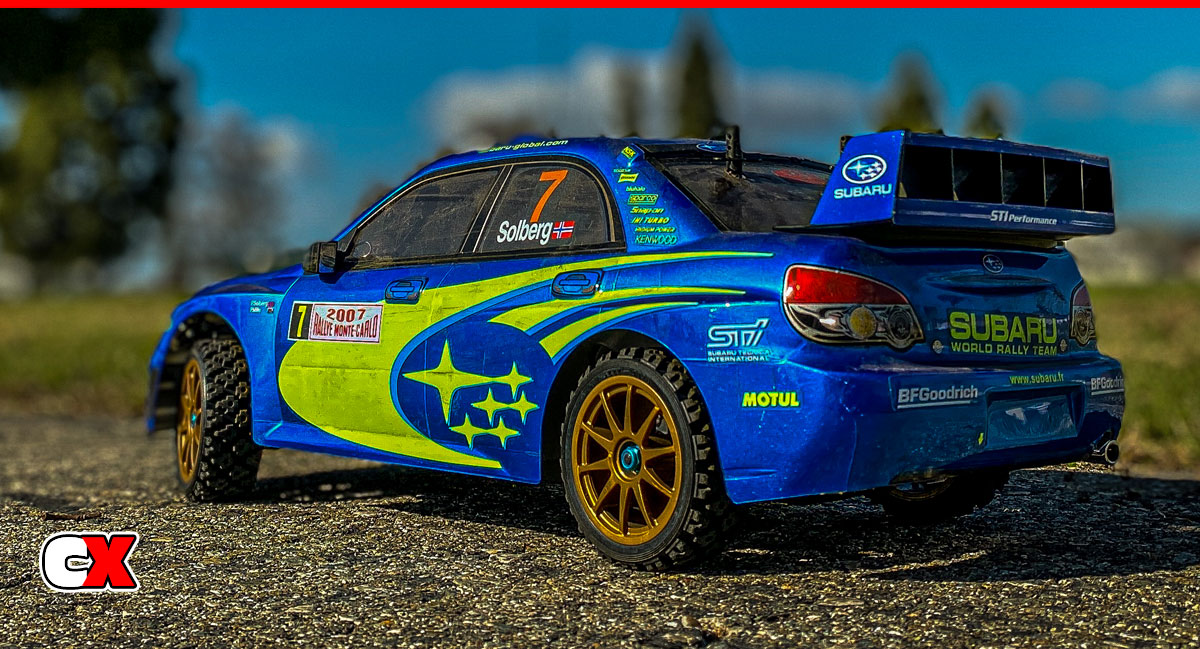 Specifics
Product:
Killerbody Subaru Impreza WRC 2007 Rally Body
Website:
store.killerbody.com
Purchase:
https://bit.ly/3IbBuIF
Part #:
KLR-48762
Scale:
1/10 Scale
Price:
$99.99
Build Type:
n/a
Recommended For:
Rally fans that want an easy-to-mount Rally body solution.
What's Included
Inside the nice, windowed cardboard box is a pre-painted, pre-stickered and pre-cut 2007 Subaru Impreza WRC Rally body. A small bag with the roof antenna is taped to the inside of the body – just remove and install (video above shows you how).
Main Features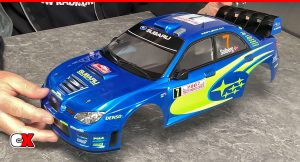 1. Minus the mounting holes, the Killerbody Subaru Impreza WRC 2007 Rally body comes ready to mount on your favorite Rally car. As mentioned before, it is pre-painted in the brilliant Subaru blue, pre-stickered with the entire livery and pre-cut – front and rear bumpers and wheel wells. It also has all of the molded exterior goodies attached from the factory – windshield wipers, side mirrors, roof scoops, awesome rear wing and exhaust. The only thing you'll need to attach (if you choose to) are the two roof antenna – a shorty and the longer one.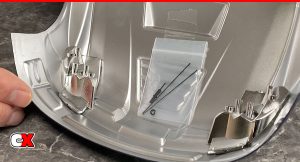 2. For shipping purposes, Killerbody has packaged the two roof antenna in a small bag that has been taped to the underside of the body. It contains a small antenna and two longer ones. The longer one is a press-fit, but we suggest a light dab of glue to help keep it in place. The shorter one uses a slip-sleeve that can be heated to keep it in place (see the pre-installed antenna). This body is also ready for front and rear LEDs with the light buckets taped in place. The entire set of buckets have a mirror finish for a nice, bright glow.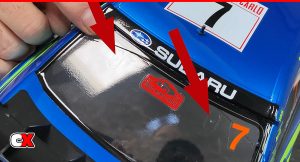 3. The body does not come with any mounting holes – you need to do that yourself to match the mounting locations of the car you are installing it on. Killerbody did scribe markers in the rear window but none in the front. Luckily, the markers in the rear window matched up with the body mounts on our Tamiya XV-02 so that was easy, however the front was a little more tricky. We used PROTOform's Crosshair Magnetic Body Mounting Kit to make mounting an absolute snap – see the video above on how easy they are to use. We definitely recommend the Crosshairs for any body mounting, especially pre-painted bodies.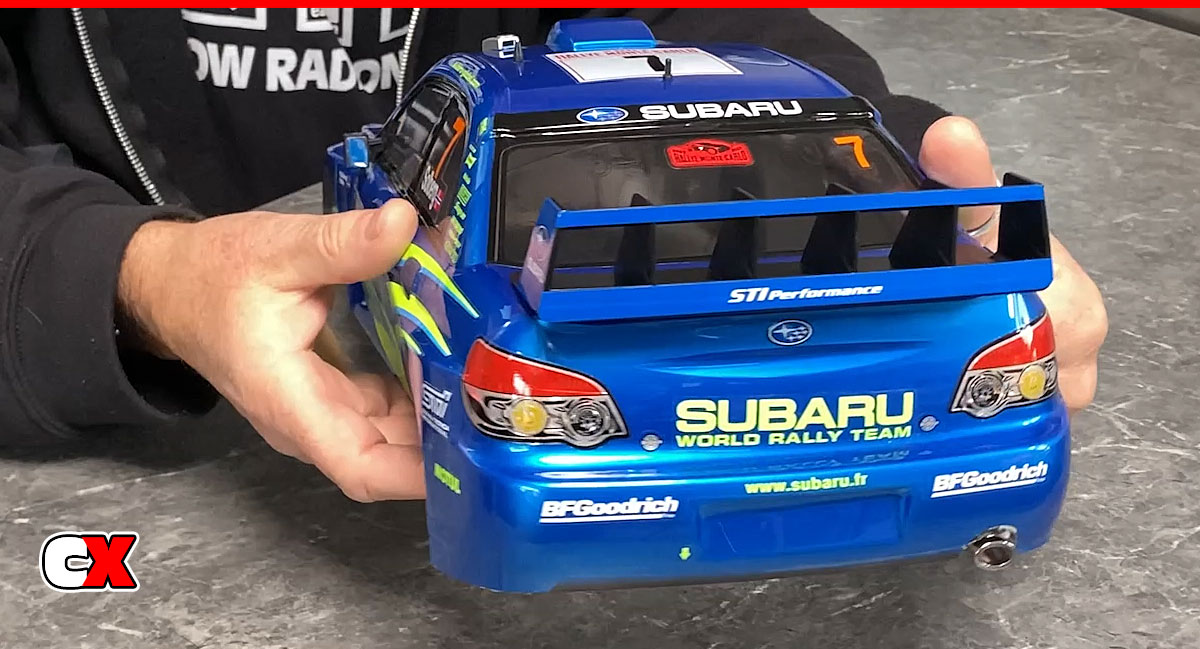 Performance
With all the rain we've been having, getting out to the Rally track has been a bit tough. That and, well, to be honest, this body really is to dang pretty to simply go out and thrash with it! But, we did get it out and do some light-duty runs at the part across the street from our house.
Firstly, it does look incredibly bad ass! The color looks great, the decals are spot on and, with the bronze wheels, this thing does catch some attention. Not sure how much it actually improves performance but again, as far as aesthetics, you can't beat it for a RTR body.
Now the big question – did we bang it up? How did it hold up? Are there any physical signs of damage?
Yes. Excellent, and no. For the most part, we did a bunch of drifts and some running in the grass. However, one fast pass from the asphalt to the grass caused the Subie to take a swift trip to tumble land, bouncing end over end until it came to a stop on its wheels (thankfully). A quick once over revealed zero damage and, most importantly, all the antenna were still attached. WIN!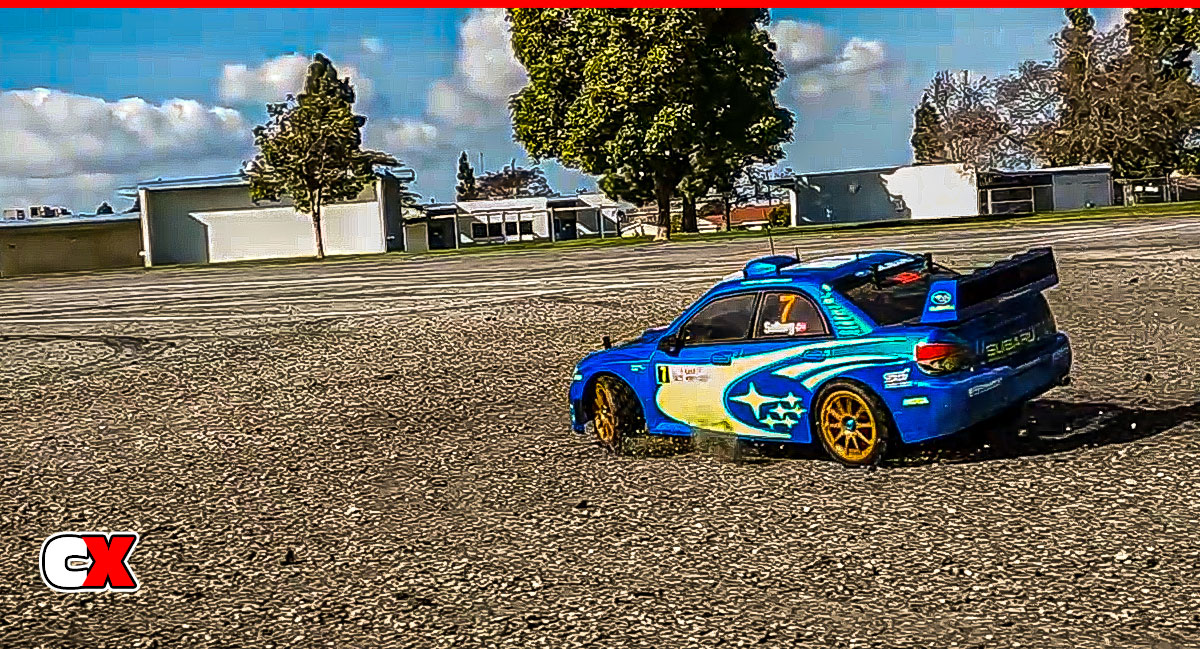 Gallery

Final Thoughts
Killerbody's Subaru Impreza WRC 2007 Rally body set is a great solution for someone that wants instant gratification. There is almost zero prep required and they've done an amazing job in the detail – it is certainly shelf-queen material. Some might be scared away with the $100 price tag, however, if you compare it to, let's say, a Tamiya body – $45 for the body, $8 for paint and then your time for masking painting, cutting, stickering and mounting, you're probably pretty close to that. And, if you're not a detailed person, the quality may not be there. We're just saying it is a viable option for someone that doesn't want to do all the work.
For us, we're going to drop this on our XV-02 onroad Rally car – rumor is our group MIGHT do a street Rally course and, well, this Subie will look amazing on that course!