As long as we've been in the RC industry, there's been roughly a dozen cars from different manufacturers that have caused quite the stir when announced. There have been a couple from the Tamiya camp – the Super Avante, Clod re-issues and the CC-02. However, the Japanese company can now add their newest 2WD buggy to that list – the BBX.
The BBX has taken a pass on all the current trends and instead brings a refreshing look to modern buggies, all the while giving a nod to some of its vintage cousins like the Rough Rider and Super Champ. It's a bit quirky, yet astonishing cool, and brings a surprising level of performance that makes it an absolute blast to drive!
Grab a drink, get comfy and pull up your computer – you're going to want to pre-order (purchase) this bad boy ASAP!
Let's do this.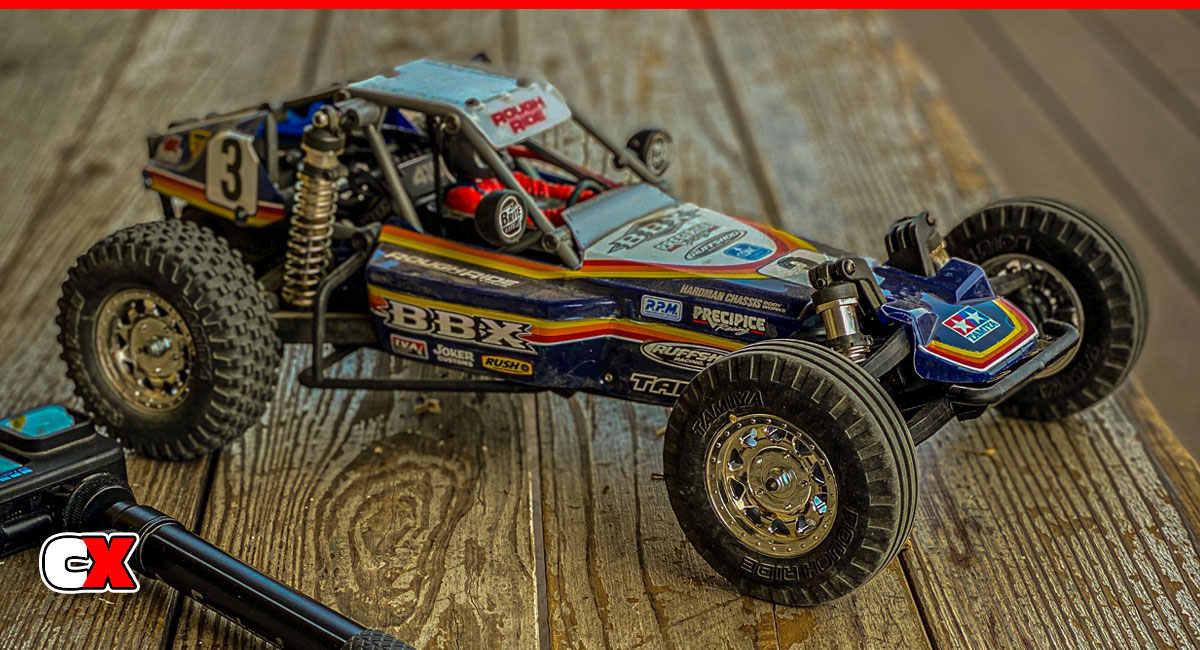 Specifics
Product:
Tamiya BBX Buggy
Website:
www.tamiyausa.com
Purchase:
https://bit.ly/3HT1wis
Part #:
58719
Scale:
1/10 Scale
Price:
$255.50
Build Type:
RTR
Recommended For:
Anyone that loves Tamiya. This is, after all, a completely new design!
What's Included
Like most of Tamiya's releases, the BBX is a full-blown kit. The box contains everything to build the car minus electronics. We've included the unboxing video below so you can see, in detail, everything that comes in the box.
What's Needed
• Servo
• Brushless ESC
• Brushless Motor
• LiPo Battery
• Radio System

Main Features
(Editor Note: These pictures are from the Tamiya website. We were too excited and forgot to take 'beauty' pictures before running it. These are used for a general idea of how the car looks, not reflecting what we've done with ours.)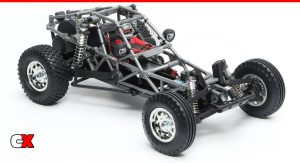 1.
Obviously, the first main feature of the BBX is the ultimately cool look of this thing. Tamiya did it right with the new BB-01 chassis – a plastic deck that has an integrated cage and a 6-piece body panel setup (lower left and right, main top, roof and left and right rear quarter parts). All of these pieces come clear but only require a single color paint followed by a relatively easy decal application process … by Tamiya's standards. Also included is a tree of light pods with which only 3 are called out in the instructions – two facing forward, one out the back. The manual does give some instruction on adding 5 more buckeds if you so desire. Wiring all of that, however, could prove to be tricky.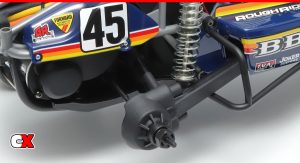 2. The suspension on the BBX is unique as well, starting up front with a somewhat typical upper and lower A-arm setup. Long, oil-filled, aluminum-bodied shocks stretch from a very strong-looking tower, through the upper arm and attach to the lower arm. Unfortunately, there's not a whole lot of adjustment – no caster, camber wheelbase, etc. You can, however, fiddle with some spacers to change the location of the upper shock mounts, moving them in or out to change (slightly) the angle of the shock. It's an odd setup but still a fun, functional one. Out back, The BBX uses a unique swing arm setup similar to that of their aged Blackfoot or Brat. There's no real adjustment to this setup either, except to maybe shorten or lengthen some LONG spacers to change camber. The rear uses oil-filled, aluminum-bodied shocks as well with 2 options for mounting on the upper attachment point.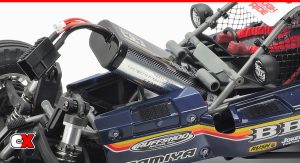 3. With the chassis design so compact, there was some concern about battery installation. Tamiya got this right as well – remove the upper body panel (which is attached via Velcro), pull a single body clip and an aluminum retaining pin slides out that releases a flappy door for the battery. This flappy door has the receiver, receiver box and driver attached to the top and, with some excellent execution of design, all flips up without any interference with the cage. The battery box can handle almost any type of battery – LiPo or NiMh – and either a long or shorty pack. It's a brilliant design, however make sure your ESC/battery wires are long enough. Winding them through the tight spaces to connect them has proven to be a task. To make life easier, we ended up removing the window netting.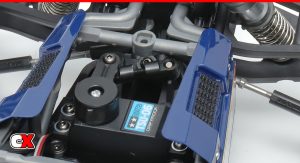 4. One of the more modern parts of the car is the steering system. The BBX uses a ball-bearing supported, dual-bellcrank system that is actually angled with the kickup of the chassis. Steel turnbuckles reach out to the beefy steering arms which are supported by pivot balls on the top and bottom – a nice design but, again, removes the ability to adjust things like caster and camber. Back on the chassis, the BBX requires the use of a low-profile servo, something we weren't prepared for when we got the car. We had to do a little digging but found a Futaba BLS371 which has been an excellent choice so far. If you don't have one, you're going to NEED one – the BBX can't be configured for tall servos.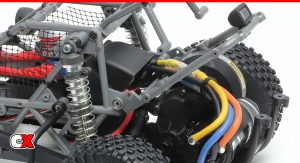 5. The rear of the BBX is also unique for Tamiya. It starts off with a racing-inspired, standup 3-gear transmission with a rear-mounted motor. It comes with a nice, aluminum motor mount with a plastic cover to help keep debris out of the gears. The ESC sits right in front of it on a separate mount and includes a cover to 'hide' it. Unless, of course, your ESC is too big and doesn't fit under the cover – like ours. This may seem like a confined setup when it comes time to change something like the gearing, but with the removal of a couple screws, you have complete access to the gear cover and gears! Again, another brilliant design feature.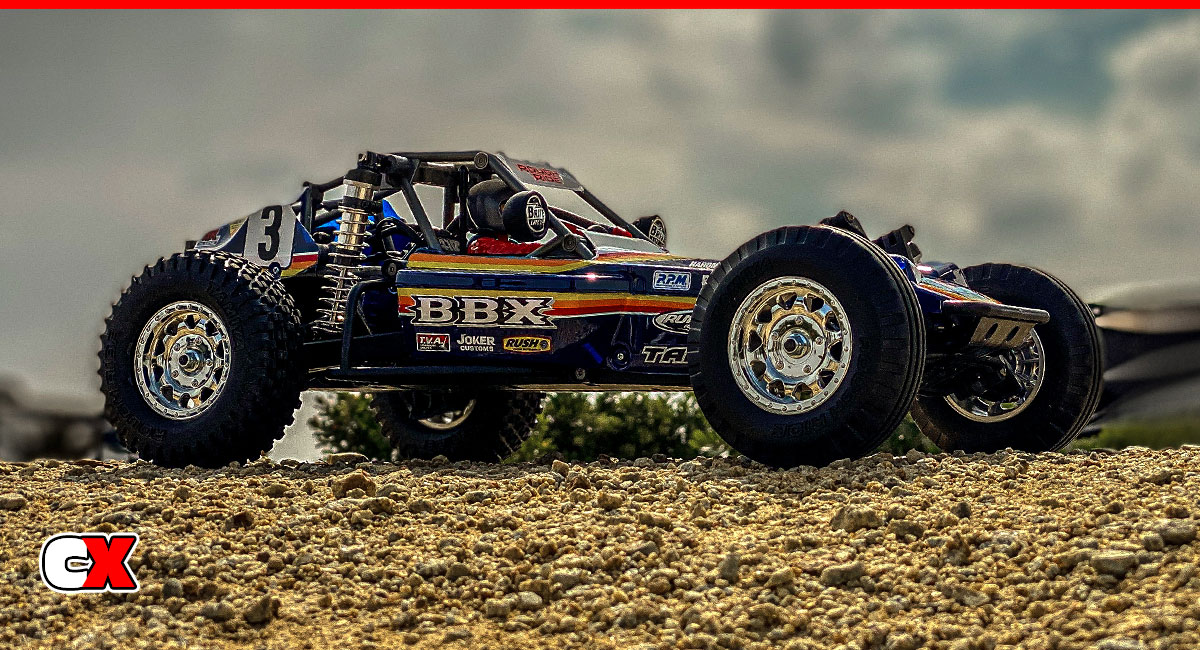 Performance
While we love driving anything new on a track (as it does give some real-world performance), we decided that the BBX needs a different experience – a fun experience. A trip was planned up north for a week-ish getaway to an RV park that appeared to have some awesome-looking areas to run this car, so a plan was made to simply take it out and have fun with it. No expectations – no track drama – just us, the BBX and a couple charged batteries. Man, was this a great decision!
The location featured a gravel walkway surrounded by cut grass and some very blown-out areas speckled with ground squirrel holes and small, fallen branches. To be honest, we weren't really expecting anything spectacular – it is a new, awkward design (as far as 2WD buggies go). However, after blasting through the area for about 5 minutes, we knew the BBX was the real deal.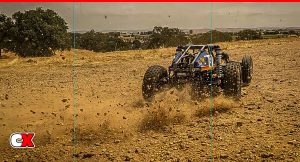 Speed
Since electronics weren't included with this kit, we were open to run any number of power systems. We opted for a powerful (but not overly stupid) Reedy competition 17.5T setup. Prior to our 'official' run, we took the BBX outside for a shake down test – make sure everything was working prior to leaving on our trip. Everything worked great, however the supplied 18T pinion was WAAAAAY below our speed needs. We subbed out that tiny gear for a 26T pinion and man, did that make a difference! Acceleration was still incredibly quick, but it was the top end speeds that made the BBX a fun buggy to drive! We're not sure how fast it was going (again, this was supposed to be a fun run), but as a guess-timation – maybe 20-25mph? Not wicked, but spunky enough to have alot of fun with it. Being a 2WD buggy with a race-type transmission, we're pretty sure this drivetrain could probably handle something upwards of a 10.5T without a sweat. And yes. We are going to give that a go!
Handling
The BBX really was a joy to drive. On the loose gravel trail, it did require a little 'managing' of the steering and throttle from a standstill but, once it got up and running, it drove like a standard, competition-level 2WD buggy. Traction was great with both the front and rear tires and, as you can see from the video above, we were ripping around with it on different terrain and it stayed very composed. Was there understeer? Not really. Was there oversteer? Well, yes, some, but it was easily overcome and brought back into shape with a little throttle control. Now, we're not going to say it can compete with the best of them on an actual track but, as far as overall 'play' feel, we can't imagine it being much better.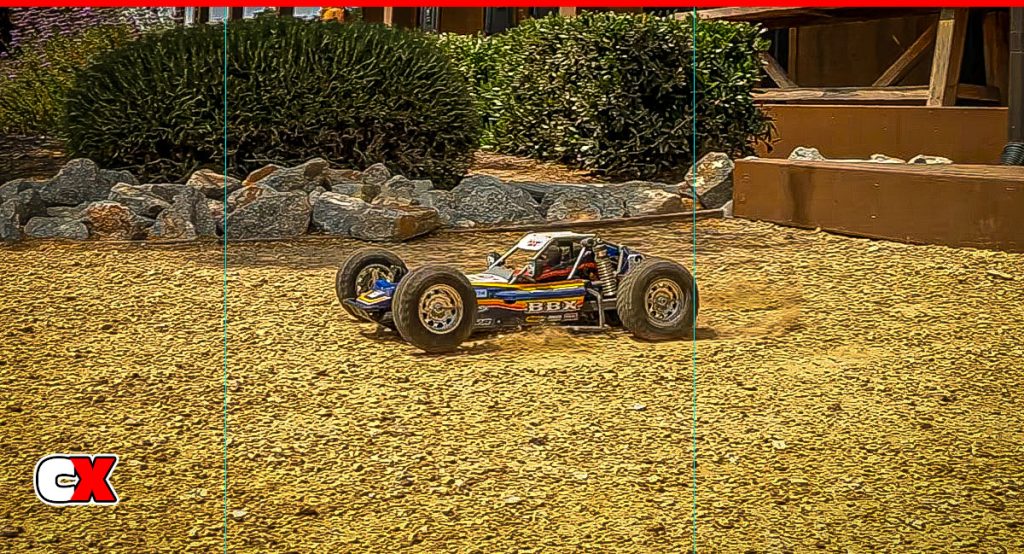 Suspension
The suspension is odd, we'll agree, but all kidding aside, we were incredibly impressed with how well it all worked on this buggy. We figured the gravel would be fine. We figured the grassy patches would be easy as well, but what we weren't ready for was how well it powered through the rough, hole-ridden off-path dirt area. Like, seriously – it tore through there like a Class 1 buggy through the Baja 1000! No getting sideways, very minor bucking, it really blew us away. If you don't believe us, watch that video AGAIN! You'll see it in action with no fancy edits to cover anything up. That's all BBX!
Durability
Thankfully, we didn't have any issues with the BBX during our day of testing. Now, we did run it mostly on flat, bumpy terrain with very few jumps, so once you get it up in the air and start missing your landings, there could be a few problems that pop up. Our first concern is the rear suspension. With nothing supporting the back half of the swing arm, there could be some flex there that could pop out the drive bone. Other than that, there's nothing really exposed on the BBX to break off (other than maybe the light pods). But remember, it's not a 1/8 scale supercar or 1/10 scale competition buggy – it's a fun, scale ride that will require some constraint to just send it.
Additional Notes
• While an interesting design, the rear swing arms were a bear to build. Our build video will be dropping soon with some expert tips on how to assemble it.
• The BBX does come with a familiar driver figure, however the helmet is new. Sort of. It's the same helmet that is included with the Super Avante, however it has 'new' vents near the driver's mouth. You know, for fresh air.
• The front and rear wheels are exactly the same – same offset and size. The tires, however, have different patterns and widths. Obviously. The fronts have a grooved tread pattern, the rears have a tall, block design.
• While not included, the BBX does come with an additional rear-tire mount for the back of the buggy.
Gallery

Final Thoughts
As excited as we were to get our hands on this buggy, we're more excited to see what the world thinks of it! Understand, though, that even though the performance is great, it is not a full-fledged offroad racer. It's a fun car. It's a good looking car. It's an attention getter as well. Drive it hard but drive it smart. It's not going to survive jumps over houses or skateparks (well, it might), so don't expect it to. But DO expect to have a grin from ear to ear when you're out having a good time with it. After all, it is a unique platform – it is the Tamiya way (thanks to Matt at SBG for this quote – can't use it enough).