It's no lie that Rally is one of the best kept secrets in RC. Based on a 4WD Touring Car, these rides get their choice of come crazy Rally-inspired tires, spoked wheels, aggressive hybrid bodies and fly around narrow, dirt trails with us frantically chasing them!
Enter Team Associated's new A550 Rally Car, a perfect example of a car that fits that very description! The A550 starts life as an RTR on the Apex2 Sport chassis and is loaded with a full set of Reedy electronics, a gorgeous pre-painted Rally body, knobby tires and AE's white Turbine wheels.
We not only had the chance to unbox this bad boy, but also got to be the first to compete with it in its first official competition at the monthly SoCal RC Rally Runners event in Riverside CA.
But before we get to the performance, let's check out the features of this cool new ride!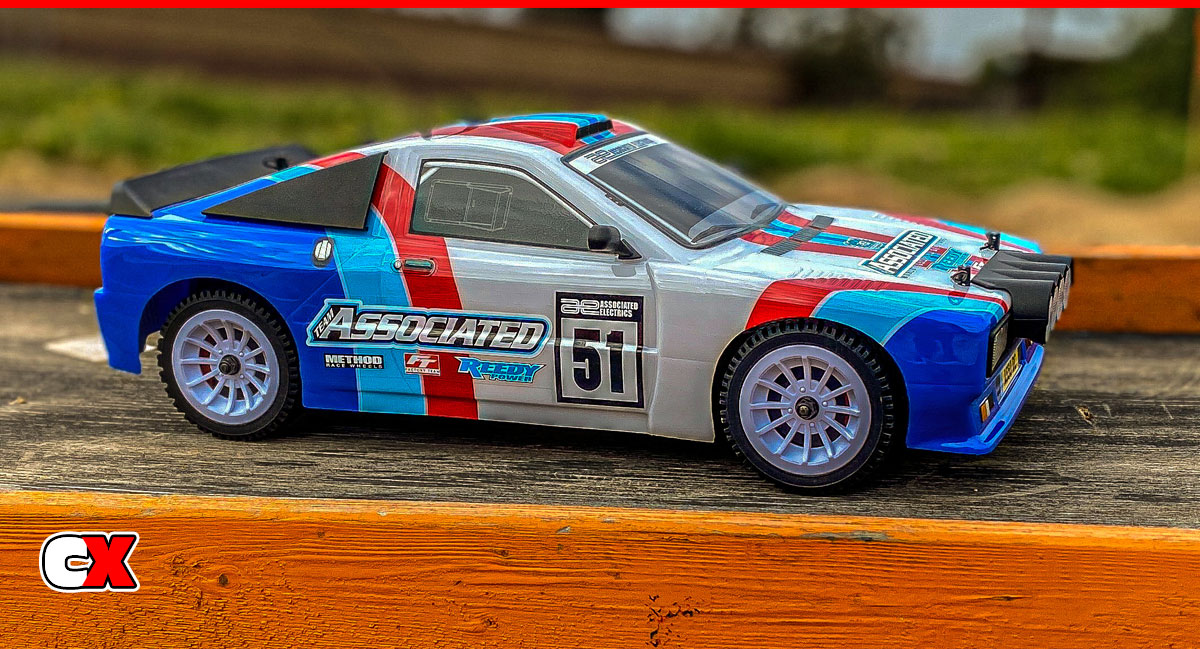 Specifics
Product:
Team Associated Apex2 A550 Rally Car
Website:
www.associatedelectrics.com
Purchase:
https://bit.ly/40kVyz6
Part #:
ASC30126
Scale:
1/10 Scale
Price:
$319.99
Build Type:
RTR
Recommended For:
Someone looking for an all-inclusive Rally car that looks great!
Unboxing/Action Video

What's Included
Being an RTR, everything you need comes right in the box. All the electronics come pre-installed, the body is pre-painted (and mounted) and the wheels and tires are glued and mounted. There's also the manual, catalog and an additional sticker sheet if you want to customize the body a bit. All that is left to do is attach some of the additional exterior body parts and you're all set.
What's Needed
• 4 AA Batteries

Main Features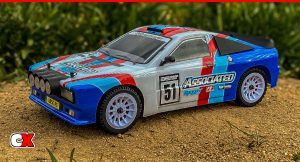 1. The first thing that caught our eye is the A550 body. It has a very Audi/Lancia feel and is covered in a very bright white/red/baby blue/dark blue livery. Out of the box, it comes with some molded parts already attached – front grille, side mirrors, rear wing and rear exhaust panel. To further the look, a large front light pod and a pair of roof antenna can be added. But that's not all – the front light buckets, rear light buckets and light pod are all LED ready to light up your next night Rally stage!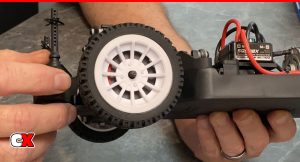 2. The A550 comes with a good-looking set of Turbine wheels wrapped in Rally block tires. These are the same wheels used on all of the Apex2 Sport models (at the moment), but fit the part with this car quite well. The tires have a slightly squishy feel to them, however the compound is a bit hard for full-on dirt use (more of an all-terrain/long wear tire). They are pre-mounted and do have a really good Rally look to them.
3.
Even though this model is based around the Apex2, the Sport comes with a full molded tub chassis instead of the standard fiberglass setup. The layout is exactly the same, right down to the shorty battery tray. There are a few additional braces included, all to strengthen the chassis and help reduce flex. One other thing we dig – AE didn't just give us a boring flat pan underneath. Instead they added some scale details, something the standard Apex2 doesn't have!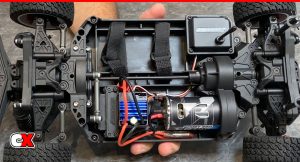 4. The Reedy power package carries over to the Sport. Starting with the servo, AE has included a Reedy 1523MG, metal-geared servo to handle all the steering duties. For motor-vation, a Reedy 550 15T brushed motor is coupled with a Reedy SC500X programmable brushed ESC. Yes, it isn't brushless but it is 3S compatible, so there is more than enough power readily available when you need it (especially on dirt!). Moving to the radio, AE has included the XP120 system. While a basic system, it does have everything you need – channel reversing, trims and dual rate. We were plenty happy with this entire setup during the test runs.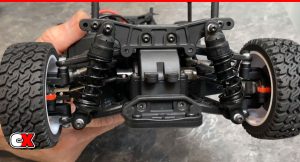 5. Here's the big difference between the Apex2 and Apex2 Sport – the Sport comes with a full set of Oilite bushings (no bearings anywhere) and friction shocks on all four corners. The bearings we're ok with. They work fine and require zero maintenance, perfect for the Rally enthusiast that likes driving more than maintaining. The shocks, while not a deal breaker (they do actually work quite well), did hamper performance a bit in our opinion. More on that in the Performance section below.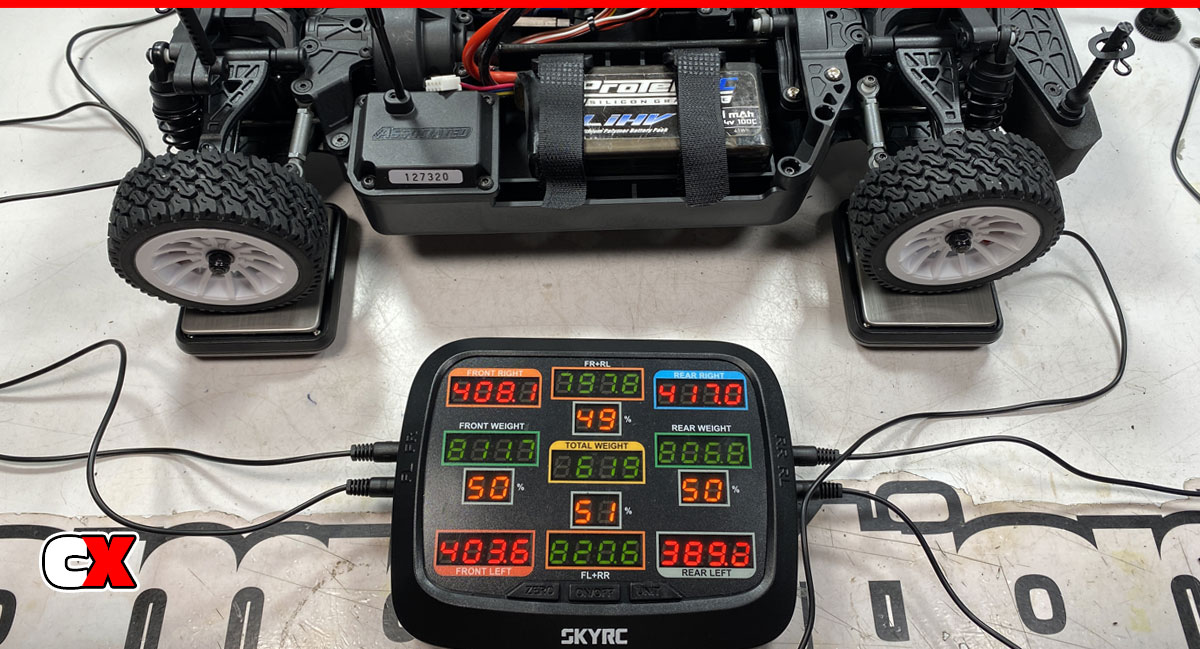 For 'shoots' and giggles, we threw the A550 on our balance station to see how it looked. Not too bad, actually – 50/50 weight distribution front-to-back and a 49/51 side-to-side. Overall it is, however, a bit on the portly side – and this is WITHOUT the body…
Performance
For the initial test, we were going to head to a Test-N-Tune at our local Rally track but, after weeks of rainouts, the only time we could get it out and on the track was at an actual Rally competition. We only got one lap of practice with next to zero tuning – nothing like throwing it out to the wolves.
Here's some quick notes on how we had to review the car.
1. Our first run was box stock – kit suspension settings, kit tires.
2. Our second run was box stock – slight suspension change, Spec class Tamiya Rally Block tires.
3. Both runs, used a 3S LiPo pack turned down with the throttle trim on the radio (since it is geared for 3S and we didn't have time to change the gearing).
We had a good comparison with both sets of tires and will mention that in the Performance categories below.
Acceleration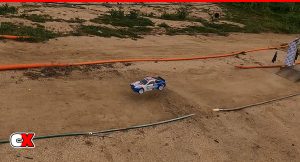 On 3S, it was a bit of a handful on both sets of tires, however, it was way more drivable on the Spec tire. Re-geared and on 2S, we're sure the kit tires would be fine but, in all honesty, we think they're a bit hard for the surface we were running on. Overall, the A550 accelerates hard and for the most part straight without any odd characteristics.
Handling
With all the rain we've had lately, the edges of the track were bordered with tall, green weeds. This made it very important to stay in the line – around corners, over jumps, through chicanes and around the berms. In the slower sections of the track, we had equal results on both sets of tires – good steering and good power delivery to the ground. In the faster areas, the Spec tires ruled supreme as the kits seems to loose grip easily (we had the dreaded understeer/oversteer situation alot). Some tuning would fix this but we don't think the kit tires were made for this track.
Suspension
This Rally track really tests out the suspension of any vehicle – continued ruts, bumps and uneven areas. In kit form, the A550 worked well but doesn't have much in the way of tuning. The suspension links are all fixed (easily remedied with a set of turnbuckles) and there are only two adjustment holes (front and back) for shock placement. It does have caster adjustment and active rear toe – allowing the rear toe to change during suspension compression – but, without some updated option parts, that's about all you're going to get in the way of tuning. Just replacing the friction shocks with a set of the standard Apex2 dampers is going to make a huge difference right away!
Durability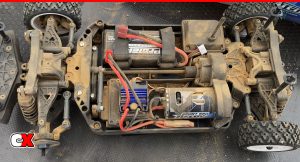 Remember when we said this thing was portly? Well, it's built that way for a reason. We beat up this little car – more just rough track driving than actually abusing it – and it's still in excellent condition. There's no way to keep dirt from getting into EVERYHING, but with the drivetrain being sealed (and bushings instead of bearings), there's not much that's going to stop this car (unless, again, you're abusing it). The only thing we'd suggest doing is to glue the lenses into the light pod and the slip rings onto the antenna. We lost 2 lenses on the first run and ALMOST one antenna.
Additional Notes
• Oil-filled differentials sit in both the front and rear cases. While they come packed with grease, it becomes useless after the first run. They are sealed so we suggest getting some actual diff fluid and filling them up. There's also a center diff available if you want to go that route. This will definitely increase the performance of your A550.
• Occasionally we'd get a bit of wander from the steering in the car. At first we thought it might be the servo saver but, since the A550 doesn't come with a servo saver, the culprit might actually be the servo. We're going to swap ours out and see if that cures the problem.
• We love the scale calipers and rotors but found that the ribbing in the back of aftermarket wheels could cause everything to bind. You may need to remove the calipers for them to work (as we did with the Tamiya wheels).
Gallery

Final Thoughts
We love that AE is branching out into other areas aside from the racing market, filling in their stable with fun cars people can get behind. The Apex2 Sport A550 is one of those and, even though it's lacking some of the race-level goodies, it's still a really fun car to drive and definitely has potential.
We're going through ours, cleaning it up, adding a set of the Apex2 oil-filled shocks and heading back out to the Rally course. Our next time out, we're bringing home a W!