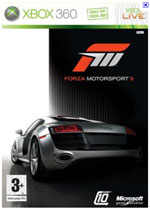 Game: Forza Motorsport 3
Design: Microsoft
Platform: XBox 360
Forza Motorsport 3 is the next installment in the popular Forza series. With more than 400 fully customizable cars to drive on more then 100 real-world tracks. there should be plenty of racing to keep you busy for awhile. Test your skill in Circuit, Oval, Drag, Drift and Timed events.
Forza Motosport 3 add a customizable calendar to schedule more than 200 single-player events. Tune the game to your experience level-with auto-braking, gameplay rewind, auto-tuning, and other in-game features. Get a monster of a garage with the in-game Livery Editor and Auction House.
Check out the following pages for more info on this great game!
Forza Motorsport 3 Cars: A list of all the vehicles available in the Forza Motorsport 3 game!
Forza Motorsport 3 Tips: Tips and tricks to help you conquer the Forza Motosport 3 game.
Forza Motorsport 3 Track List: A list of the Forza Motorsport 3 tracks.
Forza Motorsport 3 Tuning: Learn to tune your car to win races.