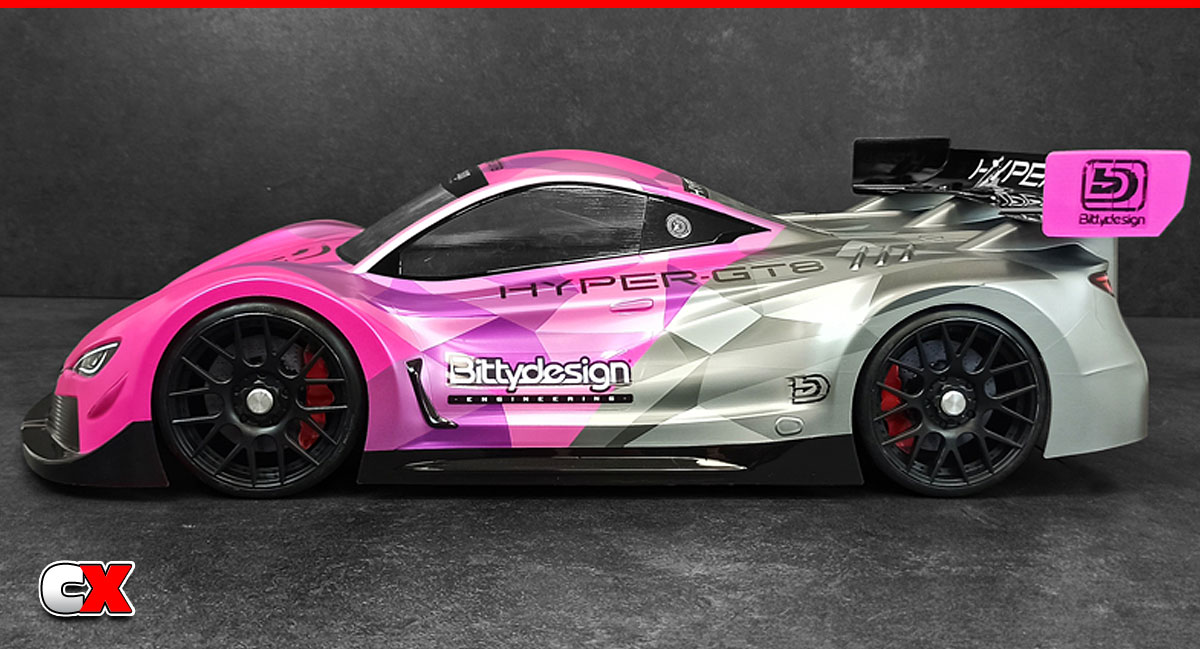 Bittydesign has announced a new body for the 1/8 GT cars, the Hyper-GT8. This body combines the look of they Hyper-Series rides with the aero and functionality of the current 1/10 scale cars. It is molded in a lightweight 1mm polycarbonate and fits all chassis in this class that have a 321-330mm wheelbase. It comes with an overspray film, window masks and a pre-cut decal sheet.
What We Like:
Bittydesign always has some pretty sexy onroad bodies (RC bodies – come on now), and this Hyper-GT8 is no exception. It's sleek, has air channels all over it and looks like an oversized 1/10 scale TC! Sure, it's not really 'modeled' after anything real, but it is all about pure performance and that alone will make it attractive to anyone wanting to run this class! Even the price is reasonable for something this large!
What We're Not Sure About:
Ummm, nothing, except maybe the fact that I don't have a 1/8 GT-style car to put this on!
BDYGT8-HYP Bittydesign Hyper-GT8 1/8 Body Set

For more information, please visit: www.bittydesign.net
Don't forget to use the code COMPETITIONX when ordering directly from Pro-Line to save 10% on your order!
Check out Bittydesign products at AMain Hobbies.
Check out more cool products from Bittydesign on CompetitionX.
Make sure you visit and subscribe to our YouTube Channel (CompetitionX YouTube) for up to date videos on all the current products!
Notice: Some of our articles, videos and descriptions may contain affiliate links, which means that if you click on one of the product links, we may receive a small commission. This helps support the website and social media channels and allows us to continue to produce content. Thank you for the support!
#bittydesign #rccars #competitionx