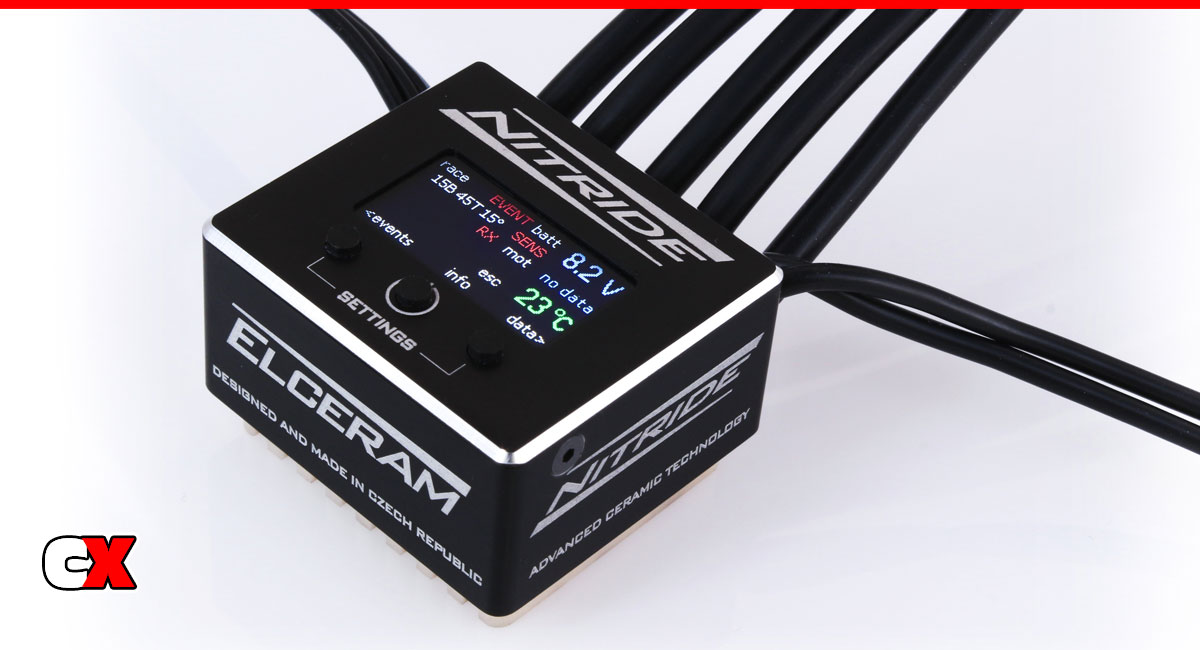 Back in February of this year, Elceram announced a revolutionary ESC design in the new Nitride ESC. Well, it's now upon us and they've released even more info on this cool new ESC that might be a game changer in the industry.
The Nitride is designed for 1/10 scale use and is loaded with cool features:
• Developed especially for 1/10th professional RC cars.
• TFT LCD color display with resolution 160 x 80 pixels.
• Size: 38,3 (L) x 34,3 (W) x 24,5 (H) mm.
• Weight: 50 g without wires / 90 g with wires AWG13 – 180 mm.
• 70 % of weight located in bottom side of ESC.
• Power supply: 2S LiPo.
• Current cont. / pulsed: 180 A / 1500 A.
• BEC: 7,4 V fixed, 4 A cont. / 10 A peak at 125 °C.
• Extreme low internal resistance based on silver conductive layer.
• Advanced Cooling Technology based on Aluminium Nitride Ceramic Cooler.
• Designed for high level RC racing.
• Zero Timing (Blinky Mode) supported.
• For sensored BLDC motors from 4.5T up.
Additional Functions:
• Revolutionary easy Rx calibration.
• Realtime monitoring: battery voltage, ESC and motor temperatures.
• Self-diagnostic before the race: motor temperature, sensor cable, battery.
• Post-race data evaluation.
• Easy programming: throttle, brake, boost and turbo timing, hall angle and many other functions.
• Race data logging, temperature and other curves, histograms and more.
• Adjustable maintenance reminder for easy check.
• No programming interface needed.
The Nitride will be available to European distributors in October of 2023 with additional countries to follow.
Quick Stats
Product: Elceram RC Nitride ESC | CompetitionX
Part #: TBA
Scale: 1/10 Scale
Price: $TBA
Build Type: n/a
BUY NOW: https://bit.ly/454VqoV
What We Like:
Other than it being a beautiful piece of electronics, and having some really killer features, and a full color screen, and a small footprint, and post-race data evaluation, and easy calibration, and 2S capable, and developed for racing – did I miss anything??? This is going to be on fun ESC to play with!
What We're Not Sure About:
Initial startup price might be a bit scary.
For more information, please visit: elceram-rc.cz
Gallery

Video

Check out more cool products from Elceram RC on CompetitionX.
Make sure you visit and subscribe to our YouTube Channel (CompetitionX YouTube) for up to date videos on all the current products!
Notice: Some of our articles, videos and descriptions may contain affiliate links, which means that if you click on one of the product links, we may receive a small commission. This helps support the website and social media channels and allows us to continue to produce content. Thank you for the support!
#elceramrc #rccars #competitionx
Random Past Posts
Futaba's new 4PV radio is a full featured system designed for the hardcore enthusiast but priced for the budget basher. It's loaded with some great technology including live telemetry to …

JConcepts new 1987 Buick Grand National Street Eliminator body – my-oh-my – can you say gorgeous??? One of my favorite cars of all time, the Buick GN has been officially …

McAllister Racing has come out with a new Street Stock body called the Crowd Pleaser. It is molded to fit 1/10 scale buggies and features a built in splitter, wide …