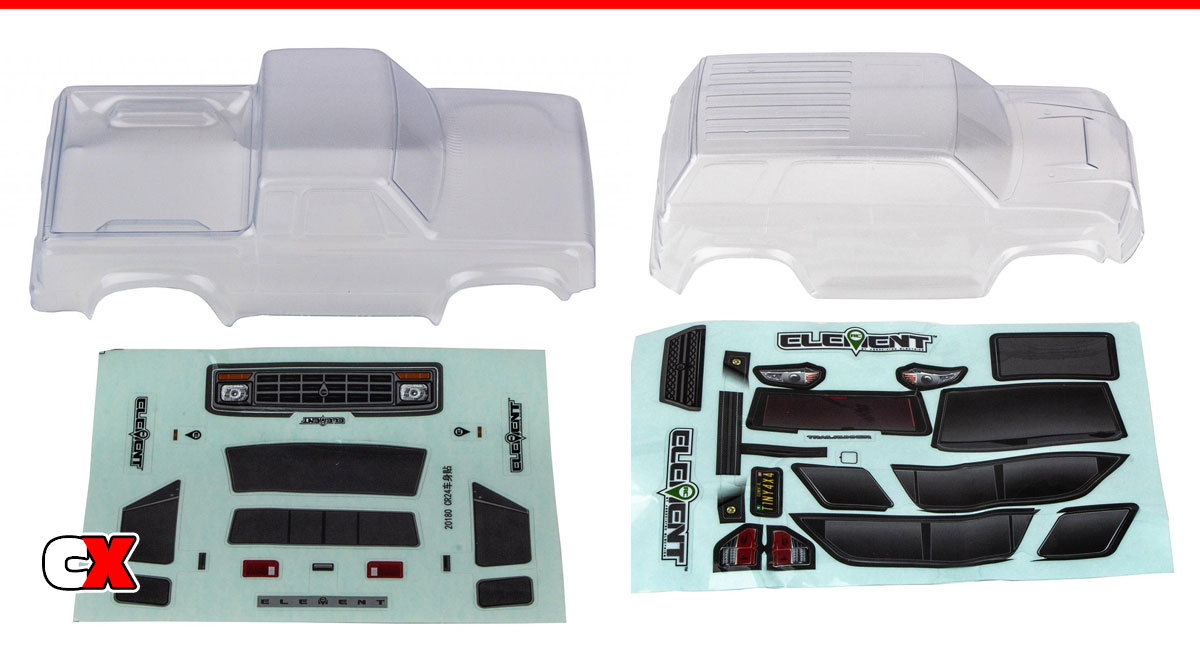 Element RC has announced a pair of clear bodies for your Enduro24 – the Trailrunner and Sendero. Both bodies are based on the original, pre-painted design but come clear with overspray film and external stickers – all ready for your own personalized paint.
What We Like:
This is great news! Prior, you were stuck with the original designs for both bodies with the only customizable option being an external vinyl wrap. But now – NOW – you can completely customize the look of your ride – give it a camo look, solid color or flames – it's up to you! This will really give the Enduro24 crowd a great option to personalize their rigs – I know I'm getting one!
What We're Not Sure About:
I can't tell from the pic, but it does appear these clear bodies do NOT come with window masks. That would be disappointing, but certainly not a deal-breaker.
21722 Element RC Clear Enduro24 Truck Body – Trailrunner
21724 Element RC Clear Enduro24 Truck Body – Sendero

For more information, please visit: www.associatedelectrics.com
When buying Pro-Line product directly on their site, don't forget to use the code COMPETITIONX to save 10% on your order!
Check out Element RC products at AMain Hobbies.
Check out more cool products from Element RC on CompetitionX.
Make sure you visit and subscribe to our YouTube Channel (CompetitionX YouTube) for up to date videos on all the current products!
Notice: Some of our articles, videos and descriptions may contain affiliate links, which means that if you click on one of the product links, we may receive a small commission. This helps support the website and social media channels and allows us to continue to produce content. Thank you for the support!
#elementrc #rccars #competitionx