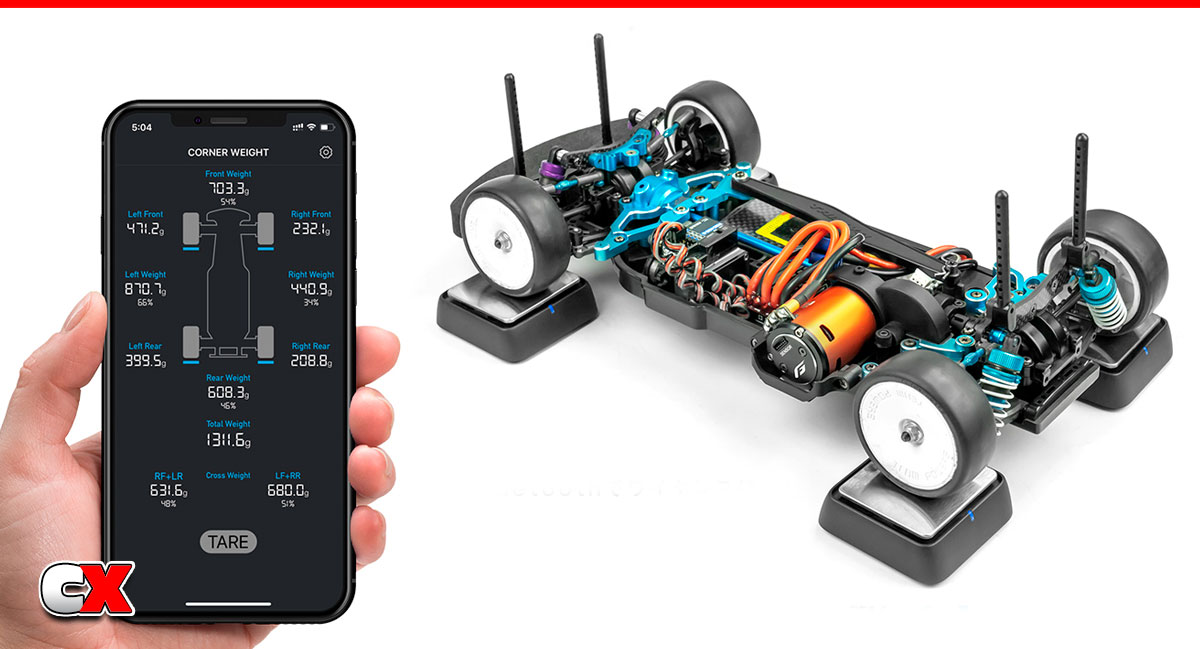 The new GForce X-Weight Wireless Corner Weight System combines the ease of a 4-shoe weight system with wireless tech right to your phone to help you manage the corner-weight setup of your ride! Using an app on your phone, you can see the results of your weight placement on your phone! The weight system supports up to 2000g and measures in an accuracy of .1g, making it great for 1/12 scale, 1/10 scale and even 1/8 scale cars.
What We Like:
I have a similar setup now, however it uses wires to connect the 4 shoes to the main base. While not a big deal, it is a bit cumbersome to carry around and use frequently. This wireless setup has 4 shoes – that's it – with each being powered by a small CR2450 lithium coin battery. Simply connect to your phone via Bluetooth and weight-away!
What We're Not Sure About:
While the CR2450 battery helps keep the size and weight down, I can't tell you how many times I've lost my replacements simply because they're so small. However, that's just me and it would mean I'd need a better system for keeping track of them!
G0338 GForce X-Weight Wireless Corner Weight System

For more information, please visit: www.gforce-hobby.jp
Check out GForce products at AMain Hobbies.
Check out more cool products from GForce on CompetitionX.
Make sure you visit and subscribe to our YouTube Channel (CompetitionX YouTube) for up to date videos on all the current products!
Notice: Some of our articles, videos and descriptions may contain affiliate links, which means that if you click on one of the product links, we may receive a small commission. This helps support the website and social media channels and allows us to continue to produce content. Thank you for the support!
#gforce #rccars #competitionx