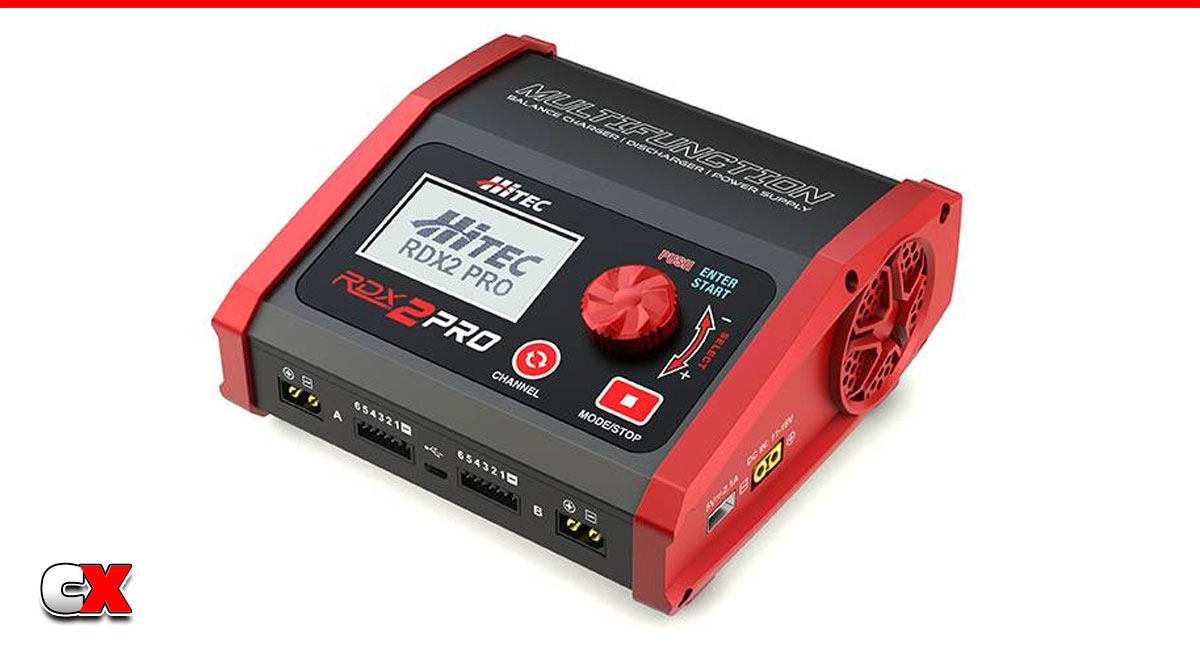 Hitec has announced their new RDX2 Pro, a dual-port AC/DC charger that has many of the features you've come to love in Hitec equipment. It also doubles as a power supply, providing dual 130-watt circuits for charging or powering additional items (from 5-24v).
What We Like:
We've always been HUGE fans of Hitec's charging software – it's super intuitive and very easy to use. The RDX2 Pro now uses a single jog dial to scroll the menu and set parameters – a nice addition to further simplify things. On top of that, the RDX2 Pro also stores 10 different battery profiles, allowing you to choose a different profile depending on the battery you are charging. We're also diggin' the price – about $170 – and that includes charge cables and adapters and one of Hitec's stellar universal balance boards!
What We're Not Sure About:
Something we'd like to see more of is a higher charge rate – currently, the RDX2 Pro allows 14A charge rates per channel, however it would be really cool to see a 'combine' feature to allow up to 28A on one channel!
Hitec RDX2 Pro High Power Dual Port AC/DC Charger

For more information, please visit: www.hitecrcd.com
Check out Hitec products at AMain Hobbies.
Check out more cool products from Hitec on CompetitionX.
Make sure you visit and subscribe to our YouTube Channel (CompetitionX YouTube) for up to date videos on all the current products!
Notice: Some of our articles, videos and descriptions may contain affiliate links, which means that if you click on one of the product links, we may receive a small commission. This helps support the website and social media channels and allows us to continue to produce content. Thank you for the support!
#hitec #rccars #competitionx