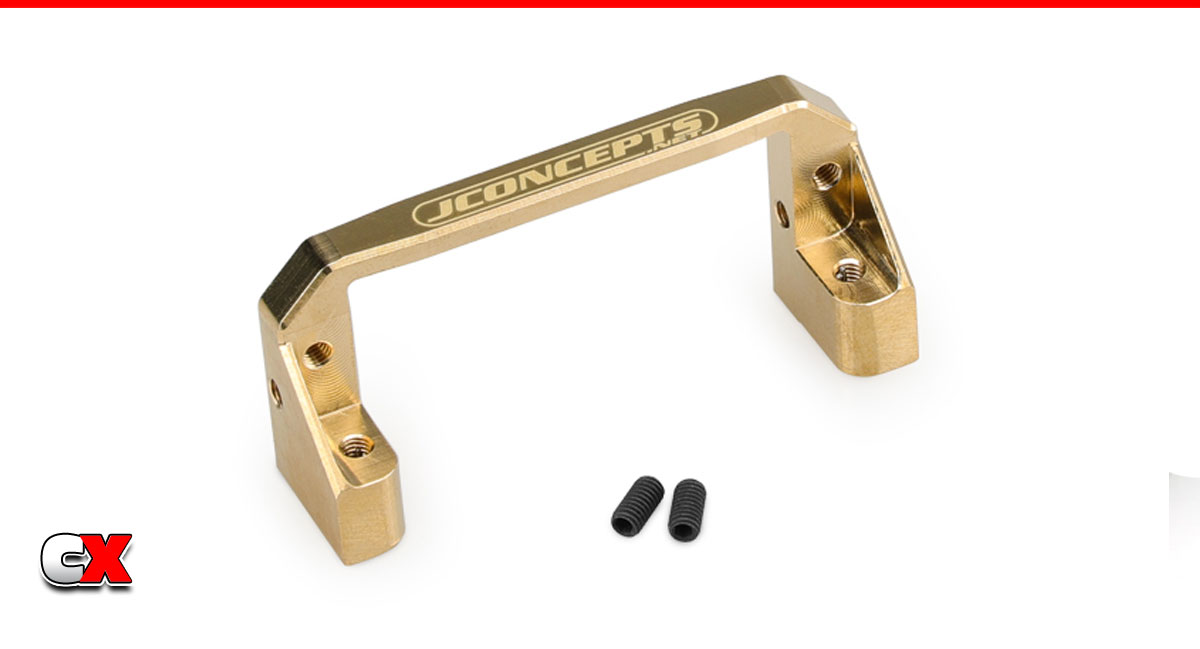 Give your Team Associated DR10 that little advantage with these brass parts from JConcepts. Two parts have been released; a brass front suspension brace and servo mount bracket.
What We Like:
Adding brass to the front of your DR10 will help keep the front end down during hard pulls off the line. The front front suspension brace adds 13g to the very front of your ride while the servo cage adds about 25g. Both replace the stock parts and feature the JConcepts logo etched into them. We also love that they are simple add-ons to help boost performance, not just silly blingy parts.
What We're Not Sure About:
While I get people love the 'brass' look, I'm not one of them. I think coating the parts in black help give your ride a stealthy appearance, giving it an advantage both on the track and in the pits. NOT seeing the brass coloring might give your opponent the feeling your car is using stock parts, but when your ride launches off the line and whoops up on him, it's a bit of a post-race head game. I think this is especially true with how popular the No Prep game is becoming.
2876 JConcepts Brass Front Suspension Brace – Team Associated DR10
2877 JConcepts Brass Servo Mount Bracket – Team Associated DR10

For more information, please visit: www.jconcepts.net
Check out JConcepts products at AMain Hobbies.
Check out more cool products from JConcepts on CompetitionX.
Make sure you visit and subscribe to our YouTube Channel (CompetitionX YouTube) for up to date videos on all the current products!
Notice: Some of our articles, videos and descriptions may contain affiliate links, which means that if you click on one of the product links, we may receive a small commission. This helps support the website and social media channels and allows us to continue to produce content. Thank you for the support!
#jconcepts #rccars #competitionx