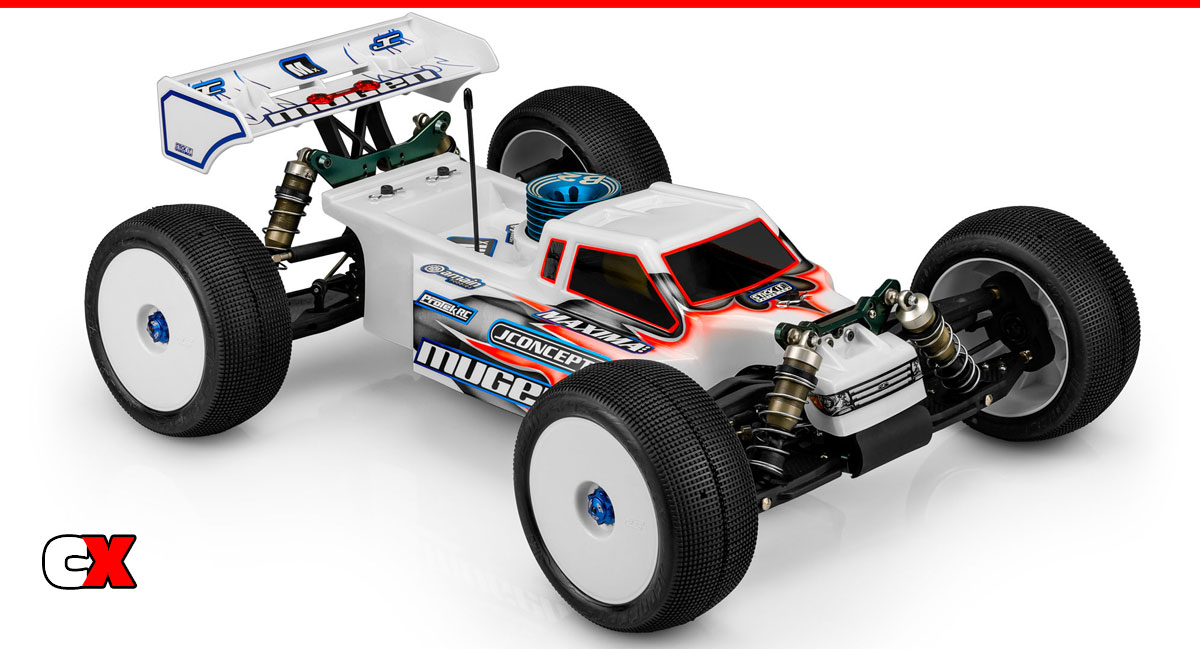 Recently, Truggy bodies have evolved from the full over-the-front-shock-tower design to a more low-profile, buggy-ish look. To take advantage of this new design, JConcepts has developed the F2, a low and sleek body that will fit the 1/8 scale Mugen, Team Associated, TLR, HB and Tekno Truggies. The package comes with the multi-piece body set covered in JC's overspray film and all kinds of channeling to maximize airflow to the engine's cooling head and rear wing. This body does require and optional body mount adaptor for the body and nose cone (sold separately depending on your ride).
What We Like:
Tekno was the first company to stretch the rules of the Truggy body and had everyone all in a tizzy about it but, instead of causing a gripe and protesting, companies like JConcepts just developed a body of their own. While we're not tickled with the look, we do think it's a progression in the the less-famous Truggy world that will help the handling of these trucks (Ryan Maifield did win the 2021 ROAR Fuel Nationals with this body).
What We're Not Sure About:
Other than the nose area, this body isn't all that different from a standard Truggy body. It does lose a bit of appeal of an actual truck which, in our opinion, helps separate the two classes, but we do get that advancement of the class to make it more appealing to drive, especially if it helps with the handling of the truck. We also don't like that you have to buy optional pieces to make it work, but we get it since the current batch of Truggies aren't set up to accept these new body styles.
0463 JConcepts F2 1/8 Scale Truck Body
2951 JConcepts F2 Body Adaptor – Team Associated RC8T3.2
2952 JConcepts F2 Body Adaptor – Mugen MBX8T
2953 JConcepts F2 Body Adaptor – Losi 8IGHT-XT
2954 JConcepts F2 Body Adaptor – Hot Bodies D8T EVO 3
2955 JConcepts F2 Body Adaptor – Tekno NT48 2.0

For more information, please visit: www.jconcepts.net
Check out JConcepts products at AMain Hobbies.
Check out more cool products from JConcepts on CompetitionX.
Make sure you visit and subscribe to our YouTube Channel (CompetitionX YouTube) for up to date videos on all the current products!
Notice: Some of our articles, videos and descriptions may contain affiliate links, which means that if you click on one of the product links, we may receive a small commission. This helps support the website and social media channels and allows us to continue to produce content. Thank you for the support!
#jconcepts #rccars #competitionx