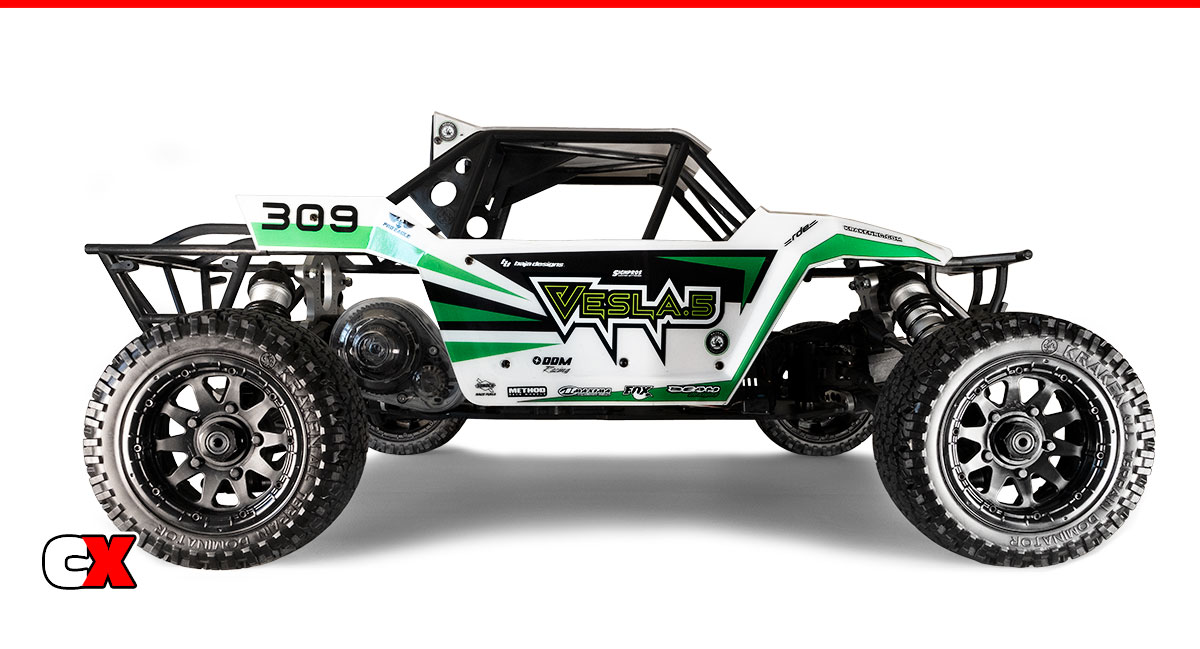 Kraken RC, known for their incredibly-cool 1/5 scale rides, have just announced the VESLA.5 C1E 12S. This new ride is based on their VESLA.5 but has been built to withstand some major power – 12S of major power!!!! This makes it the most powerful 2WD 1/5 scale car currently available!
There's a huge laundry list of items that come with this car (see below), the most important being the 12S capable Hobbywing EZ Run 250A ESC and 650kV (or 800kV) sensored brushless motor!
Quick Stats
Product: Kraken VESLA.5 C1E 12S Offroad Buggy
Part #: KVS305
Scale: 1/5 Scale
Price: $1,749.99
Build Type: RTR
BUY NOW: www.krakenrc.com
Features
• Roll Cage: Proprietary Composite Polymer
• Chassis Thickness – 5mm
• Shock Type – VEKTA.5 Proved Shocks (Oil-Filled, Coil-Over Springs)
• ESC – HOBBYWING EZ RUN MAX5 HV G2 250A (6-12S)
• Motor – HOBBYWING EZ RUN 56118 G2 650KV or 800KV SENSORED (To run Sensored optional HW extender sensor cable is required PN:30850308 or PN:30850308)
• Power Capacity – 12S LIPO with QS8 Connectors – https://shop.krakenrc.com/set-of-2-6s-10000mah-lipo-battery-set-for-vekta-5e-qs8/
• High Powered Dual 28,000 RPM Cooling Fans
• Heavy Duty Bar Chassis Top Brace
• NEW! 12S BILLET BATTERY PLATE
• Drivetrain – 2WD
• Wheelbase – 22″
• Ground Clearance – 3.5″
• Length – 35″
• Width – 24″
• Servo Type – Digital High Torque 60Kg (Included)
• Differential – Fluid Filled, Bevel Gear
• Suspension – 4-Wheel Independent
• Spur Gear – 57T
• Pinion Gear – 18T
• Hardened Steel Transmission included as an option
• Product Weight – 33lbs (14kg) Dry
What We Like:
The VESLA.5 is quite an amazing feat of production – huge, 1/5 scale ride with a monstrous amount of power tucked under a caged Class 1 looking buggy – it's a very cool ride. We'd love to give something like this a go and see what driving a big ol' 12S-powered ride is like.
What We're Not Sure About:
Although it's expensive, you get what you pay for – to us, it actually seems like a great deal seeing the list of items it comes with!
For more information, please visit: www.krakenrc.com
Gallery

Check out more cool products from Kraken RC on CompetitionX.
Make sure you visit and subscribe to our YouTube Channel (CompetitionX YouTube) for up to date videos on all the current products!
Notice: Some of our articles, videos and descriptions may contain affiliate links, which means that if you click on one of the product links, we may receive a small commission. This helps support the website and social media channels and allows us to continue to produce content. Thank you for the support!
#krakenrc #rccars #competitionx
Random Past Posts
The Build – Part 1 The steering is typically the first part of almost every build, and the FT T4.2 is no different. It's simple and straightfoward. Let's get to …

JConcepts has released a new 'Mega Truck' tire, a tire specifically designed to throw mud, dirt, gravel and grass just like its full-size counterpart. These tires are manufactured to tear …

Whether you are a fan of the iconic green Monster Truck or a loyal consumer of a particular brand of energy drink, our new CNC Machined Green Anodized aluminum option …