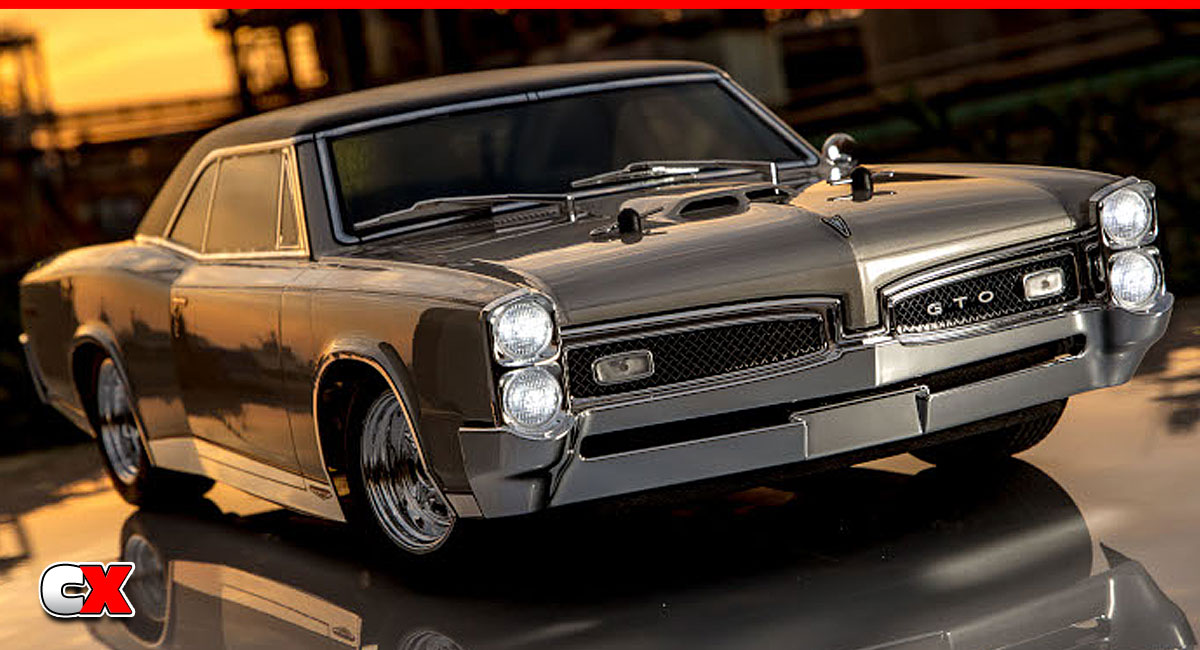 Kyosho has added another classic ride to their Fazer RTR line-up – the 1967 Pontiac GTO! This gorgeous ride sits atop the newly designed FZ02L chassis and comes complete in RTR trim. Electronics include a Syncro TK-231P+ radio system, waterproof 60A ESC, servo and G14L brushed motor. The scale looks, though, are what really set this ride off! The Pontiac GTO body is beautiful in detail and includes vintage tires and Rostyle-type wheels. A light set is also available.
What We Like:
Scale rides have always caught our attention and Kyosho's GTO is no exception. The look and detail is gorgeous with the chrome wheels adding to the overall vintage feel. While this isn't something you'd rip around a track with, it would catch an eye or two (or two hundred) at a local car club meet or down by the beach. Plus, the chassis can be upgraded if you do feel the need to show off some performance.
What We're Not Sure About:
While we LOVE the vintage feel, we have two things that bug us about this ride; 1) disc brakes? A car this old did not have disc brakes. Yes, I'm sure there are disc brake upgrades but most wouldn't go through that hassle if this wasn't some performance-type ride (like a GTO turned track car). And 2) enough with the body mounts and pins! All this stunning detail and you still have body mounts and pins. There are quite a few different body sets in this 'vintage' line-up (GTO, El Camino, Camaro, Charger, etc) that it would warrant a different body-mounting system.
34431T1 Kyosho Fazer Mk2 1967 Pontiac GTO RTR

For more information, please visit: www.kyoshoamerica.com
When buying Pro-Line product directly on their site, don't forget to use the code COMPETITIONX to save 10% on your order!
Check out Kyosho products at AMain Hobbies.
Check out more cool products from Kyosho on CompetitionX.
Make sure you visit and subscribe to our YouTube Channel (CompetitionX YouTube) for up to date videos on all the current products!
Notice: Some of our articles, videos and descriptions may contain affiliate links, which means that if you click on one of the product links, we may receive a small commission. This helps support the website and social media channels and allows us to continue to produce content. Thank you for the support!
#kyosho #rccars #competitionx