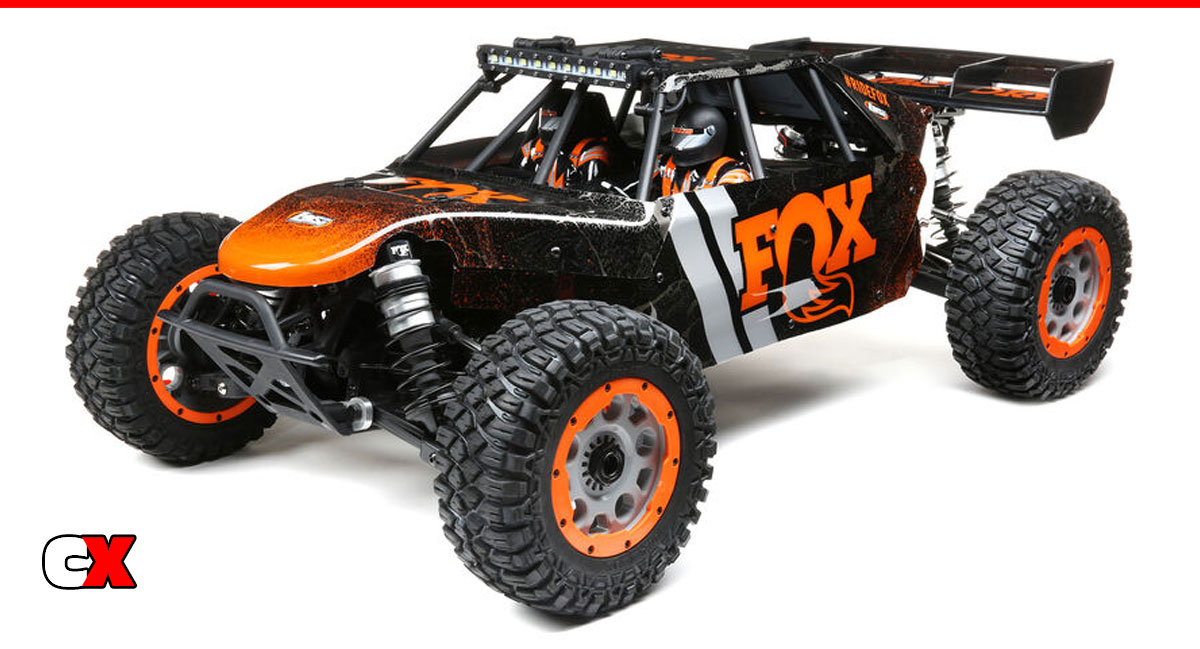 Large-scale cars have always been a favorite of ours – big, loud and fun to jump! However, we've never had a chance to run an E-version of them, but we're loving the idea behind Losi's new DBXL-E 2.0 brushless buggy! This buggy comes fully-assembled with all the great features of the DBXL, minus the gas engine stuff. Instead, a full array of Spektrum equipment takes its place; Firma 160A Smart ESC, Firma 4-Pole 780kV brushless motor and a S906 metal-gear servo. Controlling it all is Spektrum's DX2e radio system that allows the use of a cool new Speedometer Add-On, a top-mounted device (sold separately) that monitors the actual speed of your ride based on sensors inside the car.
What We Like:
Besides being big and bad ass, we love the instant-torque of a good brushless system, especially in a 1/5 scale ride. The fact that this buggy can handle 8S of LiPo (pushing it to around 50mph) is absolutely insane and something we would LOVE to do. This ride is perfect for those that have tons of space or love the desert (Glamis run anyone???).
What We're Not Sure About:
While it is super cool, it IS a bit of an elitist ride. The initial price tag of $1,099 is a bit of a large nut up front (that doesn't include batteries) but you also need a large area to run it for the most fun.
LOS05020V2T1 Losi DBXL-E 2.0 1/5 Scale Buggy RTR – Fox
LOS05020V2T2 Losi DBXL-E 2.0 1/5 Scale Buggy RTR – Losi

For more information, please visit: www.losi.com
Purchase
Losi DBXL-E 2.0 1/5 Scale Buggy RTR – Fox


Purchase
Losi DBXL-E 2.0 1/5 Scale Buggy RTR – Losi


Check out Losi products at AMain Hobbies.
Check out more cool products from Losi on CompetitionX.
Make sure you visit and subscribe to our YouTube Channel (CompetitionX YouTube) for up to date videos on all the current products!
Notice: Some of our articles, videos and descriptions may contain affiliate links, which means that if you click on one of the product links, we may receive a small commission. This helps support the website and social media channels and allows us to continue to produce content. Thank you for the support!
#losi #rccars #competitionx