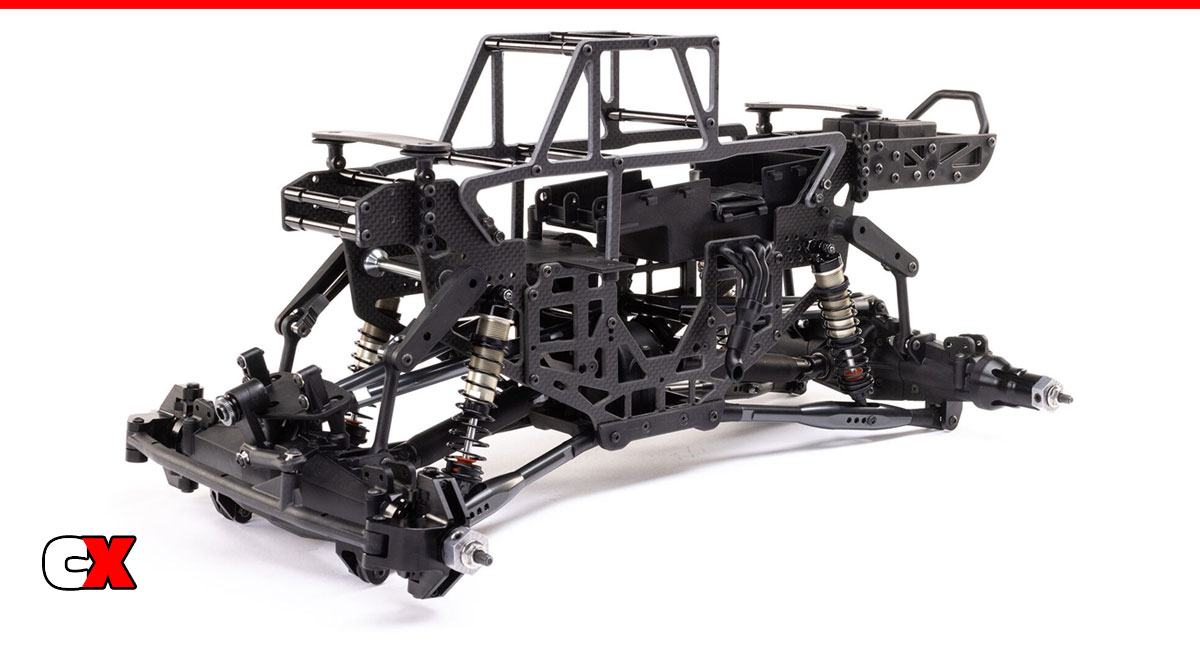 Losi has dropped a bomb on the Monster Truck community with the release of this killer TLR-Tuned LMT Monster Truck Kit.
This is basically the LMT with the entire book of TLR upgrades thrown at it – carbon fiber chassis plates, 12mm racing shocks, low-CG battery tray, TLR-inspired servo saver a bunch of aluminum goodies!
Quick Stats
Product: Losi TLR-Tuned LMT Monster Truck Kit
Part #: LOS04027
Scale: 1/10 Scale
Price: $599.99
Build Type: Kit
BUY NOW: https://bit.ly/3mgk1Gq
Features
• Racing-focused, weight reducing carbon fiber chassis plates.
• Longer 15″ wheelbase with shock mountable lower 4-link bars.
• TLR shocks with machined aluminum, hard-anodized shock bodies and caps.
• Aluminum spindle carriers and front spindles with larger bearings.
• Aluminum rear toe blocks with larger bearing for axle support.
• Aluminum cross bars to minimize flex between the chassis plates.
• Team Losi Racing inspired helical cut servo saver.
• Low CG battery tray that accepts "shorty" race packs.
• Body mounts that provide multiple options for securing your body.
What We Like:
A fully-tuned, race ready MT with all the option parts? Yes please! We've been wanting a LMT for our local Monster Truck racing league and, well, this is going to do it for us.
What We're Not Sure About:
600 bones. Ouch. However, it is a top-level MT with all the option parts so, yeah. The value is there once you get past the sticker shock.
For more information, please visit: www.losi.com
Gallery

Video

Check out more cool products from Losi on CompetitionX.
Make sure you visit and subscribe to our YouTube Channel (CompetitionX YouTube) for up to date videos on all the current products!
Notice: Some of our articles, videos and descriptions may contain affiliate links, which means that if you click on one of the product links, we may receive a small commission. This helps support the website and social media channels and allows us to continue to produce content. Thank you for the support!
#losi #rccars #competitionx
Random Past Posts
RC's first reality show featuring the industry leader in LiPo batteries. MaxAmps.com is the industry leader for high-quality LiPo and NiMh batteries for air, water and surface RC products. [source: …

AVID is proud to announce our new piston tuning table. It is a 1 page reference for racers to print/save and keep in your toolbox, smart phone, setup notebook, or …

Tamiya announced another Lotus kit for re-issue – the Europa Special! This kit is molded in 1/24 scale and features a removeable hood to expose the detailed engine complete with …