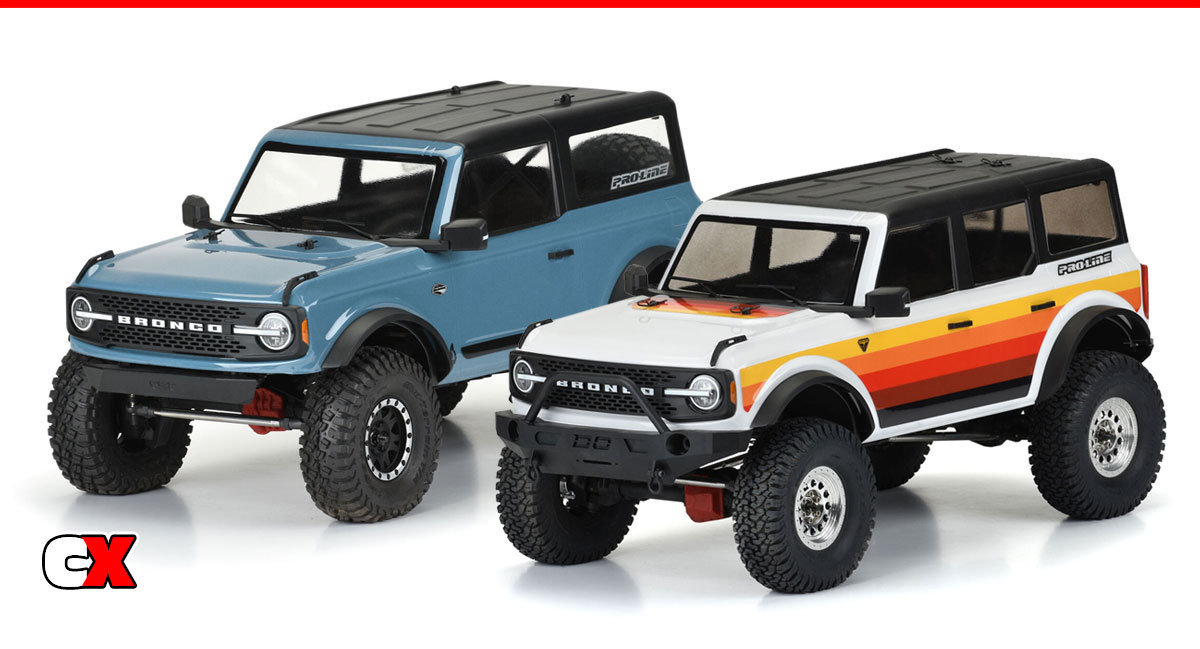 With everyone jumping on the 2021 Ford Bronco bandwagon, it's no surprise to see Pro-Line Racing releasing both a 2-door and 4-door version.
Both fully-licensed bodies a pulled from PL's crystal clear polycarbonate and include a ton of detail – molded front grille, side-view mirrors, taillight buckets and door handles, all with the needed hardware for assembly. As with all PL bodies, both are covered with their Paint-then-Peel overspray film and include window masks and a detailed decal sheet.
What We Like:
The 2021 Ford Bronco really is a good-looking body set and PL, of course, knocked it out of the park with their version. We also love that PL has done away (in alot of cases) with a full-polycarbonate body and have started to include molded parts. These provide a LOT more detail and really make the bodies stand out. Good to see them producing both the 2D and 4D versions – some like the shorty body, others like the longer one.
What We're Not Sure About:
Bodies with molded parts trees don't come cheap – both of these bodies roll in at over $70 each! The price you pay for extra scale…
PRO356900 Pro-Line Racing 2021 Ford Bronco 2-Door Body Set
PRO357000 Pro-Line Racing 2021 Ford Bronco 4-Door Body Set

For more information, please visit: www.prolineracing.com
Check out Pro-Line Racing products at AMain Hobbies.
Check out more cool products from Pro-Line Racing on CompetitionX.
Make sure you visit and subscribe to our YouTube Channel (CompetitionX YouTube) for up to date videos on all the current products!
Notice: Some of our articles, videos and descriptions may contain affiliate links, which means that if you click on one of the product links, we may receive a small commission. This helps support the website and social media channels and allows us to continue to produce content. Thank you for the support!
#prolineracing #rccars #competitionx