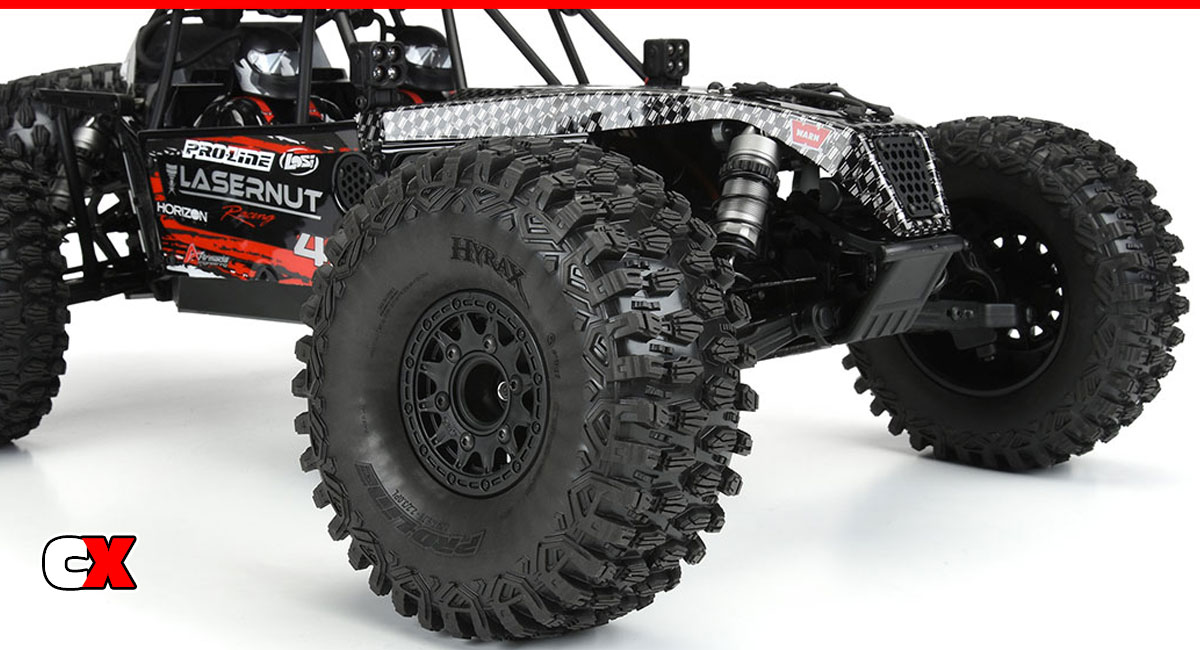 Pro-Line has taken their extremely popular Hyrax crawling/rock racing tire and replicated it in the 2.2/3.0 size. This size designation allows drivers the ability to use these fantastic treads on a variety of rigs that require a Short Course-style wheel setup – 2.2″ diameter on the outside and 3.0″ on the inside (to clear the suspension parts). Available in PL's G8 and Predator compounds, drivers will now reap the benefits of these killer tires on cars like the Losi Lasernut!
What We Like:
We use these tires exclusively on our Tekno DB48 as well as all of our crawling rigs where performance is more important than scale appearance. While we don't have Losi Lasernut rig (yet), we're sure these tires will bring out the best as far as performance on this beautiful ride.
What We're Not Sure About:
There's nothing we can say bad about these tires. Even the inserts provide a good starting point for maximum traction!
10195-03 Pro-Line Racing Hyrax U4 2.2/3.0 Rock Racing Tires – Predator Compound
10195-14 Pro-Line Racing Hyrax U4 2.2/3.0 Rock Racing Tires – G8 Compound

For more information, please visit: www.prolineracing.com
Check out Pro-Line Racing products at AMain Hobbies.
Check out more cool products from Pro-Line Racing on CompetitionX.
Make sure you visit and subscribe to our YouTube Channel (CompetitionX YouTube) for up to date videos on all the current products!
Notice: Some of our articles, videos and descriptions may contain affiliate links, which means that if you click on one of the product links, we may receive a small commission. This helps support the website and social media channels and allows us to continue to produce content. Thank you for the support!
#prolineracing #rccars #competitionx