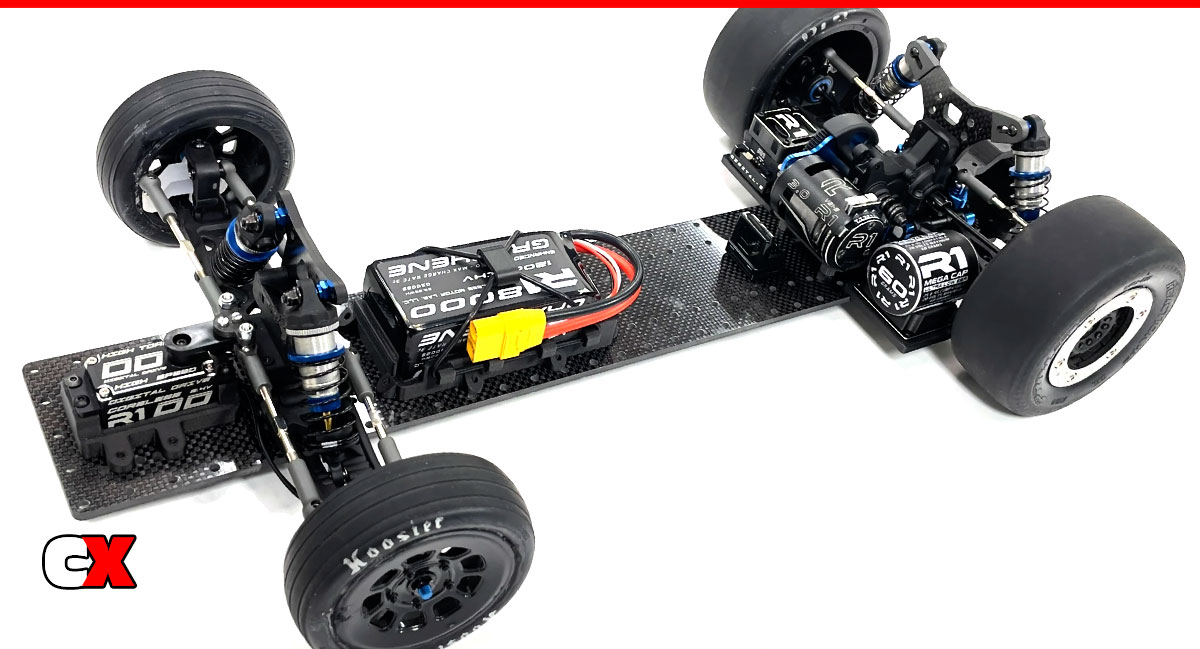 R1 Wurks, known for their blisteringly fast motors, ESCs and batteries, has dropped a Drag Racing bomb on us with the announcement of the AXXISS DC1 Prototype Drag Conversion Kit. This kit includes everything to turn your B6/B6.1/B6.2/B6.3 buggy into a top-end competition Drag Racer! We've seen this kit in person and it's extremely well-thought out and simple and has already shown great promise at some local drag racing events.
What We Like:
It's actually quite cool with the design placing most of weight near the rear tires for maximum traction. We're also diggin' the in-front-of-the-front-axle steering as well as the massive amount of battery locations to fine tune weight placement. The only items needed to complete are the AE donor car, electronics, wheels and tires, body and mounting system and a wheelie bar!
What We're Not Sure About:
The only thing we can see that might be an issue is how simple the car is – people might think it's not competitive because of the lack of 'stuff'.
AXXISS R1 Wurks AXXISS DC1 Prototype Drag Conversion Kit

For more information, please visit: www.r1wurks.com
Check out more cool products from R1 Wurks on CompetitionX.
Make sure you visit and subscribe to our YouTube Channel (CompetitionX YouTube) for up to date videos on all the current products!
Notice: Some of our articles, videos and descriptions may contain affiliate links, which means that if you click on one of the product links, we may receive a small commission. This helps support the website and social media channels and allows us to continue to produce content. Thank you for the support!
#r1wurks #rccars #competitionx