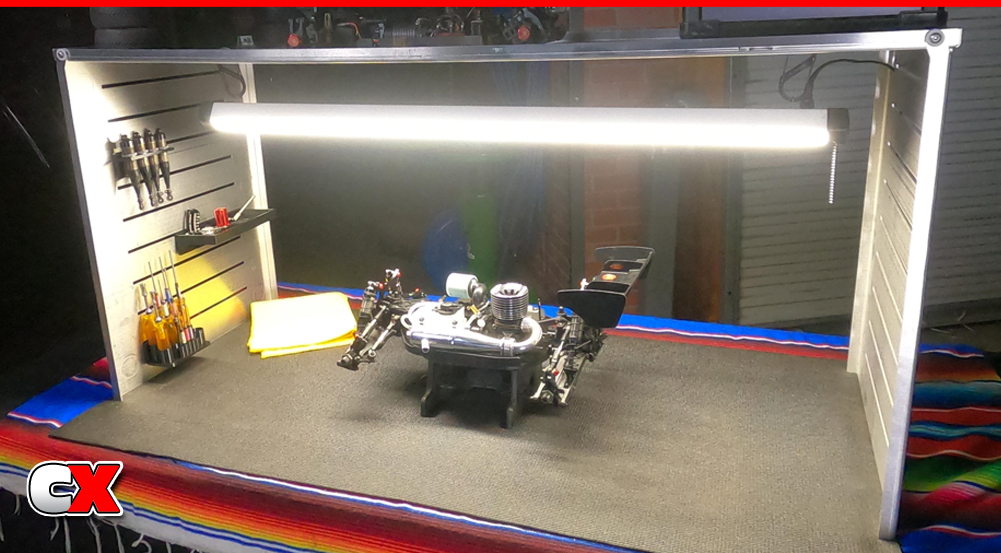 Here's a slick new product from RaceCraft USA – the Command Module RC Pit Station!
This pit station is fabricated from lightweight aluminum, folding out to a useable work station complete with different 'G Blocks' for holding different accessories. The module itself unfolds to a 4'x18″ footprint, basically encapsulating your pit area. The G Blocks can be installed in a variety of ways that make sense to how you want you pit station to be. It even comes with provisions to install a pit light for night racing!
The G Blocks have various uses – pit tools, headsets, shocks holders, etc – and can be 'slid' into place to customize your workspace. The top can also be used for additional storage – radio, additional car, tires, etc.
Love the idea – especially the overhead shop light! And while it seems geared more to the 1/8 Nitro scene, I think anyone it would be great for alot of electric guys as well!
See the promo video below!

For more information, please visit: www.facebook.com/racecraftusa
Check out more cool products from RaceCraft USA on CompetitionX.
Make sure you visit and subscribe to our YouTube Channel (CompetitionX YouTube) for up to date videos on all the current products!
Notice: Some of our articles, videos and descriptions may contain affiliate links, which means that if you click on one of the product links, we may receive a small commission. This helps support the website and social media channels and allows us to continue to produce content. Thank you for the support!
#racecraftusa #rccars #competitionx