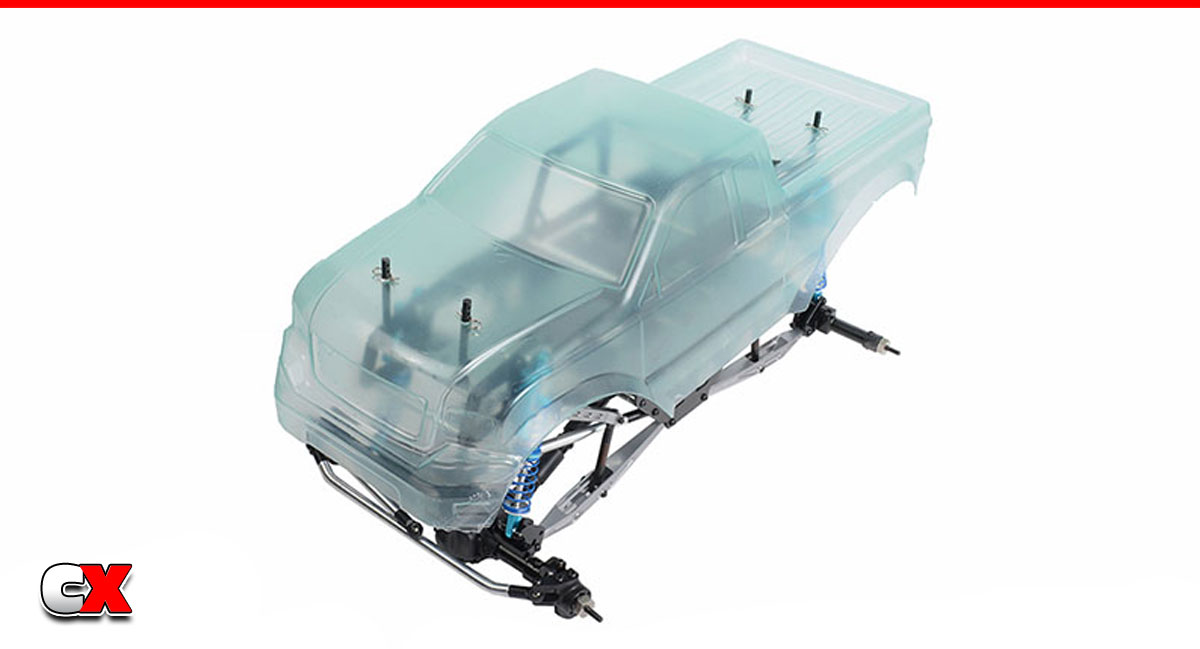 RC4WD has released info that their beastly Carbon Assault Monster Truck will now be available in kit form! This feature will allow builders to assemble the truck from the ground up, building things like the diffs and shocks without having to disassemble them first. This will also allow the use of whatever electronics they driver wants as well.
Here's the list of stellar features are included with the Carbon Assault kit:
• CNC-Machined 2MM Carbon Fiber Chassis
• CNC-Machined Billet Aluminum Chassis Braces & Skid Plates
• CNC-Machined Billet Aluminum Axle Tubes & Trusses
• AX-2 Speed Transmission with Slipper Clutch
• RC4WD Wide D44 Front & Rear Axles
• King Off-Road Racing Dual Spring Shocks
• Adjustable Front & Rear Anti-Roll Bars
• Dual Electronics Mounting Plate
• Servo Mount for D44 Wide Axles
• CNC Machined Trailing Arms
• RC4WD Plastic Punisher Shaft V2
The body even comes with a clear Manticore body – paint it how you like!
What We Like:
We always love the fact that sought-after RTRs turn into kits, allowing us to save a few bucks and install our own, competition-level electronics. One thing we also love about this kit, though, is that RC4WD allows us to customize the purchase – we can add things like wheels, tires, a charger, separate electronics and even some aftermarket upgrades right before adding the truck to the cart! Brilliant – why can't more companies do this????
What We're Not Sure About:
The base price (without any upgrades) starts right around $580. Add ONLY a set of wheels and tires and you're at about the same price as the RTR – which might be a better option to start with!
Z-K0066 RC4WD Carbon Assault Monster Truck Builder's Kit

For more information, please visit: www.rc4wd.com
When buying Pro-Line product directly on their site, don't forget to use the code COMPETITIONX to save 10% on your order!
Check out RC4WD products at AMain Hobbies.
Check out more cool products from RC4WD on CompetitionX.
Make sure you visit and subscribe to our YouTube Channel (CompetitionX YouTube) for up to date videos on all the current products!
Notice: Some of our articles, videos and descriptions may contain affiliate links, which means that if you click on one of the product links, we may receive a small commission. This helps support the website and social media channels and allows us to continue to produce content. Thank you for the support!
#rc4wd #rccars #competitionx