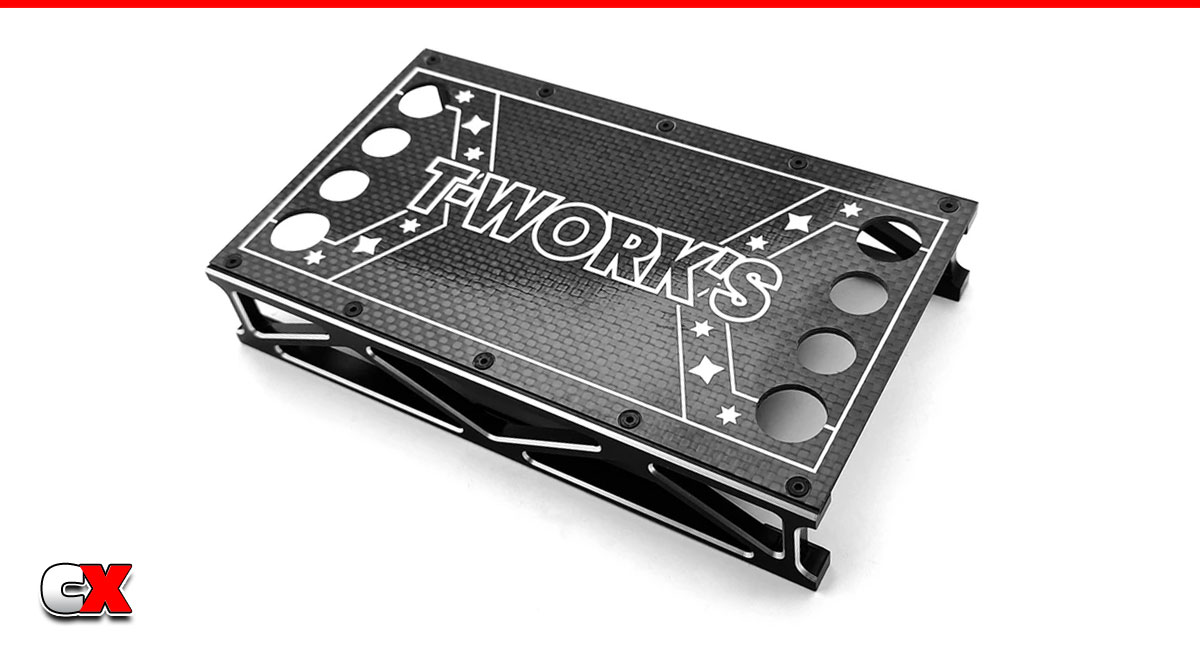 New from T-Works is this gorgeous carbon fiber/aluminum car stand for 1/10 scale Touring Cars. It comes unassembled with a top plate footprint of 17cm long x 10cm wide by 3cm tall, perfect for not only 1/10 scale TCs but all 1/12 scale pan cars and M-Chassis rides. The stand also comes with a sheet of sticky-backed foam pads to place on your stand to help keep your car from sliding around!
What We Like:
Well, obviously, anything carbon fiber and aluminum that sits in your pit is cool! We really like the look and size as well as the included foam pads – those are key to keeping your car steady while you're working on it. We're also keen to the added holes in the deck to hold your shocks, great for rebuilds at the track!
What We're Not Sure About:
P.R.I.C.E.Y! Yes, it is a high-end piece – carbon fiber and black-anodized aluminum with chamfered edges – we get it. But, unfortunately, that price might scare alot away.
TT-016-V2 T-Works 1/10 Touring Car Stand V2

For more information, please visit: www.rc-tworks.com
When buying Pro-Line product directly on their site, don't forget to use the code COMPETITIONX to save 10% on your order!
Check out more cool products from T-Works on CompetitionX.
Make sure you visit and subscribe to our YouTube Channel (CompetitionX YouTube) for up to date videos on all the current products!
Notice: Some of our articles, videos and descriptions may contain affiliate links, which means that if you click on one of the product links, we may receive a small commission. This helps support the website and social media channels and allows us to continue to produce content. Thank you for the support!
#tworks #rccars #competitionx