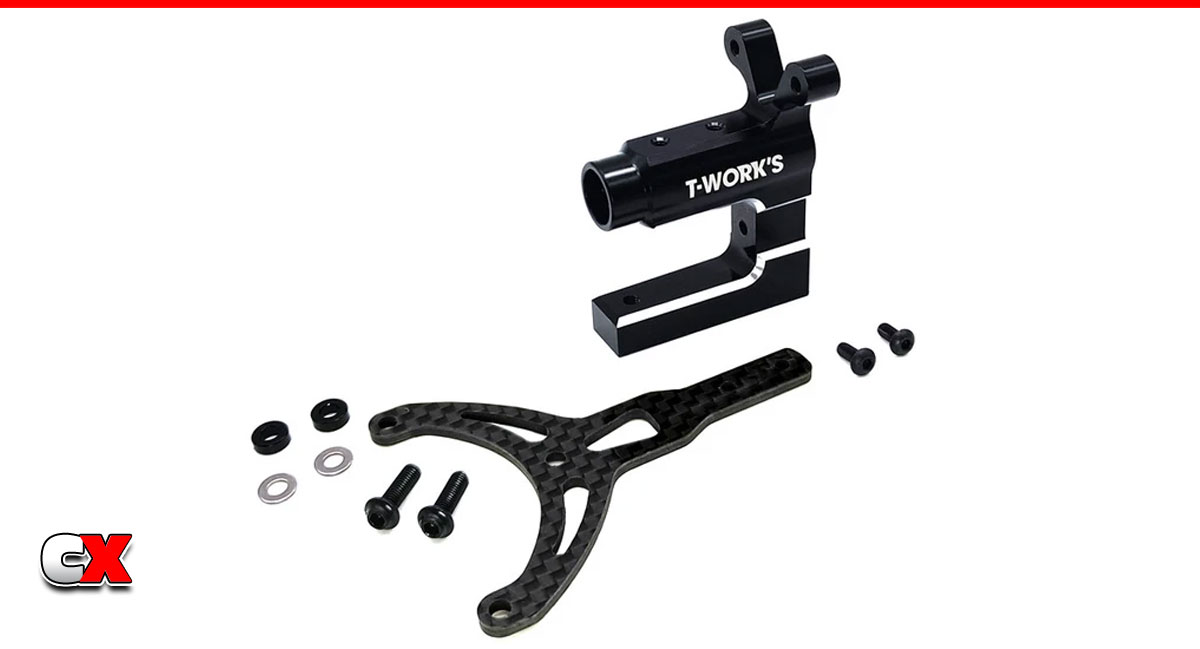 T-Works has introduced a new aluminum motor plate setup for the Tamiya TC-01. It includes a carbon fiber upper front plate as well plus all the mounting hardware.
For the Tamiya TC-01, T-Works have produced even more new option parts. Starting with a 7075-T6 aluminium motor plate mount & graphite front upper plate, the set removes flex around the drivetrain, while new graphite front stiffeners increase the rigidity of the car's tub chassis. The suspension rockers receive new aluminium rocker posts and for the front and rear of the car there are new ECS drive shafts.
What We Like:
The mount is made from 7075-T6 aluminum and anodized black with silver chamfers, making it a very attractive piece. It replaces the stock plastic mount to help improve rigidity throughout the drivetrain. It includes the mounting hardware and accepts the stock bearings. This setup really gives your car some extra bling!
What We're Not Sure About:
Unfortunately it may look cool but it is not TCS legal, if you're getting this car for that type of racing.
TE-TC01-Q T-Works Aluminum Motor Plate – Tamiya TC-01

For more information, please visit: www.rc-tworks.com
Check out more cool products from T-Works on CompetitionX.
Make sure you visit and subscribe to our YouTube Channel (CompetitionX YouTube) for up to date videos on all the current products!
Notice: Some of our articles, videos and descriptions may contain affiliate links, which means that if you click on one of the product links, we may receive a small commission. This helps support the website and social media channels and allows us to continue to produce content. Thank you for the support!
#tworks #rccars #competitionx