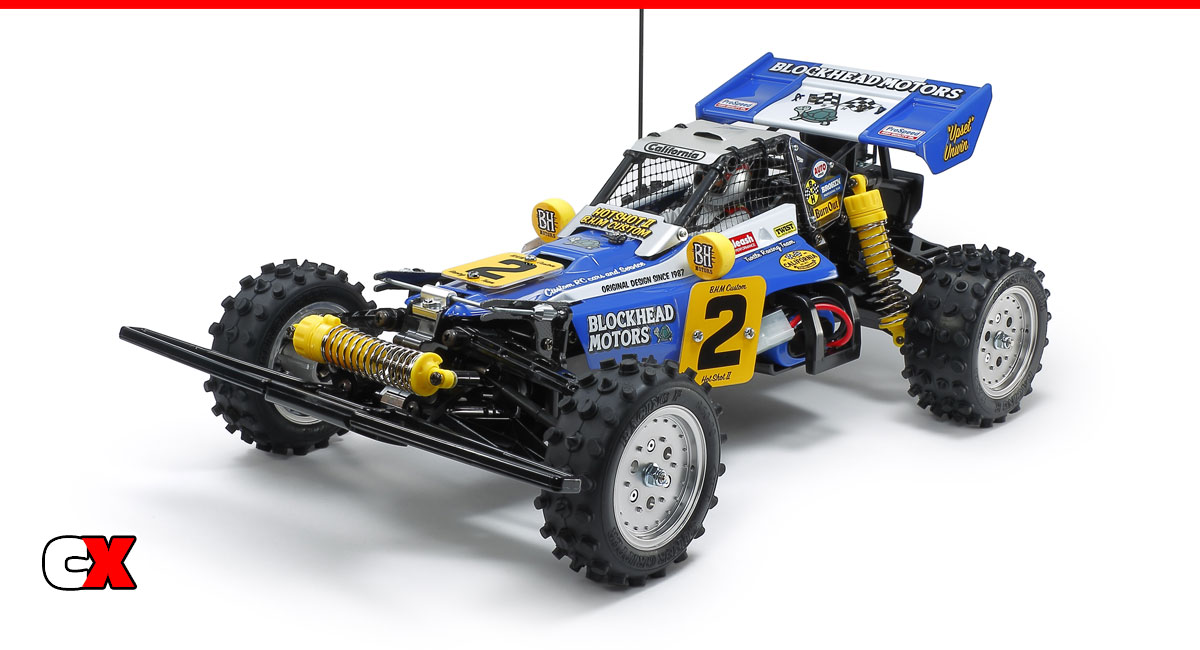 Tamiya has teamed up once again with the Jun Watanabe to give their 4WD Hot Shot II a stunning new Blockhead Motors Edition livery.
This kit has all the look and feel of the original Hot Shot but with new pre-painted and pre-cut body panels (and sticker sheet), a new roll cage that is raised slightly to adjust for the new driver position and a whole slew of Blockhead refinements – number plates, light pods, side plates, window nets and dummy antenna.
Quick Stats
Product: Tamiya Hotshot II Blockhead Motors Edition Kit
Part #: 58710
Scale: 1/10 Scale
Price: $TBA
Build Type: Kit
BUY NOW: https://bit.ly/3zzJ9w8
Features
• Uprights and wheels are matte-finish metal-plated.
• Includes new stickers designed by Jun Watanabe's brand "BLOCKHEAD MOTORS."
• 4-wheel double wishbone suspension uses one front transverse and two rear CVA II oil dampers.
• Includes 540-type brushed motor and Hobbywing ESC.
What We Like:
We LOVED the build of our Blockhead Motors Edition Wild One (See Unboxing here – See Part 1 of the build here) and, having never had a Wild One, am really looking forward to building this kit as well! We think the nostalgia of an older kit coupled to a 're-mastered' livery is a great way to bring back a re-release of an older car!
What We're Not Sure About:
Can't get one fast enough.
For more information, please visit: www.tamiyausa.com
Gallery

Check out more cool products from Tamiya on CompetitionX.
Make sure you visit and subscribe to our YouTube Channel (CompetitionX YouTube) for up to date videos on all the current products!
Notice: Some of our articles, videos and descriptions may contain affiliate links, which means that if you click on one of the product links, we may receive a small commission. This helps support the website and social media channels and allows us to continue to produce content. Thank you for the support!
#tamiya #rccars #competitionx