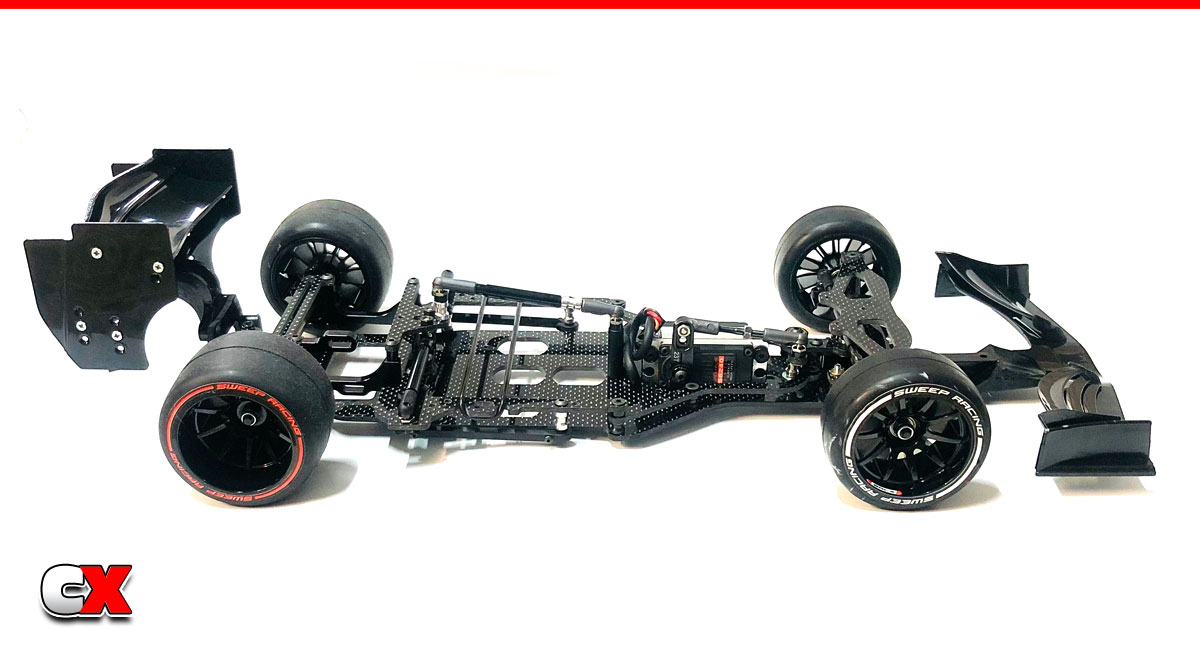 A new Formula 1 car is coming to market, this time from UK-based company Team Mardave. The FP1 is a 1/10 scale F1 ride that promises features like a multi-layer brace system to help tune the car to any track conditions, a fully-tuneable front end with wheelbase, track width, ride height, camber and caster adjustments, lightweight steel rear axle and carbon chassis. A long damper tube is used in the center (instead of a full-on shock) as a complete ball diff for tuning traction.
What We Like:
Besides the fact that Mardave is entering the F1 class (we love to see that), we also notice a few interesting items on the FP1 to take note of. First, the battery uses an o-ring as a hold down – not a new concept, but we think it's one of the best ways to do it. The front end is a neat concept – we'll be curious to see how it works. We're also intrigued by the servo horn; the link can be raised or lowered easily by simply loosening the connecting ball – fine tune adjustments, here we come!
What We're Not Sure About:
That center damper tube has us worried. Most high end race cars use a complete competition shock to control rear damping. We've never tried a single tube so it might work, just seems a bit odd to go that far off the norm. Guess we'll have to wait and see.

For more information, please visit: www.mardave.co.uk
Check out more cool products from Team Mardave on CompetitionX.
Make sure you visit and subscribe to our YouTube Channel (CompetitionX YouTube) for up to date videos on all the current products!
Notice: Some of our articles, videos and descriptions may contain affiliate links, which means that if you click on one of the product links, we may receive a small commission. This helps support the website and social media channels and allows us to continue to produce content. Thank you for the support!
#mardave #rccars #competitionx