Back in 2008, HPI held their first ever 1/5 scale Nationals at Milestone Motorcycle Park in Riverside, CA. At that time I knew about the 1/5 scale cars but didn't have one, hadn't driven one and wasn't in the market for one. I was, however, hanging out quite a bit with the HPI crew at onroad events when Marketing guru Rodney Wills hit me up about giving these cars a try.
I met Rodney at Milestone the week before the Nats and took his personal car for a test drive. They were big, bulky, noisy and moderately fast – a definite change from the speedy 1/10 scale modified Touring cars I was used to driving.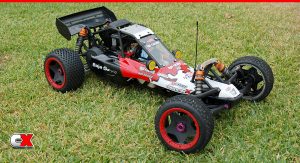 After a few runs, Rodney suggested I show up the following weekend to run that Nats; HPI would cover my entry, gas, tires, etc, give me a fresh body to paint and even let me use his personal car! He even went so far as saying if I won the event I could KEEP his car! Who could turn that offer down?
The race was 3 days long – Friday practice, qualifying on Saturday and the mains on Sunday. I knew I was fast, but without a ton of time on the car I figured a Top 10 finish would be awesome! Friday practice went off great with only a few setup changes and parts upgrades hitting the car prior to qualifying.
Qualifying actually became a nightmare – the crew prepped the track Friday night and it was in pristine condition for Saturday morning. However, after the first few heats, the track started getting horribly rutted, making it harder and harder to go faster than the guys in the those first few heats. I ended my day qualifying 9th in the B main – I was pretty bummed as I knew I had pace to keep up with almost everyone there.
The light at the end of the tunnel was the fact that there would be bump-ups – drivers winning their lower mains could bump up to the next higher main. This meant if I could win the B (or finish 2nd – there were 2 bump ups), I could compete in the hour long A-Main. So, that was the goal…
The B-Main was 30 minutes long and would start around 4 o'clock. I did my warm up laps, set the car in position and away we went. An unfortunate series of events for the front runners in the first couple laps put me in 2nd around lap 4. The leader would crash a few corners later and boom – I was in the lead. Smooth driving and not taking any chances allowed me to take the P1 position at the end of the race – I was moving up to the A-Main!
What I didn't really pay much attention to was WHEN the hour-long A-Main was running – RIGHT NOW! I had to run back to the pits, change tires, change the batteries in my radio (and the onboard battery to power the electronics), fuel up and get a pit guy – no time to check for damaged parts or replace anything – it was go time! Thankfully a couple of the HPI guys where there (thanks Thad and Collin) to help me out.
As we were running up to the driver's stand, I asked how long these things go on a tank of fuel. They informed me that they did some testing and at close-to-race-speeds they could go about 50 minutes – pit stops (for fuel only) take roughly 2 minutes.
Thinking fast, I told them I wanted to come in at the 30-minute mark. They seemed confused why so early, but I had a plan.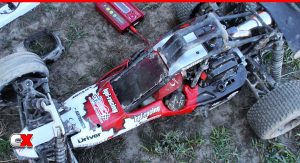 First, I figured if I stopped at 30 minutes, that's half-way through the race. I would be accustomed to the weight. starting off the 31-minute mark would be heavy again with the car feeling just as light at the hour mark – a feeling I was already accustomed to. Plus, I might need that lighter weight to go faster.
Second, this early pit just might play some head games with the other drivers. They knew, from experience, how long these cars would go – I wasn't so sure. Coming in early might perk up some ears that I knew something the other drivers didn't. My pit team thought it might be risky but liked the idea – let's go for it!
I posted up on the grid in P11 (since I was a bump up) and as the race started, my goal was to be smooth, controlled and not make mistakes – it's an hour long race – anything can happen. I also decided not to attempt any of the bigger jumps – the track was extremely blown out and I already witnessed (from the B-Main) quite a few cars break trying to make the jumps.
By the 15-minute mark, there had already been 2-3 cars out, either for good or on the side of the track getting repairs. I was up to mid-field and gaining on the leaders – my plan was paying off.
When the 30-minute mark hit, I came rolling into the pits for my stop. There was no one else there, so the pit went smooth as silk and I was back on track without any issues. This, thankfully, was ANOTHER good reason to come in early. I didn't notice, as my car was being pitted, that alot of the teams were looking at my car, then frantically gazing at their stop watches – let the head games begin.
At the 35-minute mark I noticed alot of teams calling their drivers into the pits. Reason #448 why my early pit worked out – there were all kinds of traffic jams and teams trying to pit these enormous cars on the pit wall where room was at a premium. I could hear yelling, cussing and alot of rattled drivers on the stand as their teams worked furiously to get their cars out before the other drivers.
It was during this time (while I was running in 4th) that I would take over the lead. The top 4 drivers all went in at the same time, got jumbled up and delayed their pit times long enough for me to get by – without having to 'work' for a pass. It was also the time when those same drivers, knowing they got passed, starting pushing harder and harder to catch up.
At around the 40-minute mark, a good buddy of mine (Carl Hyndman) eased up behind me on the driver's stand and let me know that I had lapped the field up to 4th place and that 2nd and 3rd were just a few corners ahead of me – to just keep it smooth and I had this. At that time I was already in cruise mode, driving around the big ruts (some were so big the cars would almost disappear into them), and singling all the jumps.
At around the 52-minute mark, Carl came up to me again and told me that I just needed to survive 1 more lap – all the other drivers were crashing or breaking and that I was so far ahead (something like 3 laps) that there was no way they could catch me because of the time limit!!!!
So, I put my head down and busted out 3 solid, fast laps! With me crossing the finish line, it was a done deal – I had won the race with about 4 minutes left! I continued racing but slowed way down – there was no need to push the 5B any harder. Plus, I had been racing for and hour and 30 minutes and was pretty beat – that's a long time to concentrate on these big cars with the track as blown out as it was.
Final standings:
BAJA 5B UNLIMITED A Main
3
114
60:02.84
RODNEY KETCHAM
4
113
60:24.80
SPENCER PERDUE
6
111
60:18.79
TROY PALUCHNIAK
12
13
17:50.29
BRIAN SULLIVAN
After the race (and the trophy presentation – and all the pit talk), RC Car Magazine asked to take my car with them to the office to do an article on it. I obliged and the following is from that article. I've also attached the PDF at the bottom if you want to see it in all it's OG glory.
BY JASON YU> HPI recently held one of the biggest events that featured their biggest guns. Word of the first-ever Baja Nationals spread, and come early November, a crowd of anxious Baja racers gathered at Milestone Ranch Motorcross Park in Riverside, California, to battle it out for the National Championship. The track was fast, yet technically challenging. Enduring freezing weather and the hour-long main, Tony Phalen rose to the top of the Unlimited class with his unassumingly, conservatively modified 5B.
This 5B was originally Rodney Will's RTR, which he lent to Tony for the weekend. "He said if I win, I could keep it!" Tony adds. Sounds like a good deal to us! Experiencing some engine trouble his first time out, it's painstakingly evident that Tony has resolved those issues.
Surprisingly, the car doesn't have a ton of crazy mods done to it, just choice hop-ups. Tony's 5B makes use of most of the factory HPI bling including the carbon fiber front upper plate, rear upper plate, rear brace, engine mount braces and the rear chassis plate. The only power upgrade is the aluminum tuned pipe.
Suspension upgrades include the SS rear shock mount plate and the VVC shock set. The collars on the rear shocks were also doubled to keep them from loosening. Oils inn the front and rear were swapped for 45wt and 10wt respectively.
Nearly every upgrade afterward was based strictly on increasing the cars durability. For this, Tony added the GBE front shock tower brace, the aluminum rear arms, HPI heavy duty driveshafts, heavy duty aluminum clutch mount, heavy duty pinion gear, heavy duty bead locks, Integy steel spur gear and the Outerwears pull start pre-filter. "I don't know how many pull starts I went through before I put that thing on," said Tony. The transmission, however, was left alone.
To keep dirt off the air filter, a front windshield was added. "I made the windshield from stuff I got at Home Depot. Cost me, like, seven bucks I think".
The majority of the changes made to the car were simply to make the car more durable. Tony wanted to make sure it lasted the hour-long main. Qualifying in the B, bumping up and then taking the win in the A, it looks like Tony's plan, along with his driving strategy, worked. "I didn't really try to drive fast," said Tony. "I don't think I pulled full throttle ever. Maybe on the straight, just a blip; but the rest of the time, I just focused on keeping my corner speed up and staying smooth."
Concluding our interview, Tony sends a special thanks to Rodney Wills, HPI Racing, Hot Bodies, Pro-Line, CompetitionX, Gabe Engineering and Motul for the support.
This was certainly one of the best races I've ever had. It was challenging and a great test of the durability and racing prowess of the Baja 5B.
Here's the PDF of the article in RC Car Magazine. Thanks for checking out this article.