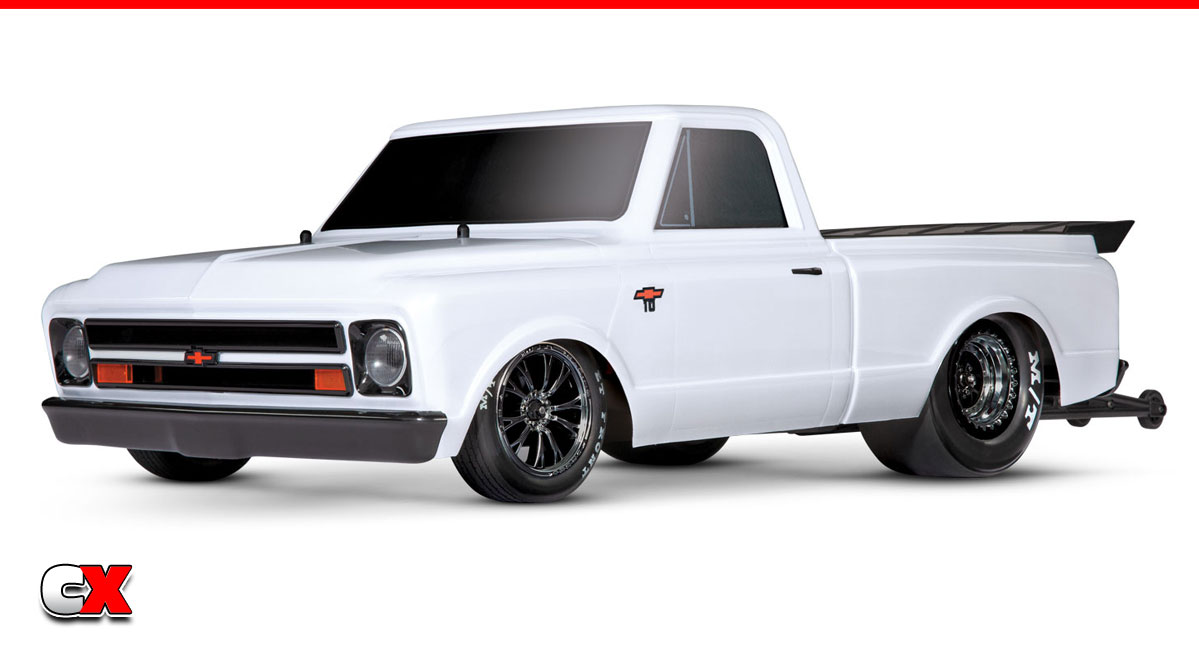 Well, we've seen the teasers – we've heard all about it – and now it's dropped – the new Traxxas Drag Slash! This ride is based on the LCG Slash and includes new features like a Pro Series Magnum 272R, scale Mickey Thompson ET Drag slicks and a sick-looking Chevy C10 body available in multiple colors (green, blue, purple, white, black and red). It comes with their TSM (Traxxas Stability Management) system installed, however it can be modified to work during acceleration and braking or just braking (for tracks that don't allow traction control during the run).
A new feature added is the Traxxas Trans Brake, basically allowing you to hold the throttle at the line and when the light turns green, flip the switch and away you go! This cuts down a few milliseconds from the launch – a much quicker way to release than actually pulling the throttle! Pretty cool…
What We Like:
Traxxas usually doesn't do anything half-ass, so seeing them jump into the No Prep Drag segment pretty much solidifies the class. We also love the Traxxas gives you a very competitive car out of the box with some new features not seen yet. Their TSM works flawlessly and the Trans Brake switch should be fun to experiment with. We also LOVE the variety of color options right from the start, something the competition should really pay attention to.
What We're Not Sure About:
While the TSM is nothing new, the trans brake is and could really give an advantage to those running this car. With the No Prep still being quite young and the rules constantly changing to accept (or deny) new features, I wouldn't be surprised if trans brake works so well that it gets banned – not a fault of Traxxas, but certainly them trying to push the envelope.

For more information, please visit: www.traxxas.com
When buying Pro-Line product directly on their site, don't forget to use the code COMPETITIONX to save 10% on your order!
Check out Traxxas products at AMain Hobbies.
Check out more cool products from Traxxas on CompetitionX.
Make sure you visit and subscribe to our YouTube Channel (CompetitionX YouTube) for up to date videos on all the current products!
Notice: Some of our articles, videos and descriptions may contain affiliate links, which means that if you click on one of the product links, we may receive a small commission. This helps support the website and social media channels and allows us to continue to produce content. Thank you for the support!
#traxxas #rccars #competitionx